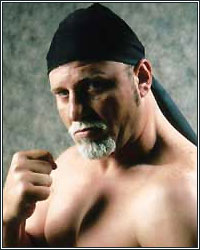 Francois "The White Buffalo" Botha has been to the top of the boxing world. In 1995, Botha captured the IBF title by defeating Axel Shultz via unanimous decision. Shortly after the win, he was stripped of his title when a post-fight test turned up positive for steroids, a result that Botha claims was due to a prescription given to him by a doctor for an arm injury. Throughout his career, Botha has traveled the world facing champions and contenders in their hometowns, establishing himself as one of the top heavyweights in boxing during his prime. After his controversial draw against Clifford Etienne in 2002, Botha left the sport of boxing to pursue a career in both kickboxing and mixed martial arts. After a five year hiatus from the sweet science, Botha returned to boxing in 2007, winning a 12-round decision over Bob Mirovic. Now, Botha looks to get back into heavyweight title contention as he trains for his upcoming July 4th clash with up-and-coming prospect Odlanier Solis.

Given the current state of the heavyweight division, a victory over the undefeated Solis could immediately catapult Botha into a title shot given his name recognition. Originally scheduled for May 30th, his fight with Solis was rescheduled for June 21st and now, according to boxrec.com, it has been pushed back to July 4th. Botha believes that the rescheduling favors himself more than it does Solis.

"This fight was rescheduled because Solis got sick," stated Botha. "The time gives me more time to train and it will be an advantage for me because it will allow me to come into the fight in better shape."

Solis, a former Olympic Gold Medallist from Cuba, is coming into the fight undefeated in ten contests, having stopped six of those opponents. That being said, Solis has never faced anyone in the professional ranks with the experience that Botha brings to the table.

"With Solis being an Olympic Champion, a victory will put me right back in the heavyweight picture," said Botha. "He has never faced anyone worth noticing so I do not know that much about him. I have seen a couple of his fights, but when we face each otherm he will see that he is definitely stepping up in class."

Throughout the course of Botha's career, he's only lost four contests and all four losses came to top guys in the division, including Waldimir Klitschko, Lennox Lewis, Mike Tyson and Michael Moorer. Botha is hoping that a win over Solis will get him another shot at one of the top guys in the division. With Wladimir Klitschko taking on Tony Thompson, Ruslan Chageav and Nikolai Valuev having a rematch, that leaves Sam Peter looking for a tune-up before facing Vitali Klitschko.

"I would definitely be interested in that fight," stated Botha.

Botha's last loss in boxing came at the hands Wladimir Klitschko, followed by a controversial draw against Clifford Etienne, but the rematch that Botha always demanded was with Mike Tyson, whom he was leading on all scorecards before being caught in the fifth round with a devastating right hand from Tyson. It was a rematch that was supposedly already worked out, but according to Botha, was cancelled because Tyson's people knew it was a fight he would lose.

"I had the rematch and the network all worked out," said Botha. "After the Etienne fight, they [Shelly Finkel] said that if Tyson were to look bad or if he were to lose, then Tyson's career was over so they cancelled the rematch and Etienne got the fight instead."

After the draw, Etienne would indeed get the fight with Tyson. Given the quick nature of their fight, there was speculation that that Etienne may have taken a dive for Tyson and Botha shared his opinion on that possibility.

"One thing about Tyson is that he punches hard. If he catches you with a left or right, he will knock you out. A lot of his opponents felt his power and laid down because they were scared. Who's to say Etienne may have been one of those people."

With the current state of the heavyweight division, Botha knows the importance of his upcoming fight with Solis, but even if he loses, he maintans that it won't be the end of his career.

"The White Buffalo is not extinct yet," stated Botha. "There are a lot of options for me. I have won my last two kickboxing matches. I am getting my rhythm with these guys and I feel it is getting easier. As far as MMA, it is all about technique on the ground. If I do the training, I don't see why I cannot beat the top guys there due to the fact that I can take care of myself on the ground and then also it will be more to my advantage if we stand up. I do not know about full retirement as of yet. Maybe another year or two. We shall see."

He continued, "The heavyweight division is in shambles, even with the top guys, and I do not think we will ever see the days of Tyson or Lennox Lewis. I will say it like Tyson, 'man, I just want to fight, bring them all on!' Get ready for demolition because The White Buffalo is back."