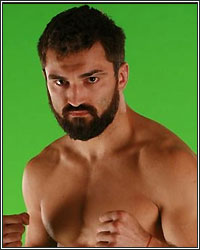 There are a number of reasons not to miss the mega mixed martial arts extravaganza, "Affliction Banned," this July 19th at Honda Center in Anaheim, California - not least of which is the unbelievable main event - a dream match-up between heavyweight champs Fedor Emilianenko and Tim Sylvia. But the list of transcendent fight talent doesn't end there. In one of the biggest cards in the history of the sport, the inaugural fight event of Affliction Entertainment will feature an unprecedented line-up of the best MMA combatants competing against each other, including a brutal, full contact bout between the two heavyweight powerhouses, Andrei "The Pitbull" Arlovski and "Big" Ben Rothwell.

Former UFC® Heavyweight Champion Andrei Arlovski is a 6' 4", 240-pound former cop from Belarus with dangerous stand up skills, a brutal right punch, and deft mobility and striking accuracy. Arlovski tears into his opponents, often dealing out devastating damage before the other fighter even has time to recover. Considered one of the top ten ranked heavyweight fighters in the world, "The Pitbull" is one of the world's most complete MMA fighters, as well as one of its most fearsome. This dreaded competitor gets high marks in grappling ability and massive striking power. He has won notable victories over Tim Sylvia, Paul Buentello, Vladimir Matyushenko, Fabricio Werdum and Wesley "Cabbage" Correira, among others. For his upcoming fight with Rothwell, Arlovski has been training with legendary boxing trainer Freddie Roach, who has trained many boxing champions such as Mike Tyson, Oscar De La Hoya, Bernard Hopkins and Manny Pacquiao. Arlovski's hard work combined with sheer talent and strong mental preparedness give his opponents plenty to worry about in the ring.

Arlovski will face-off with former IFL® heavyweight standout Ben Rothwell, who is riding an impressive 13-fight winning streak and is currently ranked as the number 10 best heavyweight fighter in the world. At 6'5' and 265 pounds, this gritty, determined Wisconsin native is a force to reckon with in the ring-just ask anyone who has squared off against him. A young fighter full of zest and energy and a personality as big as his frame, Rothwell is one of the most entertaining athletes in MMA-Rothwell never fails to deliver. And he has an impeccable record, rattling off 11 knockouts among his first 17 MMA victories with a flair that crowds eat up. A wicked combination of aggression, power and style drives Rothwell's numerous victories. The sheer force with which this giant strikes his opponents leads to the frequent knockouts he is famous for. But his brute strength is tempered by a good measure of agility, allowing him to inflict accurate and precise punishment. "Big" Ben's fierce ring presence and heavy-handedness often has opponents voluntarily choosing to leave the ring to avoid serious injury.

The brawl between the ferocious "Pitbull" and giant "Big" Ben is sure to please sports fans hungry for a truly ballistic competition and a performance full of charisma. These two magnetic, world-class fighters always put on a great show. With their collective striking power and bigger-than-life personalities, these well-matched opponents combine powerful fighting techniques with a spark of showmanship that electrifies their audience. Both fighters are known for their tremendous hard-hitting styles and numerous victories. Their bouts often end in knockouts - explosive, expedient, and purely exciting. On July 19th in Anaheim, fans will bear witness to a dynamic exhibition of prowess, as these two crowd-pleasing and accomplished warriors deal out a gallon of pain for guts and glory for "Affliction Banned."

"Affliction Banned," headlined by the WAMMA heavyweight title bout between Russian superstar Fedor Emelianenko and Tim Sylvia, is stacked with so much world-class talent that it had to be separated into two live shows produced for broadcast. The night's activities will kick off with "Affliction Live," a one-hour, free live telecast on FSN (Fox Sports Net) starting at 5 PM Pacific (8 PM/ET) and setting the stage for "Affliction Banned" – five super fights on pay-per-view starting at 6 PM/PT (9 PM/ET) via iN DEMAND, TVN, Shaw Communications, Viewers Choice Canada, DirecTV, DISH Network, Bell ExpressVue and Star Choice in the United States and Canada for a suggested retail price of $39.95.

The heavy metal band Megadeth, led by frontman, guitarist, and songwriter Dave Mustaine, will be performing live at the event.

Tickets for "Affliction Banned" range between $50.00 and $1,000.00, and are on sale at Honda Center's Box Office and also online at Ticketmaster.com.