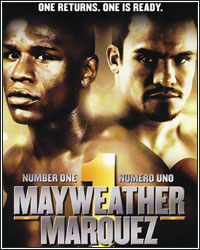 In anticipation of the upcoming showdown between Floyd "Money" Mayweather and Juan Manual "Dinamita" Marquez on September 19 at MGM Grand in Las Vegas and live on HBO Pay-Per-View®, fans will have an unprecedented 'first look' opportunity to watch "Countdown to Mayweather vs. Marquez" a special behind the scenes 'making of' fight preview show that will begin airing nationally on Fox Sports Net (FSN) affiliates (check your local listings) starting Wednesday, August 26 and running through Friday, September 11.

"The interest by FSN to distribute the preview show is another indication of the magnitude of this event marking the return of Floyd Mayweather," said Richard Schaefer, CEO of Golden Boy Promotions. "This fight will set a new record for interest by outside entities and corporate sponsors to help bring the event to the consumer through their committed resources and activation."

The show gives an in-depth look at the comeback and return of Mayweather, the most widely recognized name in boxing who returns September 19 after a nearly two year long retirement, as well as footage of Juan Manual Marquez, considered the number two pound-for-pound fighter in the world today, training in his native Mexico for what is surely the most important fight of his career. In addition, the 30-minute show provides background footage of the makings of a multi-million dollar promotional campaign including the initial press conference, the commercial shoot, the international media tour (NY, LA and London), and most importantly, in-ring action footage and comments from the fighters, as well as a host of boxing personalities with their comments on the outcome of the fight.

"I think what the audience will see is a very original and interesting behind-the-scenes look at the making of a fight and its intricacies," said Leigh Simons, who wrote, produced and directed the preview show. "We appreciate FSN's recognition of our work and our ability to take the exclusive access we are granted and deliver a plethora of viewpoints of a big-time promotion, including engaging the fighters in honest conversation about their pending match."

FSN is the nation's leading provider of local sports. Through its 19 owned-and-operated regional networks, FSN serves as the TV home to more than half of all MLB, NHL, and NBA teams. FSN produces close to 5,000 live local events each year, including more than 2,400 in high definition, making FSN the most prolific producers of HD Sports programming in the country. In addition to its thousands of home team games and a wide variety of locally produced sports programs, FSN televises national sports events and programs, including Pac-10 and ACC basketball and Pac-10 and Big 12 football.

Mayweather vs. Marquez: "Number One/Numero Uno," is promoted by Mayweather Promotions and Golden Boy Promotions in association with Marquez Boxing Promotions and is sponsored by Cerveza Tecate, Quaker State, AT&T, Dewalt Tools, Affliction Clothing and Southwest Airlines. The explosive evening of boxing will take place Saturday, Sept. 19 at MGM Grand in Las Vegas, Nev. and live on HBO Pay-Per-View ®.

Tickets priced at $1,000, $750, $600, $300 and $150, not including applicable service charges, are on sale now and limited to 10 per person and ticket sales at $150 are limited to two (2) per person with a total ticket limit of 10 per person. To charge by phone with a major credit card, call Ticketmaster at (800) 745-3000. Tickets also are available for purchase at www.mgmgrand.com or www.ticketmaster.com. Tickets previously purchased for the July 18 date will be honored.