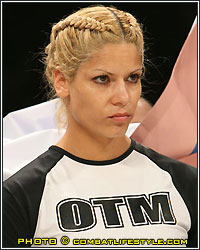 "She better get her feet wet first in this sport because it's real and there is no scripting going on inside that cage. It's the real deal," stated female mixed martial artist Kim Couture as she fired back at TNA Wrestling star Lisa Marie Varon. With tension rising between Couture and Varon, one has to wonder just how close we are to seeing these two ladies trading blows.

Thus far, Brock Lesnar has been the most successful former professional wrestling star to crossover to the sport of mixed martial arts, capturing the UFC heavyweight title by defeating former champion Randy Couture via 2nd round TKO. Can Kim Couture accomplish what her soon-to-be ex-husband Randy could not by defeating a former WWE superstar? Can Varon make a statement in her mixed martial arts debut with a similar Lesnar-type performance against Kim? According to Varon's latest MySpace blog post, she seems very confident in a victory, referring to Couture as being a stepping stone

"I love the fact that her and others think of my experience back from the Kim Rose fight. That was a year and a half ago. I am a new person and a completely different fighter," Couture added as she laughed at the idea that people take her lightly after that performance. In fact, Couture, confident in her abilities, is extremely interested in the possibility of facing Varon. "If she really wants to do this, let's get it set up and she could experience it first hand," she added, offering Varon an opportunity to experience his skills firsthand.

It's very rare that we get this kind of grudge going on the female side of the fight game, but I'm always in the mood for a good cat fight. Scott Coker, please get on the phone and make this fight a reality!
[ Follow Percy Crawford on Twitter @MrLouis1ana ]