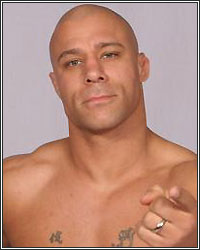 "I don't know why everybody has come up with Serra as an opponent. Matt didn't say he was fighting me and to my knowledge, I haven't heard anything about it at all. I don't know who they are going to give me or what they're going to do with me. I think Serra would be a good fight for me if he's the guy because he's the only guy in the division that is shorter than me (laughing). I'm actually taller than he is, so it would be the first time that I had to fight a guy that is short…If my next fight is Serra, it's going to be a loser leave town match," stated UFC welterweight Frank Trigg as he talked about his future plans, including a potential clash with Matt Serra and much more. Check it out!

PC: I know things didn't go as planned against Koscheck at 103, but how do you feel about just getting back inside of the Octagon?

FT: It's alright. It felt good to be back in the UFC. I felt comfortable. The UFC has grown so much the past 5 years in my absence so I thought things would be a lot different in the back and in the locker room or what have you, but everything is the same. There is still Burt Watson back there controlling things and wrangling things up with his crew; you still see everybody. Dana still comes in and wishes everybody good luck and Joe Silva walks through and wishes everybody good luck before the fights start. Everything is still the same. For as big as the UFC has gotten, it's still…you know, I joke and say the UFC needs to hire about 100 more people to help them get through something the size of what they're doing, but really, it's still the same 10 to 15 people that was there in the beginning. They're still working and making it work for all of us, so it's still pretty small.

PC: Were you a little surprised by the ovation you received when you walked out?

FT: It was a little bit surprising. I've been gone for so long, I didn't know that many people actually knew who I was. This proves that my own personal hustle outside of the UFC worked. I got a couple of wins going on and I just think about how big I would be after I got a couple of wins inside of the UFC, with the big marketing machine behind me. If I got that kind of ovation just from my own work, just think of what the UFC would do for me. It was surprising to see that many people remember me and give me that kind of props, but it also helped fighting a guy like Josh Koscheck. That kind of worked in my favor as well.

PC: What did you think of the fight itself Trigg?

FT: I stepped on his foot and I was so worried…there is a small gap, about a 3 inch gap between the edge of the cage and the edge of the canvas and everyone knows it's there and I was kind of worried about stepping my left leg into it and losing my balance. So as a result, I stepped on his foot, he moved out of the way and I was looking down and when I looked up, he was gone. I turned to my right to try to catch him to get him back into my vision and next thing I saw was his right hand, so I slipped the inside like I'm supposed to. My hand was also down. It was not in a proper boxing position, just a little bit too low, not really low, but a little bit too low, so I slipped inside and then my thought process was let me throw an uppercut on the inside, but Josh doesn't throw like a boxer. He throws like a brawler, so he continued to throw with his punch, but it wasn't straight; he hooked it. I slipped by it and he continued with his punch and caught me on the side of the head and put me down. That's just how it works. He was very well prepared to throw his punches the way he throws them and it put me down. That's the price you pay to fight, you know? How do you regroup?

You know Mayweather fought the same night and there are a lot of things that I like about Mayweather. And I talked to Roger Mayweather just a little bit in passing and he probably couldn't remember me from Adam, but I took some good knowledge from him on the whole process of boxing and one of the things Floyd does is when you see him box, and if you talk to him in a club, a restaurant or you talk to him in the street and he's a normal cat and his eyes are a normal size, but then you watch him in a fight and you see all of the white in his eyes. I never understood that. I just thought that maybe he was hyper active. But it's because he just wants to keep his vision on his opponent at all times. No matter where he's at or what he's doing defensively, he can see you at all times. That's one of the mistakes that I made and Roger says it happens all of the time, whether it's in mixed martial arts, boxing or a street fight. Guys don't look at their opponents and they lose them. That's what happened to me against Josh and when I found him, that's when he put me down. That's one of the things I'm going to try to fix is being able to see my opponents at all times with my defense. I'm actually going to try to change my defense up. I'm not going to use so much of traditional old school sweet science style of boxing defense. I think I'm going to adopt a couple of different styles, more like a Winky Wright or Floyd Mayweather Jr. kind of style from a defensive standpoint. I don't have their speed or timing or the information to box like they do, but their defense I'm going to kind of adapt because I think it is a little bit more suited for me at my age and with the skill level I have right now for my standup game. I want to adopt that kind of style for my defense and see if it helps out in my next fight, but the main goal is that I want to always keep my opponent in front of me. Not necessarily 90 degrees in front of me, but where I can see them at all times. I have to have it where my eyes can keep them in view. That's the biggest thing that I have to fix and that's one of the mistakes that I made and it's overbearing. If you go back and look at the tape, that's what happened to me. All of a sudden, he was out of my vision and whether I stepped on his foot or I thought I stepped on the cage doesn't matter. All of that stuff comes from me losing vision of Josh and him hitting me and it's mainly because I couldn't see him at all times.

PC: It was reported that you were going to be released and then that you were going to receive another shot. How did that go down for you?

FT: Whenever you have a loss, the first thought that hits my mind is, "You sucked. They might as well let me go." That's the nature of the loss, but as far as I understand, the UFC was never going to release me at least for one more fight. If I lose this next one, I could definitely see them letting me go. I have a 4-fight contract that started with UFC 103. My goal right now is to go on a 3-fight winning streak and then they would have to renegotiate a contract with me is what I'm hoping. What happened was John Morgan from MMA Junkie had asked Dana White a group of questions at the same time and mainly about all of the fighters that lost, myself included. And then, he finishes off with Mirko Cro Cop. Well, with all of the questions, Dana answered, "I have to let some of these guys go and release them from their contracts; especially Mirko Cro Cop because of the way he's been fighting lately and he just isn't up to speed." As a reporter, when you asked someone a question and they give you back a blanket answer, then he was thinking Trigg may be getting released as well because the President of the company said I may have to release some of these guys. I understand as a competitor that has been fighting for the UFC, until Dana or someone calls you directly or you get a pink slip, a certified letter from them in the mail, then you're still with the company. No matter what was said or what was done before that, until I see that pink slip, I'm still with the company. You know, part of me was nervous and was like, "If Dana says I'm out, I'm out. That's just how it works." I just kind of waited and it was about 3 days later, I got a call from Joe Silva and he says, "Relax, you're okay!" My wife is a huge Cowboys fan, so we stayed for the Giants-Cowboys game and the opening of the stadium and when we flew home Monday night, I had a couple of missed phone calls on my voicemail and I didn't get to them until Tuesday and when I called Joe back, he told me I was good. He said they would get me another fight, they didn't know against who, but I was okay. The panic was over and we're moving forward, but from what I understand, they never were going to release me. There may have been some conversation. From my standpoint and the way it came to me was that there were never any plans of letting me go.

PC: Whether it is in the UFC or elsewhere, how much longer do you realistically see yourself doing this?

FT: The wife and I had a talk and they can hold me off until May or June. I will be 38 years old on my next birthday, which is in May. I would like to go as long as a Randy Couture. The reality is in the weight class that I'm in and the speed, timing and strength that these guys have…guys like Fitch, Koscheck, Swick, Pyle and Baroni, who are coming up and getting much better every time they fight, I'm going to only have 6 more fights left in me. I want to finish up this contract and maybe get one more. I may not even have that long. It depends on how the next series of fights go. There is going to be a time because I do want to commentate when I retire and I do want to be on TV when I retire, so I cannot be punch drunk. I cannot be stupid or lose my ability to speak and not be quick on my feet with a mic, so if I start getting a little damage to the head, then we may have to pull out and rethink. We sit down after every fight, my son, my daughter and my wife, and we go through everything and we make a decision. They ask me how do I feel and monitor my talking and I have to really listen to them and concentrate on what they say. If they think I'm starting to slow down or slur my words, then it's time for me to move out of the way and move on to something else. But with that being said, I would love to fight until I'm 46. I would love to be in there 10 more years. I would love to be one of the better fighters for the next 10 years and have that happen to me. I would love to retire at 45, but I had a 5-year win streak with the UFC and during that time, I got the title and worked my way up to 8 defenses and now I'm retiring. I would like to have that happen, but we have to see what happens and play it fight by fight.

PC: There are rumors of a Matt Serra fight. I know you might not be able to speak on it much, but hypothetically, if that fight happens, is that one you like?

FT: I was on some site and it was the first time I had heard about it. I don't know why everybody has come up with Serra as an opponent. Matt didn't say he was fighting me and to my knowledge, I haven't heard anything about it at all. I don't know who they are going to give me or what they're going to do with me. I think Serra would be a good fight for me if he's the guy because he's the only guy in the division that is shorter than me (laughing). I'm actually taller than he is, so it would be the first time that I had to fight a guy that is short. I have a lot of training partners in my camp that can mimic his style very well. I would have to bring in like an Andy Wang for the ground game. I have a couple of Jiu Jitsu guys that I can work with very well, but with Tyson Griffin and Gray Maynard, these guys are the same height as Matt Serra. It would be great for me to compete against him and very simple, but of course, the same thing if they gave me a Swick; a lot of guys in my camp that can train me to fight Swick or Fitch. I had a lot of guys that trained me and had me ready to fight Koscheck even though it didn't go my way. If my next fight is Serra, it's going to be a loser leave town match cause he is on a 2-fight losing streak, so that would be 3 fights in a row that he lost and for me, it would be a 2-fight losing streak if I lost and I'm out. One of us is going to have to go home. If I fight somebody else and I lose, I'm going to have to leave regardless because I would have 2 losses. I would like for them to give me a tomato can, like some low-level martial artist, so I can beat the crap out of somebody for a change and get a win streak going, but the way they work with me, it's going to be somebody tough no matter who it is.

PC: You haven't had an easy road buddy, that's for sure, but I know you train hard and I'm sure we will see a better version of Frank Trigg next time out. Is there anything you want to say in closing?

FT: I just want to thank all of my fans. When we were in Dallas, they really came out. Not just the new school fans, but the old school fans that remember my win streaks and my fights with Hughes and all that. I'm still really overwhelmed. I'm not one of the most liked guys in the world and I get a lot of hate mail, but honestly, after that fight with Koscheck, the mail went from being 60/40 with 60 % being hate mail to 80/20 with 20 % being hate mail. Other than the Iron Sheik on Twitter picking on me everyday, it's pretty much gone my way man. I'm really appreciative of all of the fans and everyone who has come out afterwards. Guys like Luke and Charis at Silver Star being fans of mines first and then becoming friends and them sponsoring me and guys like Don from United Nissan here in Vegas. These guys are friends of mine first and don't care if I win or lose, but because of my ability to fight, they have come on and became supportive of me. It's just kind of neat to see even the new school guys have come along and try to take good care of me. So I really appreciate all of the fans that are out there right now.
[ Follow Percy Crawford on Twitter @MrLouis1ana ]