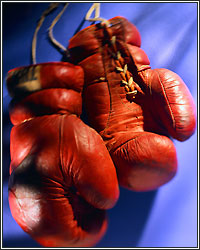 The southeast regional amateur boxing scene heats up this month as two big events take place in Alabama and Tennessee. The action kicks off tonight, November 7th, in Chatanooga, TN and continues the following weekend, November 14th, in Huntsville, AL when the Southeastern Association of USA Boxing hosts a dual meet with the US Army National Team.

Featuring some of the best boxers in the country, the US Army National Team has produced fighters like Al "Ice" Cole, Ray Mercer, Kennedy McKinney and Keith Mullings, as well as world-class trainer and 1988 US Olympic team head coach Ken Adams. The team will compete against the Southeast Regional All-stars. Chuck Glover, President of the Southeastern Association of USA Boxing, enlisted the help of coach Larry Bright to bring together some of the bester fighters from Alabama, Georgia, Tennessee and Mississippi to compete.

In related Southeast Regional news, the Augusta Boys Club has put together a schorlarship fund in the name of Vernon Forrest, the biggest star to come out of their 30-year organization. Couach Tom Luritus and the entire city of Augusta should be proud. It's a great memorial to a kind human being who left us with memories.