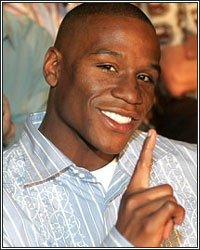 Not long after Manny Pacquiao's impressive 12th round TKO victory over Miguel Cotto, the President of HBO Sports, Ross Greenberg, received a phone call from Golden Boy Promotions CEO Richard Schaefer, who informed him that he's been given the green light from Floyd Mayweather Jr. to begin negotiations for a potential Mayweather vs. Pacquiao showdown. "He plans on meeting next week with Bob to make the Mayweather fight," revealed Greenberg just minutes after the phone call. Arum would reiterate the news during the post-fight press conference.

Although Mayweather did not attend the bout, opting instead to watch from the comforts of his home, his father and world-class trainer Floyd Mayweather Sr. was in attendance to assess Pacquiao's abilities first-hand. "When it's time for us to fight, I'm going to show you all who the master is," he commented after the bout.

The fact that Schaefer was in contact with Greenberg less than two hours after the fight was over is a good sign that Mayweather is indeed eager to make the matchup. The question is will the two sides be able to come to terms with the purse split. Time will tell, but considering last night's performance and the anticipated success of the pay-per-view, which is expected to exceed the 1 million PPV buys of Mayweather-Marquez, Mayweather should consider himself lucky if he's able to get a 50/50 split.

With his win over Cotto, Pacquiao has now proven to be not only the more exciting and entertaining fighter, but also the bigger draw.