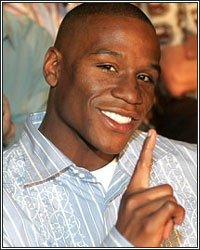 Forget what you've heard about a potential mega-fight between multi-division champion Floyd Mayweather Jr. and pound-for-pound champion Manny Pacquiao. Sources close to the information have informed us that Mayweather, who's been seen working out at his Las Vegas gym more than usual lately, already has a fight date lined up in the UK. According to one source, the three potential opponents in consideration are former welterweight champion Carlos Quintana, welterweight contender Matthew Hatton or jr. welterweight contender Dmitriy Salita.

Although fans assume a mega-fight with Pacquiao is on the horizon, our sources inform us that Mayweather is anticipating negotiations to take quite some time before both sides reach an agreement, therefore, the undefeated fighter has decided to to take another "tune-up" bout in order to stay sharp. "He wants to stay busy," another source remarked.

Although no date was given, this isn't the first time that rumors of Floyd fighting in the UK have surfaced. "My ultimate goal is to fight in the UK eventually. That's always been one of my dreams to come over to the UK to display my skills and display my talent for the fans all around the world, but especially for the fans in the UK," Mayweather stated in a recent interview with Sky Sports. When asked about the possibility of going on a world tour and fighting in different countries, Mayweather continued, "I'm talking with my team about that. That's in the future, absolutely."

As for the opponents being considered, undefeated jr. welterweight Dmitriy Salita (30-0-1, 16KOs) is currently set to face WBA jr. welterweight champion Amir Khan on December 5th, welterweight contender Matthew Hatton (37-4-2, 14KOs) is coming off a tough draw against Lovemore Ndou this past Friday and former welterweight champion Carlos Quintana (34-2, 27KOs) is tentatively scheduled to appear on the December 5th undercard of Paul Williams vs. Sergio Martinez.

Personally, I sincerely hope that what we were told isn't true, but our sources are extremely reliable. Calls placed to Mayweather Promotions CEO Leonard Ellerbe have gone unanswered, but something tells me that I'll be hearing from him real soon once news of this story reaches him.

STAY TUNED FOR MUCH MORE...
[ Follow Ben Thompson on Twitter @fighthype ]