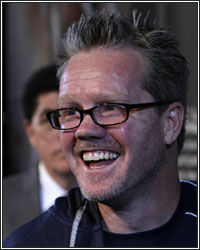 "We want to fight in March. They don't want to go that early, so we might take one fight before that, but it looks like it's going to happen in September Bob tells me," commented world-class trainer Freddie Roach in a recent interview with Sky Sports, hinting that Floyd Mayweather Jr. may not be the next opponent for Manny Pacquiao. Instead, the 7-division world champion just might move up to the jr. middleweight division to try and capture an eighth world title.

"We might fight for the 154-pound title in March and move up for that eighth world title," Roach would tell Sky Sports Mark Vester of Boxingscene.com. "Yuri Foreman might be the opponent. It is a possibility, and then Mayweather in September. If they guarantee me that, we'll do that, but I need more of a commitment from Mayweather because he's not negotiating too well."

The question is why doesn't Mayweather want to fight in March? Originally, Freddie Roach was reluctant for Pacquiao to fight in March due to the damage he sustained in his fight with Miguel Cotto. However, it appears that Team Pacquiao is now willing and able to make the fight sooner than the original May 1st date that HBO was targeting. Does Mayweather have other plans, like the rumored bout in England against Matthew Hatton, Carlos Quintana or Dmitriy Salita? Inquiring minds want to know.
[ Follow Ben Thompson on Twitter @fighthype ]