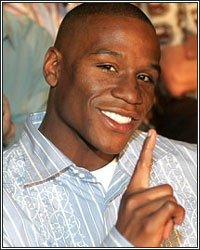 It appears the ball is in Pacquiao's court now as multiple sources have confirmed that Floyd Mayweather Jr. has agreed to terms for a March 13th welterweight showdown. "They made him an offer he couldn't refuse," a source commented in regards to Mayweather's decision. Orginally, HBO was targeting May 1st as the date for the potential showdown, but Pacquiao's decision to run for Congress in the May 2010 Philippine general elections put a damper on negotiations. Quickly, word spread of aleternate plans for both camps; Pacquiao contemplating another move up in weight and Mayweather eyeing a tune-up in the UK. Boxing fans waited anxiously for either side to make a move and now, a move has been made.

According to a source, Mayweather has now agreed to face the Filipino icon on either date, March 13th or May 1st. Furthermore, another source commented that the purse split "won't be an issue" as the undefeated multi-division champion was given a "significant" offer that he "simply couldn't refuse." Evidently, the amount of money that Mayweather is getting sits well with Pacquiao's legendary promoter Bob Arum, who is currently en route to the Philippines to present the terms to his superstar client and finalize the deal. Make no mistake, the 77-year-old Arum would not be making the long journey to Manila if he wasn't satisfied with the deal.

Although several details still need to be worked out, both sides seem content with the biggest issue, the money. What should come as no surprise, the bout will take place at the standard welterweight limit of 147 pounds. The location has yet to be determined, but Dallas, New Orleans and Las Vegas are still the frontrunners to host the bout. Although the New Orleans Superdome and the new Dallas Cowboys Stadium would be excellent venues, the fight will likely still end up in Las Vegas.

Pacquiao's trainer, Freddie Roach, recently commented, "We might fight for the 154-pound title in March...I need more of a commitment from Mayweather because he's not negotiating too well." Given this recent turn of event, it looks like Mayweather just gave Roach the commitment he was looking for. Nothing is standing in the way and the biggest fight in boxing will happen in less than 4 months...or will it? The only thing left is Pacquiao's agreement to his side of the financial terms. The ball is in Manny's court now.
[ Follow Ben Thompson on Twitter @fighthype ]