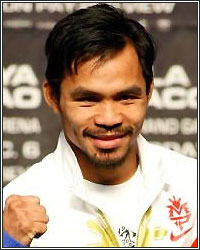 According to Ronnie Nathanielsz of PhilBoxing.com, after meeting with promoter Bob Arum, Filipino icon and pound-for-pound champion Manny Pacquiao has agreed to terms for a March 13th clash with Floyd Mayweather Jr. "I had a meeting this morning and we went over all the points and now I have to go back to the United States and sit with the Mayweather people and finalize some very minor aspects and then we'll have an announcement sometime next week," Arum commented early this morning with a smile on his face.

"Manny was very alert and showed a tremendous knowledge of what he was doing and his problems of running for office and the March 13 date solves those to some extent," he added as he talked about Pacquiao's political aspirations and how it initiallly affected the date of the proposed bout. "I just hope that Manny will be focused. I think that his congressional opponent [Roy Chiongbian] would do everyone a service, including the great country of the Philippines, by withdrawing from the race and take Manny's mind off politics so he can concentrate on the fight."

Although Arum was tight-lipped on most of the details of the bout, he did hint that an official announcement could be expected next Tuesday, which happens to be the legenday promoter's 78th birthday. He also suggested that instead of an extensive multi-city promotional tour, the two sides would meet just one time, in New York City, to promote the mega-event. On Thursday, Arum, along with Golden Boy CEO Richard Schaefer and HBO Sports Ross Greenberg, are set to meet with Dallas Cowboys owner Jerry Jones to further discuss the possibility of the Dallas Cowboys Stadium as a possible venue for the event. As expected, the MGM Grand Garden Arena is still candidate as well.

"Manny has some additional requirements, requests, which Arum didn't think was a problem," Pacquiao's advisor, Michael Koncz, added in an updated AP report. Nevertheless, whatever those requirements may be, they're not likely to prevent both men from signing on the dotted line for the highly-anticipated bout. "The requests of Manny were so realistic that Arum doesn't feel it's a problem and it's pretty much a done deal."

Contracts have yet to be signed, but it now appears that nothing stands in the way. Boxing fans will get an early Christmas gift when the announcement is officially made.
[ Follow Ben Thompson on Twitter @fighthype ]