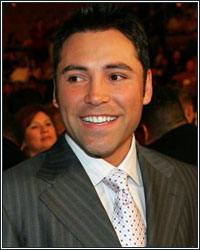 Just hours before the Boston Celtics tied the NBA Finals series when they defeated the Los Angeles Lakers yesterday, Oscar De La Hoya revealed that negotiations for a mega-fight between Floyd Mayweather and Manny Pacquiao are close to being finalized. Speaking to Spanish sport show República Deportiva via satellite in front of the STAPLES Centers, De La Hoya briefly talked about the current status of negotiations and, with a grin on his face, hinted that the two sides were extremely close to making the biggest fight in boxing a reality. "These negotiations have been real difficult for various reasons, but we're really close to finalizing the contracts, even though they've been complicated," he commented.

Of course, De La Hoya's comments were cryptic at best, reminding the viewing audience that he wasn't at liberty to talk about negotiations, however, on several occassions, he did stress that they were close to making the mega-bout a done deal. "But I think that both fighters realize that this fight has to happen because the fans want this fight and today it is biggest fight in boxing right now. It's a huge fight and I think that we're really, really close to finalizing the negotiations for the contract," De La Hoya added. "Today, I can't really talk about the negotations, but we're really close."

It should be noted, however, that when it comes to this particular bout, De La Hoya actually has very little to do with the negotiations. Although he likely has second-hand knowledge of the proceedings, it's actually Golden Boy CEO Richard Schaefer and Top Rank President Todd duBoef who have been doing the majority of the talking, albeit their strings are likely being pulled behind the scenes by Pacquiao promoter Bob Arum and Mayweather adviser Al Haymon. Whether or not the two sides actually are close to coming to terms remains to be seen, however, those that are looking for a positive sign can take De La Hoya's comments for what they're worth.
[ Follow Ben Thompson on Twitter @fighthype ]