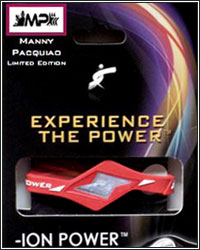 Having already launched his own line of cologne, named MP7, this past November, pound-for-pound champion Manny Pacquiao will soon be expanding his rapidly growing business empire even further. MPBoxing Incorporated, a joint venture between Pacquiao, his adviser and attorney Jeng Gacal, and co-author of his official autobiography Timothy James, will be teaming up with IonLite International to create his own line of ionized wrist bands.

Dubbed the Manny Pacquiao Ion Power Bracelet, the wrist band is made up of a balanced mix of metals that is said to help restore appropriate energetic circulation to the entire body of the wearer, improving strength, balance and flexibility. "The Manny Pacquiao Ion Power Bracelet is so unique, with it's Patent-Pending design, that we look forward to standing way out in the global balance bracelet market," explained Michael Ayer of RiginAir Company, the Sales & Marketing arm for Ionlite International.

Pacquiao has already signed a Letter of Intent to endorse the product, and with contracts set to be finalized in the coming week, the wrist bands are already scheduled to hit the market as early as March. For much more information on the Manny Pacquiao Ion Power Bracelet, as well as other products and future business ventures of MPBoxing Inc., visit the official website of Manny Pacquiao at MPBoxing.com.

For even more exclusive information regarding Pacquiao, be sure to follow him on his official Twitter page (http://twitter.com/PacmanOfficial), Facebook (http://www.facebook.com/MPBoxing), and YouTube Channel (http://www.youtube.com/user/mannypacquiaofficial).
[ Follow Ben Thompson on Twitter @fighthype ]