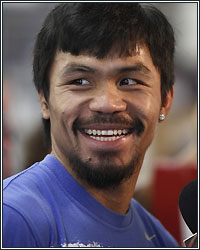 Following his stunning 2nd round knockout of Fernando Montiel last Saturday, Nonito Donaire blasted his way up the pound-for-pound lists and had the HBO commentators drooling about his incredible performance. One spur of the moment comment that struck me was Roy Jones Jr's assessment of Donaire, claiming him to be the #2 pound-for-pound fighter in the world while another was Max Kellerman's borderline moronic comment of moving up to Featherweight in lieu of facing the winner of the Bantamweight tournament currently in progress on Showtime. Before I go any further, let me give you my own top ten pound-for-pound list:


Manny Pacquiao
Sergio Martinez
Juan Manuel Marquez
Timothy Bradley
Bernard Hopkins
Nonito Donaire
Andre Ward
Giovanni Segura
Amir Khan
Wladmir Klitschko
The absence of Floyd Mayweather on this list is solely based on the fact that Mayweather will not fight in May, making it a whole year that he has not fought, otherwise he'd be in the three spot.
Despite Donaire's shocking win, I have him placed no higher than 6th based on the fact that in-between his two biggest wins, which came against Vic Darchinyan four years ago and Montiel last weekend, the opponents he faced during that timeframe weren't exactly world beaters. While Pacquiao is holding on to the top spot based on merit alone, the time is soon approaching where Pacquiao is definitely going to fall off the top spot of these mythical rankings.
My theory stems from Bob Arum's comments a few weeks back saying that a third and final fight with Juan Manuel Marquez is the target opponent for a November match-up if Marquez doesn't resign with Golden Boy Promotions, and it is looking increasingly likely that Marquez isn't going to re-sign with Oscar De La Hoya's sinking ship. Mark my words ladies and gentlemen, if Pacquiao-Marquez III happens even ONE POUND over 140, there is no logical argument that even Pacquiao's most ardent fans can give me that he should still be recognized as the best pound-for-pound fighter in the sport.
Now don't take me as a Pacquiao hater. I am quite the opposite. I just have to say that if we are rewarding him for fighting the best possible opposition that he can with the #1 ranking in a purely theoretical standing, then his grip on that spot is shaky at best. For example, Pacquiao's last three opponents (Joshua Clottey, Antonio Margarito, and now Shane Mosley) are either one fight removed from a very clear loss, or in the case of Clottey, a loss altogether. Had this have been Mayweather or even Martinez, then people would consider it heresy that they are considered as the best active fighter in the sport.
Pacquiao's reign as pound-for-pound king for the better part of four years now has been justified with his division hopping reign of terror from 130 all the way to 154, winning titles and destroying fighters in his wake, but now it is looking more and more clearly that Pacquiao's team has decided that the time for high-risk/high-reward is long gone. It doesn't surprise me since, after all, Mayweather faced the exact same criticism when he too landed at 147 and opted to face off against Zab Judah and Carlos Baldomir as opposed to Margarito.
Just as the public questioned Mayweather, I intend to question Pacquiao. When you have fighters like Bradley and Martinez fighting the #1 or #2 guy on a continual basis, or fighters like Donaire who just blow them out of the water and shows enough flash that he may overtake the mantle, coupled with Pacquiao's questionable selection of opponents, well that provides us with quite the conundrum. So will boxing have a new pound-for-pound fighter at years end? What can Pacquiao do to avoid the dreaded "cherry picker" designation? I'll go deeper in detail and answer all of these questions next Thursday, and get ready for a few suprises.
Follow
Danny Howard on Twitter
(Dbhoward126) or contact him directly at
dhoward@fighthype.com
.