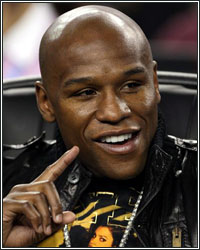 "You know what I'm going to be doing Saturday night? Saturday night, I'm going to be watching Lady Gaga on HBO, the best network in the world. I want everybody to tune in and watch Lady Gaga. She's on the biggest and best network, HBO," remarked undefeated future Hall of Famer Floyd Mayweather Jr., who revealed his plans to watch a Lady Gaga concert this weekend on HBO instead of tuning in to the mega-fight between pound-for-pound champion Manny Pacquiao and three-division world champion "Sugar" Shane Mosley. The HBO concert special, Lady Gaga Presents: The Monster Ball Tour, premieres this Saturday at 9PM ET and will go head-to-head with the Showtime pay-per-view card.

Mayweather, who made sure to invite others to watch the concert as opposed to the sold-out fight, revealed the news to FightHype's Ben Thompson after sharing his opinion of Pacquiao and Mosley squaring off. "Leftovers. Because when he comes to my house, the only thing he can eat is leftovers. Shane was already a beaten fighter," Mayweather remarked, suggesting that Pacquiao is simply fighting guys that he's already beaten. "All he's doing is fighting my leftovers and he just keeps on saying that I'm scared. All I say every day is this, just take the test."

Although he won't be watching the fight, Mayweather did hint that he would be rooting for Mosley, but didn't think he would be able to pull off the upset. "I want Shane to win. Everybody says, 'Well, if Shane wins, what about your money?' I don't worry about that," he continued. "The thing about Shane is that he's got a good chin, but everything deteriorates as you get older."