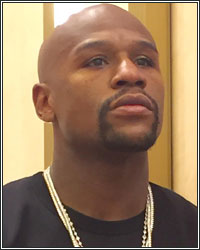 "It's crazy how they always say, 'Andre Ward is such a boring fighter. Mayweather is such a boring fighter.' I want to see Triple G fight Andre Ward. I don't want Andre Ward to go up to 175," stated retired undefeated former pound-for-pound king Floyd Mayweather, who shared his thoughts on what seems to be a double standard when it comes to the careers of undefeated middleweight champion Gennady Golovkin and undefeated former super middleweight king Andre Ward. According to Mayweather, the fact that both men are heading down different paths is not only a disservice to the fighters, but also a disservice to boxing fans around the world.

"Nothing happens over night. Everything takes time. Andre Ward should not go up to light heavyweight. He can go to light heavyweight when they make Triple G come up to fight him at 68. That's the deal I would make. That's what I would do if I was dealing with Andre Ward's career. But, you know, I'm not dealing with his career. I think that his body is so used to fighting at 168. If that's what he's accustomed to, then that's where he should continue to fight at. If the money is not going to be ridiculous, I mean, why go up," Mayweather explained during a recent conversation with FightHype.com. In his opinion, Ward is being forced to move up in weight because HBO is more interested in protecting Golovkin's undefeated record than they are in making a clash between what many consider to be the two best fighters at 160 and 168 pounds.

"Somebody said Max Kellerman said something, talking about Triple G beating me. That's his job, but I mean, Triple G is very, very good at beating up a stationary target. He's good at beating up guys that are going to be right in front of him. We've seen it before. Once Triple G goes up to fight Andre Ward, which they're constantly ducking and dodging that fight," Mayweather continued. "Like I said before, these guys get told what to say. They're told what to say and they're told what questions to ask. Andre Ward, if he's over there doing business with HBO, ask the question to Triple G like, 'Are you going to move up and fight Andre Ward before Andre Ward moves up to fight Kovalev?' They never ask him that. Of course, you know why? Because it's going to be an easy fight for him [Ward]. Easy! Easy pickings!"

The way Mayweather sees it, HBO has clearly put more stock into making either Golovkin or Canelo the next pay-per-view star of the sport. Because of that, Mayweather believes there's a double standard when it comes to the career moves that other fighters are able to make. "I want Andre Ward to be very, very careful because when I fought Arturo Gatti, they wanted me to get beat. They really wanted me to get beat. They, and when I say they, I'm not saying who they are, but what I believe is that they're trying to get Andre Ward beat," he added. "They don't want Triple G to get beat unless he gets beat by Canelo because Canelo is a bigger star than Triple G is. That's why they're lying to the public telling the public that Triple G did over 150,000 homes when he really only did 90-someething homes. Did they want Triple G to fight Cotto? Yes! Did they want Cotto to win [against Canelo]? No! I already knew that if Cotto didn't knock Canelo out, he wasn't going to get the victory because at the end of the day, this is business. They know that they still got a decade left with Canelo. They still got another 10 years left at least. That's how the business works."
[ Follow Ben Thompson on Twitter @fighthype ]