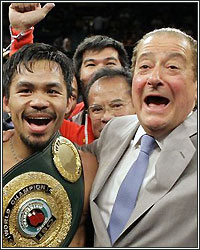 Two weeks ago, WBO welterweight champion Manny Pacquiao embarked on a 12-day media tour to promote his upcoming November 22 clash with WBO jr. welterweight champion Chris Algieri. Billed as "Champion vs. Champion", Pacquiao will look to defend his 147-pound title in Macao, China against a man who has never fought outside of the state of New York. In fact, up until his last fight, a 12-round split decision victory over former jr. welterweight champion Ruslan Provodnikov that was televised on HBO, the biggest stage that Algieri had ever fought on was ESPN Friday Night Fights. It's a hard sell for any spin doctor, trying to convince fans to pay to watch a fighter with just 8 knockouts in 20 fights attempt to dethrone an eight-division world champion future Hall of Famer with 38 knockouts in 63 fights. That, however, is exactly what promoter Bob Arum is trying to do, and he's using a familiar tactic to do it.

"There are serious negotiations with the Mayweather camp and my promoter," Pacquiao revealed to a group of journalists in New York during the final U.S. stop of the international press tour. The announcement came on the heels of his promoter, Bob Arum, suggesting that two fights between Pacquiao and Mayweather could potentially take place in 2015. "Both networks want this to happen. All signs seem to point to a first fight early next year," Arum explained. "A second fight in the autumn would provide a different cash split because the winner of the first would claim the higher percentage. As each of them believes he would win, that provides an extra incentive.

I recently caught up with pound-for-pound king Floyd Mayweather to get his take on these latest developments in the ongoing Mayweather vs. Pacquiao saga. As I suspected, the comments from both Arum and Pacquiao were more hype than substance as Mayweather set the record straight with just two words. "All lies," he emphatically stated before giving me a look that said, "You know better than that!" And he's right, I do know better than that, as Arum has a history of manipulating certain members of the media by feeding them select quotes designed to accomplish his goal. In this case, that goal is to generate interest in a fight that seems to be lacking any buzz thanks to an opponent that very few are familiar with.

Let's face it, ever since Manny Pacquiao was knocked out by four-division world champion Juan Manuel Marquez, his pay-per-view numbers have been on a steady decline. Although no official numbers were ever released, his return bout against former lightweight champion Brandon Rios only registered "in the neighborhood of 475,000 buys". Furthermore, his following bout, a rematch with familiar opponent Timothy Bradley, reportedly generated "between 750000 and 800000 pay-per-view buys", which was a drop in numbers from their first fight. Now that Pacqiuao is fighting a foe whose educational exploits appear to be touted more than his ring accomplishments, Arum needs a little more pizzazz to generate interest, and what better way to do that than to lead fans to believe that a potential clash with Floyd Mayweather is on the horizon.

And thus, Arum has once again kicked off his campaign to promote Pacquiao's next bout by piggybacking off of Mayweather's name. Enlisting the services of both Freddie Roach and Manny Pacquiao, Arum and his team have already started rehashing familiar quotes that were long forgotten when Marquez landed one well-timed right hand. "Floyd is scared to lose the zero." "Mayweather is shot, his legs are gone and Manny will knock him out." "He doesn't want to fight." It's a familiar dog and pony show for Arum, who at one time insisted that "once you start negotiating through the media, it becomes ego driven." That's an interesting statement from Arum, especially considering that he, Roach, and Pacquiao are the only ones talking to the media about "serious negotiations" that they claim to be taking place. Don't believe the hype! Or in this case, DO believe FightHype.com when we tell you that it's not true. They're simply using the idea of Mayweather vs. Pacquiao to help promote Pacquiao vs. Algieri.