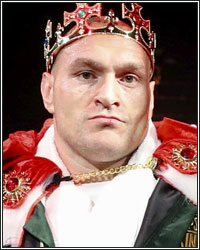 Unfortunately, it's not so unusual anymore, but the United States will have a very minimal role in the highest tier of the heavyweight division this coming year.

WBC champ Tyson Fury is allegedly unable to enter the US due to possible ties with accused Irish cartel leader Daniel Kinahan. Meanwhile, a mutual disinterest between America and IBF/WBA/WBO titlist Oleksandr Usyk, assures that heavyweight title action won't be anywhere near the land of Ali, Frazier, Marciano, Louis, Holyfield, and Tyson.

This is not to say, of course, that this matters all that much in the big picture of boxing anymore.

Fury and Usyk will fight at some point in 2023 and it looks like sooner rather than later as a March date has been tossed about in public. The winner will become the first fully unified heavyweight champ in the four-belt era. That's a pretty big deal for boxing. Even though the "we need one champ per division" boxing nerd lament is way overblown, it WILL be of benefit to the sport to have a singular world champ in the only division with true crossover mainstream appeal.

The bad news in this Fury-Usyk unification is that, no matter who wins, the United States will get no positivity from the fallout. If Fury wins, there'll be a charismatic, media-appealing king-- who can't enter the country. If Usyk wins, nobody in the country will care about anything he does. Lose-Lose for the USA.

But, again, boxing is not just about what makes the US scene thrive. It'll still be great for the sport as a whole to have one true unified champ.

Deontay Wilder looms large over the immediate future of the division. His big punch, kill-or-be-killed style, and the fact that he fought his ass off in both of his Tyson Fury losses makes up for the tired cracks about his lack of skill and lame post-defeat excuses. The Bronze Bomber is arguably the most compelling fighter in the weight class at the moment and boxing is better with him in it.

With lots of options laid out before him-- Andy Ruiz, Anthony Joshua, Joe Joyce, and a shot at Usyk should he beat Fury to become unified champ-- Wilder has many opportunities for big money and instant career redemption.

Speaking of redemption, Anthony Joshua's drawing power and connections will get him every possible chance at a third grasp at glory. As a matter of fact, it's quite possible that AJ could be fighting for a world title by the end of 2023. That's assuming, of course, that he doesn't stumble against whoever is put in front of him as a rebuild/regroup opponent. That's no guarantee, though. Joshua is still a tank with heavy artillery at his disposal, but the tank commander driving that big machine is shaken, disjointed, and looking increasingly unable to marshal his forces for a much-needed re-tooling.

Andy Ruiz has proven that, at his very best and most focused, he can beat anyone on any given night. The problem is that he's not often at his very best. The first heavyweight champ of Mexican descent looked solid and capable in his victory over Luis Ortiz in September. Unfortunately, solid and capable won't be enough to re-take the throne. A buzzed-about matchup with Deontay Wilder would be good fun and provide a ladder back to one more shot at a title.

Joe Joyce is on the precipice of big opportunities. Forget about that nonsense interim WBO belt he has, "The Juggernaut" is one good round of negotiations (or a canceled Fury-Usyk fight) away from a world title shot. His body of work screams "legit," but at 37, there's not much time to waste when it comes to grabbing at opportunity. He'll probably get his shot at big things in the second half of 2023.

In a perfect world, the best of the rest in the division would face one another to determine a true next contender. The horses are there to run that race, to piece together a killer informal tourney. Names such as Dillian Whyte, Frank Sanchez, Luis Ortiz, Daniel Dubois, and Filip Hrgovic (among several others) are all viable next-tier fighters who could be put in entertaining ladder-climbing clashes. In this not-so-perfect boxing world, however, these guys will probably just sit back and wait for a big-money title bout to fall into their laps, not wanting to risk their place in the line of contention.

The 23-year-old Jared Anderson should continue to improve and earn the reputation he deserves in 2023. Big, strong, quick, and increasingly fluid, the Toledo, Ohio native has also proven himself to be a charismatic character. He represents the United States' best chance of bringing the heavyweight throne back home for an extended stay at some point in the future.