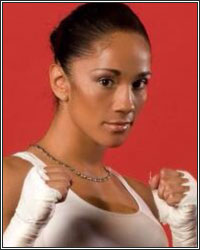 Today, Most Valuable Promotions (MVP) took another historic step on its mission to advance women in boxing to be treated equal to their male peers, announcing the first ever Women's Unified Championship bout with the same rules as a Men's Championship. Seven division boxing world champion and undisputed featherweight champion Amanda "The Real Deal" Serrano (45-2-1, 30 KOs) will face mandatory WBO featherweight challenger Danila "A Guerreira" Ramos (12-2, 1 KO) on Friday, October 27th at the Caribe Royale Resort in Orlando, Florida.

Serrano vs. Ramos will be preceded by MVP's third installment of its Most Valuable Prospects series, presented by Celsius Essential Energy Drinks. The WBO, WBA and IBF world title fight between Serrano and Ramos will be contested at 126 lbs and will set a long-awaited historic precedent in women's boxing as Serrano vs. Ramos will be contested over 12 three-minute rounds, equal to men's championship fights. To date, per the Association of Boxing Commissions and Combative Sports women's championship fights have been contested as 10 round bouts at 2 minutes per round. Most Valuable Prospects III which precedes Serrano vs. Ramos will be headlined by Antonio Vargas (16-1, 9KOs) as he looks to defend his WBA Continental Americas bantamweight title in a 10 round bout. Serrano vs. Ramos and Most Valuable Prospects III will be available globally on DAZN, with tickets set to go on sale Wednesday, September 13th at www.ticketmaster.com.

Serrano vs. Ramos seeks to set a new standard for women's boxing, one that hasn't been seen since Layla McCarter vs. Melissa Hernandez in 2007. This marks over 15 years since the sport has garnered a women's fight equal to the men's maximum of 12 rounds at 3 minutes each. Now, with the world watching, Serrano and Ramos will show a new generation of female boxers that they can do anything their male counterparts can do and for the first time ever compete at the same level for a unified world championship title.

Serrano, the first ever Puerto Rican undisputed world champion, started her current WBO featherweight title reign by defeating Heather Hardy in a brutal 10 round fight in 2019 to win the WBO belt, and has since defended her WBO belt five times. Most recently, Serrano offered Hardy redemption, but successfully defended her undisputed featherweight world champion title for the first time in a decisive 10 round unanimous decision victory. Serrano also won a blood-soaked war against WBA featherweight champion Erika Cruz back in February, which made her the undisputed featherweight champion. Serrano's decisive win against Cruz followed her previous win over Sarah Mahfoud in Manchester, England that added the Dane's IBF title to her WBO, WBC, and IBO featherweight belts. Her historic clash against Katie Taylor at Madison Square Garden in 2022 earned recognition as Sports Illustrated's Fight of the Year and The Ring's Event of the Year and was further nominated for Event of the Year by Sports Business Journal.

Beyond her power packed punches, the Puerto Rican native is a fierce advocate for equality in women's boxing. Her headlining bout against Katie Taylor in 2022 broke barriers in women's boxing when it came to equal pay and was the first combat sports event headlined by two women at Madison Square Garden. Serrano will continue to make history as she faces Ramos, proving that boxers of all genders should compete at the very highest level possible, creating a new, equal standard of 12 three-minute rounds, irrespective of gender.

"Danila Ramos may be my WBO mandatory challenger, but when we step in the ring, she will understand exactly why I am the undisputed featherweight champion," said Amanda Serrano. "But this fight is about more than some belts. We have faced a long and hard battle, united as women, to achieve the same pay, respect, and recognition in boxing. Together, on Friday, October 27th, we will make history and prove to the world once again, how incredible women's boxing is and that we are just as tough, dynamic, and capable as any man in the ring, if not more so. This is a fight for women everywhere to be treated the same as their male counterparts."

Ramos, the veteran fighter out of Buenos Aires by way of Sao Paulo, Brazil, was ordered by the WBO on August 28th as mandatory challenger for Serrano's featherweight world title. On August 18th, Ramos won the WBO Interim World Featherweight Championship via a split decision over Brenda Karen Carbajal in Buenos Aires who had held the belt since May 13th, 2022. She shares the same sentiment and desire as Serrano when it comes to showing the world that the rules of elite boxing should be the same for men and women.

"Fighting Amanda Serrano for 12 three-minute rounds for a Unified Championship is set to break the barriers that we women have been looking to do for many years," said Danila Ramos. "We will go down in history and in the books, it will be a fight of two women warriors! I am preparing like never before for this fight and will proudly represent Brazil as we battle in Orlando, Florida and I look to bring all the belts home."

"MVP has been focused on disrupting and transforming boxing since our inception two years ago and Amanda Serrano has been a key pillar of those efforts. She is not one of the greatest female boxers ever, she is one of the greatest boxers ever, period," said Nakisa Bidarian and Jake Paul, co-founders of Most Valuable Promotions. "On Friday, October 27th, Amanda will once again demonstrate that she is a true ambassador of the sport and an advocate for all female athletes. Her dedication to transforming this sport into the best it can be is nothing short of admirable and she does it all with class outside the ring and a supreme intensity inside the ring. We also recognize Danila Ramos for her determination to show the world that women are equal. Additionally, it's important that we thank the Florida Athletic Commission for approving this fight and being a part of this historic event."

"Amanda Serrano is a true trailblazer and innovator", said Joe Markowski, CEO DAZN North America. "Since DAZN started working with Amanda, she has pushed for three minute rounds, and so we are proud to be involved in this historic night for the sport on October 27th. Watch it live around the world on DAZN."

Serrano vs. Ramos will be preceded by MVP's third installment of its Most Valuable Prospects series, presented by Celsius Essential Energy Drinks. The main card of Most Valuable Prospects III will feature three exciting matchups, including the return of the young Puerto Rican sensation Krystal Rosado, Amanda Serrano's first official signed fighter, who made her pro-debut on Most Valuable Prospects II with an impressive TKO victory in the second round, demonstrating her superstar potential. The Most Valuable Prospects series is produced and promoted by MVP, with Boxlab Promotions serving as the official licensed promoter and is distributed by DAZN. The third event in the series continues the commitment from MVP co-founders Jake Paul and Nakisa Bidarian to highlight the world's best up-and-coming boxing talent. All events within Most Valuable Prospects will take place on Friday nights in 2023 and will be hosted by Caribe Royale Resort in Orlando, FL. DAZN will air the series globally across its platforms as a part of its subscription package which will include Serrano vs. Ramos, the entire main card lineup and prelims. CELSIUS Essential Energy Drinks, maker of lifestyle energy drink, is the exclusive energy drink sponsor of the Most Valuable Prospects series.

For more information, follow on Twitter via @Serranosisters, @MostVPromotions, and @DAZNBoxing or on Instagram via @serranosisters, @daniboxe, @MostValuablePromotions, and @DAZNBoxing.