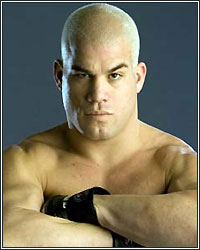 On Saturday, FightHype.com briefly caught up with former UFC light heavyweight champion Tito Ortiz, who was in Columbus, Ohio this weekend during UFC 96. Although he would not give out many details regarding his next fight, Ortiz did confirm, "I'm fighting in August!" One can assume that he may be referring to a possible fight on Affliction's next event, which was also rumored to take place in August. His opponent would likely be Renato "Babalu" Sobral, a fight that was originally rumored to take place at Affliction's last event.

Ortiz last fought in May of 2008 when he lost a three round unanimous decision to Lyoto Machida at UFC 84. Sobral, who's currently riding a five-fight win streak, last fought in January when he defeated Thierry Sokoudjou via submission at Affliction: Day Of Reckoning. Sobral is also the current Strikeforce light heavyweight champion. Given the fact that Strikeforce recently joined forces with Showtime to create an all-new series of MMA events, there's also a possibility that Ortiz could be referring to a potential fight on Showtime in the near future.

Assuming that Affliction's next event would be headlined by a heavyweight clash between Fedor Emelianenko and Josh Barnett, a bout between Ortiz and Sobral would make for an interesting co-main event. A potential fight on Showtime is just as intriguing as Strikeforce can also offer a long-awaited rematch with Frank Shamrock. That being said, it certainly was interesting to see Ortiz hanging out at a UFC event.