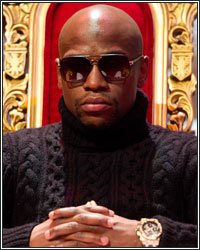 "Once I fought and beat everybody, first it was, 'Mayweather was scared of this guy!' What I do? I beat him! 'Mayweather's scared of that guy!' I beat him! 'Mayweather's scared of this guy!' I beat him! It's getting to a point that, if me and Triple G would have fought when I was fighting, I would've beat him and then guess what! There's going to be an excuse. Now it's time for me to go to 168," stated retired undefeated former pound-for-pound king Floyd Mayweather, who talked about the scrutiny his career has received during his 19 years as a professional. Despite the fact that he's won numerous titles in multiple divisions, was the reigning champion in two different weight classes at the same time, and defeated more than 20 former world champions, Mayweather feels that no victory will ever be enough in the eyes of fans and media alike.

"In the Olympic games, I was 125; went to 130, then went to 135, then went to 140, then went to 147, then went to 154. I never wanted the sport to retire me. I wanted to retire from the sport with all my faculties and extremely sharp, so no matter what nobody say about me, when it's all said and done, remember this: while you guys are saying, 'I hate Floyd Mayweather! Fuck Floyd Mayweather! I don't like Floyd Mayweather,' at the end of the day, every month, I get a 7-figure check and I'm very comfortable and I'm happy with that. It's not bragging, not boasting; I'm happy because I went out there and earned it the hard way. The good old American way; I went out there and worked and busted my ass. It's never enough; never enough," Mayweather explained during a recent conversation with FightHype.com. "The cool thing about my career, what I can say is this: I was in the sport 19 years, I made a lot of money, met a lot of people, been around the world, and retired when I wanted to retire and I left with all my faculties and I left extremely sharp."

Although Mayweather officially announced his retirement from the sport of boxing immediately after his 49th victory last September, speculation continues over whether or not he will return for a 50th bout. Today, Mayweather celebrates his 39th birthday and judging from his tone during our conversation, he sounds more than content with never lacing up the gloves again. "When it's all said and done, I don't know what investments no one else made, but my father; you know, my other father. I have two fathers and I love both of my fathers dearly. I gotta take my hat off to my first father because without him, I wouldn't be where I'm at. He's the one who taught me the fight game. He taught me how to fight; told me, 'The less you get hit, the longer you last in this sport, son. Either you want to be in this short time or you want this longevity.' My other father, what he taught me with this, he taught me the boxing business and also he made sure I made the right investments so I can receive seven figures a month every month for the rest of my life," Mayweather added. "So, you know, when people get to saying, 'Fuck Floyd! I don't like Floyd! He's a woman beater! He can't read,' find out if you still got to work, if you still got to punch a clock, because I can kick my feet up and travel the world every day and I didn't rob, steal, or kill nobody to get to where I got to. Simple and plain! Hard work and dedication. Prayers and belief and a good team.
[ Follow Ben Thompson on Twitter @fighthype ]