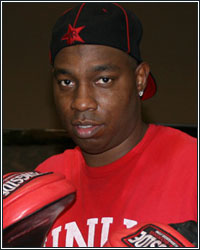 When you talk about just how great a fighter is, make sure you also judge them on their accomplishments. When I look at Bernard Hopkins, I think he is a guy that you have to take a second look at when you look at his career, and I think the same goes for Shane Mosley. I like Shane. Shane is a great guy and he is a good fighter. Both of them will probably make the Hall of Fame because a lot of sports writers loved these guys, but when you take a second look at their careers, you go, "Really?" Like I said, I love Shane and I think he is a wonderful fighter, and an even better person, but when you look at it, he's only beaten Oscar De La Hoya. All of his other big fights, he lost.

Bernard had 20 title defenses at middleweight, and I don't want to cast dispersions on that because you have a situation today where people win a title and then leave the division the very next fight, so the fact that he stayed in that division that long, to have 20 title defenses is a chore within itself, but then you start looking at it, it's like, "Who did he beat?" There is not really one good middleweight on that ledger that he beat where you go, "Man, if Bernard wouldn't have been here, then this guy would have been champion." There is not one person on that thing that you look at other than the two welterweights moving up, Oscar De La Hoya and Felix Trinidad. He beat two smaller men. Okay, I will give him that. And they will say he beat Antonio Tarver, but take a look at Antonio Tarver's career. When you beat someone great, then they don't lose again or they go on 15-fight winning streaks. Well, Antonio Tarver, he beat Roy Jones twice and that's it. He's 1-1 against Eric Harding. He's 1-1 against Glen Johnson. He lost to Chad Dawson twice and he's lost to Bernard Hopkins. So what is that, 4-6 against the best he's faced? So I don't get it. It just astonishes me.

Everybody will pick apart Floyd Mayweather because they don't like his antics on 24/7, and obviously being on the police radar every other month, and I'm not accepting of that either, but what he has done in the ring has been nothing short of perfect, but people will dissect his accomplishments in the ring and then they praise these other guys without giving them a second look. Even with Manny Pacquiao. I love Manny, he is a great fighter, but Manny should be judged on beating Morales twice, beating Juan Manuel Marquez at a lower weight, and beating Barrera twice. I mean, that's what he should be judged on. His last 6 fights, he didn't take it to another level; he handpicked his opponents.