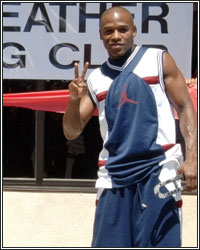 Just west of the Las Vegas strip, in a district known as Chinatown, lays the heart and soul of the best boxer in the world, the Mayweather Boxing Club. Surrounded by a number of Asian restaurants and other businesses, it's easy to overlook the Chinese archway that marks the entrance to Schiff Drive, a side street that looks more like a long parking lot. As I turned onto the street and made my way to the gym, it was clear that convenient parking was going to be hard to find, as the lot was already packed full of cars from the people who had already arrived prior to me. Getting out of my car, I immediately noticed two familiar faces, Mayweather's childhood friend Ricki Brazil and his personal assistant David Levi, who both greeted me like we had just seen each other yesterday as opposed to the nearly 8 months it had actually been.

At the entrance to the gym, a group of men sat in the hot sun, but the one who stood out the most was obviously Big Kip [Kip Sweeney], Mayweather's director of security, who also greeted me in a similar fashion, although it was obvious how much time had passed as Big Kip looked even bigger than the last time I saw him. Next to him sat a new face, Pat Walsh. He's the latest big addition to Mayweather's formidable security; a man with paws the size of my head. As big as Pat is, however, he still looks small when he's standing next to Big Phonz [Alfonso Riddick], the biggest member of Mayweather's security, who arrived shortly afterwards and immediately greeted me like family when he spotted me. All three men keep a close eye on the entrance, preventing those without permission from entering the gym. On this particular day, there were a couple of different occasions when individuals were turned back after trying to gain entrance under false pretense. Believe it or not, that happens more often than not, as fans patiently mingle outside just hoping to get a chance to see the Champ.

As I stood outside catching up real quick with Big Kip and Big Phonz, another familiar face, Tommy Smalls, emerged from the gym. Again, I received another friendly greeting before Smalls began joking with the others. Shortly thereafter, Nate Jones stepped outside and greeted Roger Mayweather, who had just arrived in anticipation of another day of hard work and dedication. Following Rogers arrival, I walked into the gym just to get away from the Las Vegas heat momentarily. For those that have never been to the, when you first step inside, there's a short hallway with a few chairs and a flat screen TV on the far wall. The hallway leads to what looks like a large waiting room equipped with more TVs, a couple of treadmills, a couch and a vending machine. It's here where you'll find any number of people hanging out, watching TV, sharing stories, and spending time together. When I walked in the room, I was greeted by P-Reala, CEO of Philthy Rich Records, who always seems to hold court from the treadmills every time I'm there. There were also a number of other guys I didn't recognize sitting on the couch, but I would later learn that they were amateur boxers here in attendance for the 2012 National Golden Gloves Tournament of Champions, which Mayweather is sponsoring.

In the back of the waiting room is a door which leads to the actual gym; the home of The Doghouse. I decided to poke my head in there just to see if anyone was working out. When I walked through the door, I was surprised to see the number of people that were already inside seated in chairs around the ring just waiting for Mayweather's arrival, hoping to catch a glimpse of him working out. Although I recognized a couple of guys from the HBO 24/7 crew, as well as Grand Rapids Press reporter David Mayo, nearly everyone else was unfamiliar to me, but I'm guessing many of them were friends and/or fans, all of which were already cleared to be in attendance. Literally, the place was packed, as if it was media day all over again. With the number of people inside the gym, it seemed hotter in The Doghouse than it was outside, so I decided to head back to the front. Just as I stepped back outside, two other rides pulled up bumping some recognizable music and it didn't take me long to spot the passenger in the front car, none other than 50 Cent, who stepped out smiling and rapping the lyrics to one of his songs. Behind me, another familiar face, Jackie Starr, better known as Iced Out Barber, Mayweather's personal barber, had also just arrived.

At this point, the crowd out in front was starting to get just as big as it was in the back, so I decided that the best place to stay cool was in the hallway. I was joined by Big Phonz, who turned on the TV to catch the NBA playoff game between the Knicks and the Heat. Rome, Mayweather's personal videographer, and Pistol Pete, Mayweather's personal photographer, also joined us in the hallway to escape the heat, which seemed particularly important for Rome, who was a bit under the weather, but still present and ready to go to work if need be. Occasionally, David Mayo would also pop in and out of the hallway, notepad and voice recorder in hand as he waited for Mayweather's arrival so he could get his story. As I sat in the hallway, the number of people flowing into the gym did not stop. Among them were a couple of Mayweather's sparring partners, Badou Jack and Ishe Smith, who seemed to be too busy concentrating on carrying all of his gear into the gym to notice me sitting in the corner, as well as Yuriorkis Gamboa, who has a hell of a vice grip handshake for a small guy. Eddie Mustafa Muhammad, who happened to be celebrating his birthday, also showed up to the gym, along with Hasim Rahman, Celestino Caballero, Zab Judah, and even little "CashFlow" Diaz.

Those were just the names of the people that boxing fans would recognize. There were even more family members still showing up, including one of his daughters, and I believe his sister. Not to mention a number of beautiful women, like Mayweather's personal massage therapist. No matter who it was, it seemed like everyone knew everyone, and they all gathered in various locations, whether it was in the front, the waiting room, or in the gym, to talk, laugh, and spend time together. Although everyone is clearly not related, the atmosphere was reminiscent of a family reunion, with the common link being not blood, but their love and support of Floyd Mayweather.

After a couple of hours, and a few boxes of Krispy Kreme doughnuts later, a simple text message would eventually bring an end to the reunion. "No gym," Mayweather would inform a member of the team, and word quickly spread that there would be no workout at this particular time. It's unclear as to why Mayweather cancelled the workout session, but one could assume that maybe he too was enjoying the evening of NBA playoff games. In fact, I wouldn't be surprised if Mayweather opted for a late night/early morning workout instead. Those that were simply there to catch a glimpse of Mayweather, such as a few of the fans and a couple of reporters, quickly packed there things and left, but there were many who stayed for at least another hour. Me personally, I stuck around a bit longer to watch Ishe Smith put in some work ahead of his return to the ring this Friday. When I finally did leave, however, the formidable members of Mayweather's security, who were originally sitting in the front when I arrived, were replaced by a group women...still talking, still laughing, and still spending time together in this place that seems much more than just a boxing gym.

Only a few days remain before Floyd Mayweather steps into the ring to face WBA jr. middleweight champion Miguel Cotto. Be sure to check back often for more updates as we continue the countdown to Mayweather vs. Cotto.


| | |
| --- | --- |
| | |
[ Follow Ben Thompson on Twitter @fighthype ]