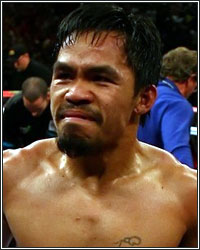 In a recent interview with Granville Ampong of Examiner.com, 8-division world champion and Filipino Congressman Manny Pacquiao openly criticized President Barack Obama's support of same-sex marriages. "Obey God's law first before considering the laws of man," Pacquiao would reply, countering President Obama's opinion that no one should be treated differently in the eyes of government law. A devout Catholic, however, Pacquiao's newfound faith and passion for Bible study has him more concerned about laws much higher than those made by man. In fact, Pacquiao surprisingly has taken a strong stance in denouncing same-sex relationships.

"If a man lies with a man as one lies with a woman, both of them have done what is detestable. They must be put to death; their blood will be on their own heads," is the paraphrased passage from the Bible [Leviticus 20:13] that Pacquiao is said to be in agreement with. "God only expects man and woman to be together and to be legally married, only if they so are in love with each other," Pacquiao explained. "It should not be of the same sex so as to adulterate the altar of matrimony, like in the days of Sodom and Gomorrah of Old."

According to a source, however, Pacquiao's anti-gay comments are surprising considering that, in the past, he's had no problems whatsoever with openly gay employees working closely with him. "It is strange for me to hear Manny Pacquiao make remarks about gays. I can confirm Manny Pacquiao hires gay men to massage him privately in his bedroom," said our source. "Cesar, who is one of his number 1 massage therapists in the U.S., is openly gay." Although at one point Pacquiao was seemingly okay with openly gay employees, evidently his opinion has changed dramatically now that he's rid himself of vices such as drinking, gambling, and womanizing.

It should be interesting to see the type of backlash that Pacquiao may or may not receive over his anti-gay comments. According to reports, a scheduled interview with EXTRA host Mario Lopez, which was set to take place Wednesday afternoon at The Grove, has already been cancelled. In fact, representatives of The Grove released the following statement:

"Based on news reports of statements made by Mr. Pacquiao we have made it be known that he is not welcome at The Grove and will not be interviewed here now or in the future. The Grove is a gathering place for all Angelenos and not a place for intolerance."
[ Follow Ben Thompson on Twitter @fighthype ]