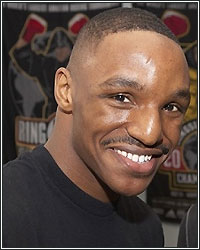 "I've never heard my name come out of Randall Bailey's mouth, but since he's saying he would love to fight me, we can make it happen August 18th," stated former jr. welterweight champion Devon Alexander, who responded to recent comments made by newly-crowned IBF welterweight champion Randall Bailey. According to Bailey, who's coming off a shocking come-from-behind 11th round knockout victory over previously undefeated Mike Jones last Saturday, he's always wanted to fight Alexander, but was never given the opportunity.

Speaking on The Boxing Lab radio show on Tuesday, Bailey said that he's open to the idea of fighting Alexander, even suggesting that previously, he contacted Alexander's promoter at the time, Don King, to personally ask for the fight, but for whatever reason, the bout was never made. Bailey is of the opinion that it was the same reason why none of the top fighters are eager to face him...fear of his right hand; the same right hand that dropped Mike Jones in the 10th before finishing the job with it again in the 11th round. Alexander, however, disagrees and would love nothing more than to grant Bailey's request. "Since he claims he's always wanted to fight me, I can make Randall Bailey's wish come true; just have your people contact my people and let's make it happen," Alexander continued.

Alexander is already scheduled to make his return to the ring on an August 18th Showtime card, but they have yet to solidify an opponent for him. Be sure to tune in to tonight's episode of FightHype Radio at 8PM ET/5PM PT when Alexander's trainer, Kevin Cunningham, will have much more to say on the potential fight.
[ Follow Ben Thompson on Twitter @fighthype ]