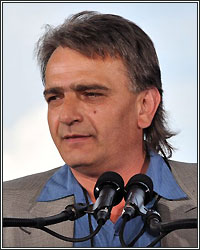 According to 8-division world champion Manny Pacquiao, if negotiations ever take place again for the long-awaited mega-fight with undefeated pound-for-pound champion Floyd Mayweather, he's willing to accept a smaller percentage of the guaranteed purse in order to make the fight a reality. During a recent appearance on ESPN's First Take, Pacquiao said, "It's okay for me if he gets the higher percentage," recalling that when they spoke on the phone earlier this year, he informed Mayweather that he would agree to a 45/55 split of the profits.

Of course, not longer after both fighters had that conversation back in January, Pacquiao's promoter, Bob Arum, made it clear that they would accept nothing less than an equal 50/50 share, while his adviser, Michael Koncz, would clarify that their offer of a 45/55 split meant the winner would be awarded the higher percentage. Now, it seems like Pacquiao is trying to explain his stance that he indeed has no problem with accepting a smaller percentage, but once again, conflicting reports from his adviser suggest that he may not have the final say in the matter.

According to Lance Pugmire of the Los Angeles Times, not long after Pacquiao's latest comments on First Take, Koncz again clarified that Pacquiao was referring to their original offer that would award the winner 55% while the loser would get 45%. That explanation appears to contradict Pacquiao's statements. In fact, as Pugmire tells it, Pacquiao would reiterate to his publicist on Friday that he would indeed take 45% win or lose. The question is, does his promoter agree with those comments?

Judging from the explanation that Koncz gave to Pugmire, it looks like Pacquiao may be on a different page than his adviser and the man that he's signed to. One would think that Koncz would have clarification on what Pacquiao is or is not willing to do before speaking on his behalf, yet his explanation of the 45/55 stances seems vastly different than what Pacquiao is saying. Furthermore, any time Pacquiao has ever hinted at taking a smaller purse, Bob Arum has been quick to shoot down the notion, making it crystal clear that anything less than 50/50 is unacceptable. It will be interesting to hear what Bob Arum has to say if Manny Pacquiao is truly willing to accept a smaller purse. Something tells me that he won't be quite as willing as Pacquiao appears to be.
[ Follow Ben Thompson on Twitter @fighthype ]