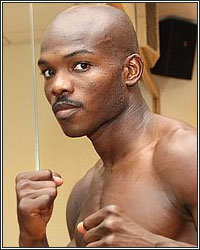 It's Monday. Welcome back for another edition of Observe and Fight, The Boxing Observer's compilation of observations and random thoughts from the week that was in boxing. Get caught up on some of the most recent events you may have missed out on, including Ricky Hatton's comeback plans, Amir Khan's official decision, Timothy Bradley's next fight, and much more. Without further ado, check out the latest observations from The Boxing Observer, David Kassel.



Why is Timothy Bradley fighting in Miami? Saturday's announcement that Bradley would be defending his welterweight title at Marlins Park, December 15th, came as a shock to many. I understand that Bob Arum is the king of staging "events," but why have Bradley in Miami? Cotto at Yankee Stadium made sense. Pacquiao at Cowboys Stadium made sense. Chavez Jr. in El Paso, Texas made sense. I just don't see the reasoning behind this one. Bradley is a California native. If Robert Guerrero would've been named Bradley's opponent, why have two California fighters face one another in Miami? Andre Berto is still being mentioned as a possibility, but reports are that he will face Cornelius Bundrage. Berto is a Florida native, but the last time he headlined in South Florida, he sold less than 1,000 tickets. Ruslan Provodnikov is another name being thrown out there, but he cant draw in a small casino. He certainly won't help ticket sales for a Bradley fight. Maybe Bob Arum figured he would hold the fight in a place where he knew fans won't show up since they don't show up for Miami Marlins games either. Gotta keep that trend intact. I'll bet Arum's next big event will take place at an MLS soccer club's stadium.


Ricky Hatton chose the perfect opponent to make a comeback against. Hatton makes his long-awaited return from retirement on November 24th to face former WBA welterweight titlist Vyacheslav Senchenko. Back in April, Senchenko suffered his first defeat at the hands of former Hatton-conquest Paulie Malignaggi. Rumors have been swirling that Hatton is hoping to host a mega-fight in Europe, giving Malignaggi a rematch. Should Hatton get past Senchencko, that seems like the perfect way to setup a fight with Malignaggi (assuming Paulie gets past Pablo Cesar Cano on October 20th). If Hatton loses, he'll know the comeback was nothing more than an aberration.


It looks like Manny Pacquiao has fallen on just about everyone's pound-for-pound list. If Pacquiao wants to return to the #2 spot in the world, he needs a big, knockout victory against Juan Manuel Marquez. For the sake of Mayweather vs. Pacquiao, I hope it happens, but I still believe Marquez will get the win this time around. Pacquiao has not been 100% dedicated to boxing since getting into politics, and his priorities certainly are not centered around boxing. Family, religion, and politics are all ahead of boxing on Manny Pacquiao's scale, and that is the biggest factor as to why I believe Marquez will win this time around. Oh yeah, and Bob Arum of course.


Andre Berto vs. Cornelius "K9" Bundrage is not an easy win for Berto. I expect Berto to look very rusty in his return, and Bundrage will give everyone trouble with his awkward style. Bundrage may need a knockout to win, but don't rule it out. Berto will be fighting at a higher weight than he is used to. Bundrage is a very strong jr. middleweight, and he will not be willing to give up his title very easily. Golden Boy must be hoping to make a Canelo Alvarez vs. Berto title unification fight. Isn't it about time Canelo stepped up to face a real jr. middleweight, unless of course his name is Floyd Mayweather?


Amir Khan is making the right decision hiring Virgil Hunter. Now he just has to understand that he will not be more important than Andre Ward. I still believe Khan needs to move up to welterweight, but if Khan cannot work well with Hunter, it's definitely not the trainer, it's the fighter. Khan needs to check his ego at the door. The comeback fight against prospect Carlos Molina proves two things: 1) Golden Boy still believes Khan is a future star, and 2) they certainly don't think much of Molina because they wouldn't throw an undefeated prospect in the ring with a former world champion like Khan if they believed he was a future star.


Edwin Rodriguez chose the perfect person to call out after his win Saturday night. Promoter Lou DiBella is well aware that Rodriguez is not ready for the likes of Ward, but he is ready to take the next step up. Calling out Kelly Pavlik was the smartest thing Rodriguez and DiBella could have done. Pavlik is on the downside of his career and is in no way the fighter he once was. However, Pavlik does have a name. If Pavlik doesn't go for the payday against Ward or Chavez Jr., Top Rank CEO Bob Arum may very well throw Pavlik into a fight with Rodriguez, At least Arum and DiBella have proven they can work together well, as evidenced by the excellent numbers put up by Chavez Jr. and Sergio Martinez. Are you taking notes Golden Boy Promotions?


Was I asleep when Adrien Broner and Antonio Demarco signed to face one another? Apparently, HBO is okay promoting fights between fighters yet to sign a contract, as they did during Saturday night's Boxing After Dark broadcast. While I am excited to see how Broner will handle the move to lightweight, I'm still a bit hesitant to get excited about a fight that has yet to be announced. Unless both camps confirm the bout, I wouldn't be so sure they will actually be in the ring on November 17th.


I'm damn excited about the HBO card on October 13th. Nonito Donaire vs. Toshiaki Nishioka is a fantastic main event, but the co-feature is guaranteed to steal the show. Get your popcorn ready early as Brandon Rios vs. Mike Alvarado is sure to keep you on the edge of your seat from the opening bell and will likely leave you salivating for a rematch.


Alexander Povetkin, it's time to step up to the plate. Hasim Rahman? Really? Povetkin has not improved since firing trainer Teddy Atlas. I have never seen a heavyweight champion run away from a real fight in such a long time. If Povetkin doesn't want to fight either of the Klitschko brothers, just come out and say it publicly. If you don't want to be a true heavyweight champion, just come out and say you are waiting for the two heavyweight giants to retire. Get the hell out of here with this easy, 2nd-round knockout crap. Take a real fight, such as the Klitschko brothers, or at least give Marco Huck a rematch. Plain and simple, quit fighting stiffs.


Speaking of heavyweight boxing, I sure hope that Bryant Jennings and Deontay Wilder do step in the ring with one another some time soon. According to Main Events Promotions, who promotes Jennings, they offered $20,000 to Wilder to take the fight against Jennings. The two sides have engaged in a Twitter war, with Wilder saying he can make about $70,000 fighting off of television. Regardless of money, this is a fight where the winner would immediately place himself into title contention. This is one case where I truly believe that money is less important than the light at the end of the tunnel.


How about Don King showing he still has a pulse? Don King Productions is a sinking ship as he has fired most of his staff while currently engaged in numerous legal battles. However, his bid of $1.1 million for the heavyweight title eliminator between Chris Arreola and Bermane Stiverne proved that he is giving it one last ditch effort to get back into the spotlight. If nothing else, King is hoping that Stiverne can upset Arreola and then win the WBC heavyweight title from whoever the champion may be at the time (if Vitali Kiltschko retires). Not sure if either guy can beat Vitali, but this fight will be entertaining and I don't expect it to go the full 12 rounds. This may be King's last chance to showcase his fighters on HBO or Showtime. I highly recommend he puts Tavoris Cloud on this same card. At this point, King needs all the help he can get.


Each week, I feature an email from a fan on Observe and Fight. This week's email comes to us from James S. regarding the idea of a 3rd party mediator making a Mayweather vs. Pacquiao fight a reality...


"I was wondering what you though of Richard/Oscar/Al's idea of having a 3rd party accounting firm review the books since A COMMON FACTOR in both men's career Oscar De La Hoya? I believe Richard and Oscar's idea was a wonderful idea that would give each fighter his fair share down to the decimal point. This idea was presented on Jim Lampley's Fight Game Episode 1. Arum shot this idea down when he was presented with it. I have compared the numbers since Oscar and I came up with the following. While I don't know if it is the correct "formula" that Richard advised Jim Lampley of, I do believe it's something close. Why Oscar De La Hoya fight?? Well this is the "common factor" in both fighter's career's where there draw power clearly changed. Just go back to the numbers and what they represent. If this is not fair, then how about just looking at the 5 common opponents (soon to be 6 fights as Marquez 4 is taking place for Manny) and put the equation to use there?"


If you would remember, James, not too long ago, the two sides actually took some steps toward this idea. While the 3rd party idea seems logical, both sides have to agree to it. Since Bob Arum doesn't release the actual numbers of his PPV buys anymore, it's really hard to get a true gauge on how his PPV's are really doing. Golden Boy and Al Haymon aren't just going to take his word for it. The fact is, nobody can force these guys to set up a fight. It's either going to happen or it won't. It's not against the law for it not to happen. It's not as if Al Haymon is super eager to be civil with Bob Arum either. The two sides do not like each other, and boxing is not regulated. Nobody can force anyone to do anything. It's an unfortunate reality.

Before I go, I have to give a shout-out to my 4-1 Miami Hurricanes. I've got to be honest, I didn't expect them to be in this position. Hopefully, we will upset Notre Dame Saturday night at Soldier Field. Though I can't make the trip to Chicago, I will be there in spirit. Let's Go Canes!!!
That's all I've got for this week. There will be no Observe and Fight next week, but come back in two weeks for plenty of review. Email any questions or comments to
dkassel@fighthype.com
and I will answer them throughout the week. Your email may be featured in the next "Observe and Fight." Follow me on Twitter @BoxingObserver, and be sure to "Like" The Boxing Observer on Facebook.
[ Follow David Kassel on Twitter @BoxingObserver ]