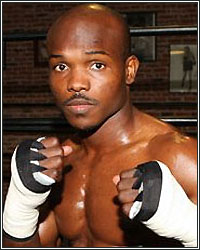 Boxing Scribe Vivek Wallace brings his Left-Hook Lounge mailbag to FightHype.com, answering questions for fans and giving his own unique perspective on all the latest current events in boxing. This week, check out his response to fans as they discuss Tim Bradley's chances against Robert Guerrero, Lamont Peterson, and Andre Berto, Adrien Broner's clash with Antonio DeMarco, and much more.


---

JaBari L. (Bronx, NYC): Timothy Bradley has been linked to both Berto and Guerrero lately, as well as Lamont Peterson. If he were to actually face either Berto or Guerrero, who do you like in those fights?

Vivek W.: Who we see Bradley in the ring with at this stage depends on who fight fans choose to listen to, but I will say this: As much as I like Peterson, I have more interest in seeing him square off against either Guerrero or Berto more. Either of those fights will answer far more about them for the average fight fan, in my opinion. That's a 'triangle' I'd love to see solved! Starting with a look at Bradley vs Guerrero: Robert Guerrero is a fighter that I've liked for quite some time, but lately, I've found myself somewhat soured on him as it relates to the constant call outs and the limited resume to support it.

In the case of Guerrero, he has routinely called out everyone from Mayweather, to Cotto, to this one, and that one! And not only called them out, but did it through official press releases and pretty much went viral with it. When you look at his resume, you're left with a feeling that it's nearly impossible to see him defeating any of those men, and almost unconscionable to even consider. He's a very solid fighter, but Bradley is more the level he needs to prove his mettle on.

I think this matchup would tell us how solid both men are, but I would also agree with Bradley's trainer, Diaz, that a victory over Guerrero does very little for them, in comparison to what they could lose if they happen to fall to him. The unfortunate reality here is that Bradley got a fight against Pacquiao and happened to win it, but Guerrero is much closer to the level we'd see him on had he not lucked into that decision. A solid victory over Guerrero would be a good thing. A loss to him would be great for Guerrero, but a big loss for Bradley. So Team Bradley would have to weigh those odds if in fact it comes down to that.

Regarding the Berto possibility, an interesting note here is that neither man is a power puncher so you could expect them both to last, but Berto's velocity would be interesting to see Bradley try to ward off. We've seen Berto go down a few times, but still find a way to weather the storm against Ortiz and go deep. Bradley doesn't have that kind of pop, so it would be very intriguing to see how Bradley could keep (what I expect to be a very aggressive Berto) off him.

We've seen Bradley withstand Pacquiao, Holt, and a few others, so it's safe to say he would go the distance with Berto. Both men have established their name credibility in the sport, but I think this would be a strong litmus test, letting them, and a lot of us know where they truly stand. For those who really have a question about how "big" Bradley is in the sport, the answer can be found in the fact that he will be the headlining fighter, but rather than fighting closer to his hometown on the west coast, he'll be in Miami, where his Cuban stablemate on the undercard (Guillermo Rigondeaux) is expected to be the nights biggest attraction, and the reason for the venue! Stay tuned.

Martin S. (Sacramento, CA): I saw your post on FaceBook about the pending DeMarco/Broner fight. Could you elaborate on how you see that fight playing out and what you think the outcome could be?

Vivek W.: I think this is also a strong litmus test for the two men involved, but more so Broner. DeMarco has been considered a diamond in the rough for quite some time now for those that follow the sport closely. Most know him to be a utility player, not afraid to do the hard work, and never afraid to take the fight to his opponent, regardless of whom that may be. Broner, on the other hand, has a ton of weight on his shoulders as his bravado and antics have left many frequently placing his name at the tail end of a Mayweather-esque type statement.

Whether or not those accolades are applicable remains to be seen, but this is a fight that should answer many of those questions. Early in Mayweather's career we saw him go in against a very solid opponent after going up in weight (Castillo) and things weren't quite as easy as many expected. This could be that Castillo-type fight for Broner, as DeMarco represents many things we've yet to see him encounter, mainly length, toughness, and power. On paper, Broner appears to be the man. His speed, his defense, and his overall talent make him a solid pick. But as we've learned several times in the sport, paper burns! It's all about who shows up on fight night!

Honestly, I can't wait for this one! I really think Broner will have his hands full. Then again, Andre Ward and many of the other young greats of this era have proven that the bigger the stage, the greater the effort. From a talent perspective, Broner has arguably been on no greater stage than this one. Can he use the bright lights to his advantage and show us exactly "why" he shines so bright? I think he has the talent to do it. But so did many others! I think we have a great night of action on our hands for this one. DeMarco will push him unlike any other we've seen to date. Will Broner bring the pain? Or will sunshine turn to rain? Stay tuned!

Jose H. (Brooklyn, NYC): Last Saturday night I found myself very impressed with Edwin Rodriguez in his victory against Escalera. The Super Middleweight division is loaded. Do you think he can become a top player at some point?

Vivek W.: I thought Edwin Rodriguez looked "OK". I wouldn't call the performance "stunning", but I think clearly he put others on notice that there's a new kid on the block! When you look at the Super Middleweight division, there's just so much talent that it's really hard to see anyone, (not named Andre Ward), making a solid case to be the last man standing. For Rodriguez, there's still much ground to cover, but I think what he gave us was clearly an indication of who he is and what he brings to the table.

I think some fight fans have somewhat mislabeled him as some thunderous puncher or KO artist. I think he has power, but in that elite division, I don't see that being a factor at all. Far too much talent and as decent as he looks, he's still at the bottom of the pool until he proves otherwise. I've never been a huge fan of young and rising talents who fans give that "big puncher" reputation to. Typically it leads to a very nervous fighter in the ring when the KO doesn't come (ask Kelly Pavlik). Joe Calzaghe had a higher KO ratio (68%), yet he was known to some as "feather-fist". Then again, Pacquiao has a lower ratio (63%), yet we know he walks with dynamite!

At the end of the day, what Rodriguez does will be watched very closely from here on out. What we do know is that he's tough....he can punch....he can take a punch....and he won't back down. What we don't know is what happens when he faces a slick opponent who can take his punch, make him miss, and land their own? There are many things we look for in young fighters! This collection of attributes is certainly a start. Now lets see how he ascends and finishes.

Vivek "Vito" Wallace can be reached on Wednesday nights at FightHypeRadio, as well as vivekwallace@ymail.com, Youtube (Vivek Wallace Boxing Channel), Twitter (vivekwallace747), and FaceBook.