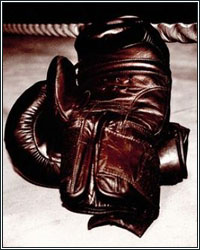 Arnulfo Bravo, head of Bravo Management company, confirmed to FightHype.com the signing of 2008 Mexican Olympian Oscar Molina. Molina joins a management stable that also includes 2008 U.S. Olympians Shawn Estrada and Oscar's twin brother, Javier Molina. The good news for the Molina family comes on the heels of the recent announcement that undefeated Carlos Molina will be fighting former jr. welterweight champion Amir Khan. With the 5-year management agreement signed, the focus now shifts to which promotional company to sign with. Goosen Tutor and Top Rank appear to be the frontrunners at this time.

If Molina signs with Top Rank, it would mean that all three brothers in the tightknit family would be fighting for different promotional entities, as Carlos is represented by Golden Boy Promotions while Javier is signed to Goosen Tutor Promotions. "The thing about the family and the brothers is that they want the best for each other, so whoever is best for each individual, that's what the family wants and all three brothers support each other," Arnulfo Bravo explained.

The signing of Oscar Molina is yet another big move for the upstart management group, formed 4 years ago. "It's a big move. There was only two Olympians that represented Mexico and we have one of them," Bravo continued. His relationship with the Molina family and the work he's done with Javier as his trainer/manager clearly helped sway Oscar's decision in who to trust. Arnulfo, a former amateur stand out whose brief pro career was injury riddled, believes it is his in-the-ring experience that helps him most with fighters. "The fact that I've been in the ring and I understand them, it's what makes it easier for me to approach them. What they feel right now, I was feeling and I believe my own experience is what helps me best to work with them because I can warn them of what's ahead of them and I speak to them on the same level," Bravo added.