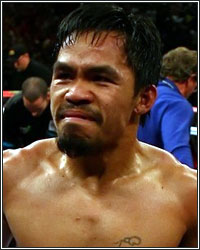 For those of you still living in The Matrix, clinging to the illusion of an early 2013 mega-fight between undefeated pound-for-pound champion Floyd Mayweather and 8-division champion Manny Pacquiao, allow me to offer you the red pill of reality. IT'S NOT HAPPENING! Pacquiao's promoter, the shrewd, crafy, and calculating Bob Arum, has already set the date of his next fight, which means he has no intentions whatsoever of sitting down with representatives of Floyd Mayweather to earnestly negotiate a mega-fight.

"I have talked with Manny and we agreed to hold his fight on April 20 [2013]," Arum recently revealed to Nick Giongco of The Manila Bulletin. Never mind the fact that he has a tough assignment on December 8 when he takes on ring rival Juan Manuel Marquez for the fourth time; win or lose, you can expect to see Pacquiao lacing them up against another Top Rank fighter next April. Why? Well, as Mayweather Promotions CEO Leonard Ellerbe already clarified, "Manny Pacquiao can't tell Floyd Mayweather shit. If and when the fight takes place, Floyd will dictate the terms." In other words, Floyd Mayweather moves when he wants to move, and you already know he's not going to move on a date like April 20 that was already selected by Bob Arum.

It's a notion that Arum is fully aware of, which is exactly why he's already announced the date of Pacquiao's next fight over six months in advance to it taking place. After all, according to Arum, announcing a fight date in advance is no way to seriously negotiate a fight with an equal adversary. When Floyd Mayweather revealed last November that he wanted to face Manny Pacquiao on his planned May 5 return to the ring, Arum scoffed at the idea. "They are playing games...you don't negotiate this way," he stated. "This is no way to negotiate a fight. The MGM on May 5th? Who the hell is Floyd to say that? I know they are not serious." To Arum's surprise, however, Golden Boy Promotions CEO Richard Schaefer actually did by reaching out to him on behalf of Mayweather, contacting mediator and retired federal judge Daniel Weinstein in hopes of resuming the negotiations that were tabled in 2009. That attempt, however, was refused, as judge Weinstein revealed that he was informed that Top Rank was moving forward with other plans for Pacquiao.

So here we are, more than two months ahead of Pacquiao's return to the ring against Marquez, and already we're being told his next fight date. Given Arum's own rules of properly negotiating a fight, that should let you know that it won't be Floyd Mayweather standing across the ring from Pacquiao on April 20. In fact, I'd venture to guess that the lucky man to get the assignment will likely be the LOSER, that's right, the LOSER of the potential December 15 rematch between Timothy Bradley and Lamont Peterson. In the ideal Arumocracy (dibs on the copyright to that term, but feel free to use it), Pacquiao will lose to Marquez on December 8, thus ensuring that the Filipino superstar won't be problematic when it comes time to "choosing" a new opponent not named Mayweather. Barring some form of a knockout this December, don't be surpised if you're being asked to pay for two separate pay-per-views featuring Pacquiao vs. Peterson and Marquez vs. Bradley in 2013.
[ Follow Ben Thompson on Twitter @fighthype ]