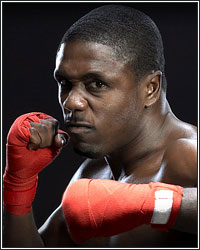 It appears that K9 might have to stay on his leash while Berto goes ghostbusting instead. Sources have informed us that a matchup between former welterweight champion Andre Berto and current IBF jr. middleweight champion Cornelius "K9" Bundrage just might be put on the backburner in favor of matching Berto with WBC interim welterweight champion Robert Guerrero. Apparently, the buzz that was generated about Berto and Guerrero when they were both mentioned as potential opponents for WBO welterweight Timothy Bradley has prompted their handlers to begin discussions about pitting them against one another.

While our sources tell us that both sides are in serious discussions and could soon be finalizing a deal, Guerrero's manager, Luis Decubas Jr., maintains that Berto is just one of several options they are currently considering. When asked if they were close to coming to terms with Berto, Decubas Jr. replied, "Nothing yet. Working on Berto, Maidana, Alexander if he wins, and Matthysse. To me, real close is contract in hand, but he's definitely an option. We just want to fight the best."

Guerrero is coming off of a hard-fought unanimous decision victory over the tough and previously undefeated Selcuk Aydin. It was his welterweight debut and his first fight back after more than a year-long layoff following shoulder surgery. Likewise, Berto hasn't fought in over year, scoring a 5th round stoppage of former welterweight champion Jan Zaveck back in September of 2011. He was originally scheduled to face former welterweight champion Victor Ortiz this past July in a highly-anticipated rematch, but the bout was canceled after Berto tested positive for a banned substance.

It's a fight that makes sense for both fighters. Guerrero, for a while now, has been pleading his case for an opportunity to face undefeated pound-for-pound champion Floyd Mayweather. An impressive showing against Andre Berto could be just what he needs to strengthen that cause. After all, it's essentially what got Victor Ortiz his opportunity. For Berto, it's a chance for redemption against a man who is currently sitting in the mandatory position to Mayweather's title. Although a victory may not land him that coveted assignment, due mainly to the fact that they share the same advisor in Al Haymon, it will certainly put him back in the discussion of the top fighters in the division.
[ Follow Ben Thompson on Twitter @fighthype ]