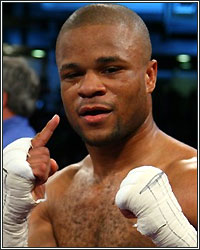 As far as finding an opponent for his next fight on November 16th, jr. middleweight prospect Omar Henry (12-0, 9 KO's) can't seem to catch a break. As a matter of fact, he can't even seem to land any fighters who call him out on various social media websites. Henry's trainer, David Ali, is not one who seeks a lot of attention in the press, but he says he is growing tired of guys saying they are ready to step up, but then never step into the ring. "All these guys are doing is using Omar's name to get keep themselves relevant," he commented.

Henry, who has been compared numerous times to Miguel Cotto and was even given the moniker of "Cotto Clone," was originally rumored to have a fight locked down with NABF jr. middleweight champion Willie Nelson for the November 16th ShoBox main event slot, but according to Ali, Nelson's people backed out. "Omar already has the date. Willie Nelson beats Yudel Johsnon, and Yudell was supposed to be Showtime's guy. Willie upset him, and now they're carrying Willie. Then, Willie goes on to win the NABF title on the Martinez-Chavez undercard. You would think he's primed to fight a guy with less experience, a bigger name, but his trainer, Jack Loew, says no. Obviously he knows why. He's gonna lose and get knocked out," Ali explained. "On paper, it looks like a challenge, but we're gonna come out looking like a million bucks because it's a mismatch. I think we can take him out in 4. Jack Loew has this guy fighting like a tall European. I called Mr. King [Don King – Henry's promoter] the next morning and he said they wouldn't except the fight."

Ali went on from there to explain how Nelson's rejection to fight Henry turned into two more opponents not excepting the fight. He says that IBF #1 contender Gabriel Rosado was also offered the main event spot opposite Henry, but turned it down. According to Ali, one of the reasons the offer was sent to Rosado was because Rosado took to social media to go out of his way and insult Henry. "Prior to Gabriel Rosado's fight on NBC, as is most fighters who have never had any contact with Omar, Gabe was talking bad about him. Then, Gabriel has a horrible showing against an old man who actually gave him some trouble. Gabe wins. After Willie turns it down, Showtime called Gabe and kept calling for three days. Finally, Gabe officially declined the fight," Ali continued. Rosado claimed the IBF #1 contender slot by defeating Charles Whittaker on September 21st. Ali says he understands why Rosado wouldn't want to risk losing his position in the rankings, with a mandatory title shot looming, but also says these guys shouldn't be speaking ill of a 12-0 fighter just because he has a bigger name. "I'll play devil's advocate if I'm Rosado and say why risk it against a loose cannon, a young gun like Omar? I understand that thought. But, these kids that are talking shit online, they're saying stuff like Omar can't hold their jockstrap. When it comes time to fight him, and the offer is out there, they now become promoters and managers and say it's not good business or whatever. You should have no problem staying busy against and going through the formality of beating someone you supposedly consider a nobody. If you're the one who talks shit about someone, don't turn down the fight when it's offered. Omar never talks shit about other fighters. These kids just want the name and the money, but they know what's real and what's not."

After that turn of events, Ali says that Showtime began reaching out to everybody to find an opponent. "At this point, there was talk about Ishe Smith, and it was even news to DKP's office. I asked if there was any truth to the rumor. Dana Jameson laughed and said, 'Who? Will Omar fight him,' and Omar said sure." For those who follow social media, particularly Twitter, Henry and Smith have had a long-running feud stemming back to an incident years ago in which Smith supposedly began speaking negatively about Henry. "The bout sheet was sent to Mayweather Promotions, who represent Smith. Then they sat on the contract for three days. Leonard [Ellerbe] texted back three different times saying they are taking the fight, and once again, when it comes time to sign the contract, they say no thank you. And now, their excuse is they have a bigger fight. The bottom line is that Ishe could've fought Nov 16th, and also in December. We wish we had those fights. Ishe Smith is a mid-30's fighter who has never been able to take the next step. When I asked Omar how did all this happen [the feud between Henry and Smith], he said was reading an article one day written by Smith. He thought Ishe Smith was a sportswriter. In the article, Ishe Smith was writing about a certain topic, and then it shifted to how he's annoyed by Omar Henry. He found out Ishe Smith was a boxer. Omar never watched The Contender show. All Omar did was send him one email, 'Thanks for the free publicity.' Omar didn't even know him, and going back and forth made him look stupid. His grandfather always told Omar to let the idiots talk. Omar got caught up and knows he learned his lesson. About 4-6 months later, he sees his good friend Kid Chocolate [middleweight contender Peter Quillin] getting into it with Ishe. Omar sent Kid Chocolate an email saying it's not even worth it. Ishe is 10-11 years older than Omar. You're doing the stupid stuff online to stay relevant instead of being in the gym. He wants to fake he's a Christian, and then on his Instagram, he's got a naked woman and says it's Kid Chocolate. Ishe burned me once before when I was with Kassim Ouma. He knew he was gonna go the distance. He knew there was a good chance it wouldn't be favorable for him. Ishe couldn't hold eye contact with me in Floyd's gym when we were helping Floyd prepare for Cotto. Leonard Ellerbe reprimanded Ishe and called him into the office. He told Ishe don't play games. What goes on in this gym stays in the gym. He apologized to Omar and apologized to Leonard. The fact he has all of us talking shows he has been successful, but it's not in the ring. He's been successful getting under peoples' skin."

Ali did confirm that Showtime is currently speaking to a highly-regarded opponent for Henry and a deal is being worked on. Though he would not divulge who the opponent is, he says he hopes to land the fight with this fighter as it will be an excellent test for Henry, his 25-year-old potential superstar in the making. Stay tuned to FightHype as this story continues to develop.

Email comments and questions to dkassel@fighthype.com, follow me on Twitter @BoxingObserver, and be sure to "Like" The Boxing Observer on Facebook.
[ Follow David Kassel on Twitter @BoxingObserver ]