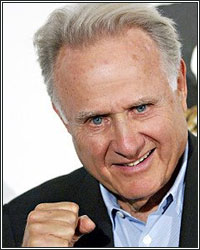 Earlier today, HBO veteran broadcaster Larry Merchant appeared on ESPN's First Take to share his opinion on why the highly-anticipated mega-fight between undefeated pound-for-pound champion Floyd Mayweather and 8-division world champion Manny Pacquiao has yet to happen. According to Merchant, the fact that both fighters already make nearly $50 million dollars a year is likely what's keeping both fighters content to go their separate ways. "[Mayweather is] not afraid of fighting Manny Pacquiao. I think, number one, what's held up this fight, and I've been in the 'yes it's going to happen' category when the no's have been carrying the day for a few years, is that there's a disincentive financially," Merchant explained. "They're both making upwards of $40-$50 million dollars a year, Pacquiao by fighting twice, Mayweather by fighting once, so there's no urgency. It's a business as well as a sport."

One might think that the solution is simply for fans to start boycotting the pay-per-view events of both Mayweather and Pacquiao, forcing them to fight each other if they hope to make the kind of money they've grown accustomed to. That task is not so easy, however, as Merchant points out, "Because they are, in effect, the heavyweight champions in America in terms of their popularity, in terms of reaching beyond boxing to the casual fan." Ultimately, Merchant thinks that even though Mayweather believes he'll beat Pacquiao, the damage his image would take should he lose to him is the main reason why the 43-0 fighter wants to maximize his revenue in the potential mega-fight.

"I think Floyd Mayweather thinks he's going to beat Manny Pacquiao. He will be the favorite. What Mayweather is afraid of more than anything else is an L, a loss. He has marketed himself as this unbeaten and unbeatable fighter, and to a lot of new fans or unsophisticated fans, they think that's a big, big deal, which it never has been, because if you fight enough good, young fighters in their prime, somebody's gonna beat you. It happened to Pacquiao even in a bad decision, but against a tough, good kid," Merchant continued. "I think he thinks that Pacquiao is the greatest threat to him. Why take, in the risk reward equation, if I can make $40 million dollars for fighting some guy [and] I've only got to give him $3 million dollars to take the fight, why am I going to do that [fight Pacquiao]? There have been comparable situations in the past. Lennox Lewis and Tyson didn't fight 'til well into their careers and broke records; they were past their primes. So, it's business. Will the heat still be there? Will they both have maintained their star status? Will they lose it? It's no unprecedented in boxing. Hopefully it'll happen some day. Meanwhile, we've got 3 big pay-per-view events in boxing a year instead of one big blowout."
[ Follow Ben Thompson on Twitter @fighthype ]