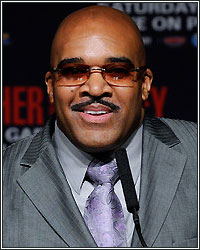 Earlier today, Mayweather Promotions CEO Leonard Ellerbe commented on his official Twitter page, something that's rare in and of itself, taking the media, mainly ESPN's Dan Rafael, to task as he questioned the validity of Manny Pacquiao's "reported" pay-per-view buys in his last bout against Timothy Bradley. Not longer after Larry Merchant's appearance on ESPN's First Take, which he described as "comedy hour at its best", Ellerbe posed the question to Rafael, wondering why the long-time ESPN reporter hasn't put quite as much research into discovering the official Pacquiao vs. Bradley PPV numbers like he did when he researched whether or not Alvarez vs. Lopez truly sold out. Check out how the brief interaction between Ellerbe and Rafael went down on Twitter.

Leonard Ellerbe: @danrafaelespn btw since you like researching sales any word on ppv sales from little fella's last fight?

Leonard Ellerbe: @danrafaelespn have you heard/seen a official announcement from the powers to be? ijs

Dan Rafael: þ@LEllerbe Yes, it was announced at about 950,000 for the Bradley fight.

Leonard Ellerbe: @danrafaelespn Is that the HBO official number, like the one they put out after Floyd's last fight or the "yesterday I was lying"

Leonard Ellerbe: @danrafaelespn "today I'm telling the truth" number

Leonard Ellerbe: @danrafaelespn I spoke to a few other media members and they asked me the same question had I heard/seen HBO official announcement.

Dan Rafael: @LEllerbe There was no formal press release as far as I recall. Arum and HBO told reporters about the numbers. Good numbers, nothing great.

Leonard Ellerbe: @danrafaelespn if there was no formal press release, I'm sure there was a reason why. IMO the 950k number is bogus!

Leonard Ellerbe: @danrafaelespn if their fight did in the 800k plus range, that is absolutely nothing to be ashamed of because that's a very good number.

Dan Rafael: @LEllerbe neither of us know but for what it is worth that number was backed up by HBO.

Leonard Ellerbe: @danrafaelespn IMO if HBO backed it they would have put out an official release like they did with the 1.5m Floyd just did in May.

Thus far, there has yet to be any official announcement from HBO, or even Top Rank for that matter, regarding the PPV numbers from Pacquiao vs. Bradley. In fact, as has been this case in several of Pacquiao's recent PPV bouts, Bob Arum has been the only official/unoffical authority on the numbers, simply stating, "The pay-per-view, that's still being counted, but it will be anywhere between 900,000 and a million, which is very good - considering that we were up against the game [Heat vs. Celtics], considering that nobody knew who Bradley was. We are definitely going to do over 900,000." According to Rafael, it was "announced" at "about" 950,000, however, one of Rafael's respected colleagues, who chose to remain anonymous, said he was told the number was closer to 800,000 and that officials from HBO would not comment on the numbers being reported to the media by Arum. Furthermore, several media outlets in the Philippines are reporting the number to be as low as 700,000 buys.

So ultimately, what does this all mean? Probably not much, however, when it comes to two sides dicussing percentages for a fight, it certainly helps if there's some truth and transparency when it comes time to sit down at the negotiating table.
[ Follow Ben Thompson on Twitter @fighthype ]