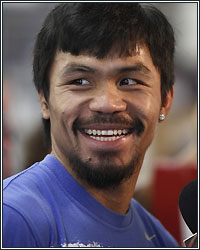 According to a source, 8-division world champion Manny Pacquiao recently signed a contract extension that will keep him under the Top Rank banner until 2014. "Just three weeks ago, on his way to the airport, he extended his contract until 2014," our source commented, explaining that Pacquiao's contract with Top Rank had recently expired, technically making him a free agent. That was before his arrival to Los Angeles in mid-September, when he showed up for a press conference to promote his fourth encounter with Juan Manuel Marquez.

Evidently, the real reason why it took Pacquiao so long to "choose" his next opponent is because he initially disagreed with the terms of the contract extension. In fact, according to our source, the main issue with the extension was the lack of a potential showdown with undefeated pound-for-pound champion Floyd Mayweather, the only fight left that Pacquiao is truly interested in. "50 came in and closed it. They brought 50 in, had a private meeting in some room, and the next thing you know, Pacquiao contacted his lawyer and signed the contract," our source continued, referring to 50 Cent's appearance at the press conference that was held in Los Angeles on September 17.

At the time, most members of the media were unaware that 50 Cent was in attendance. Although he did not participate in the press conference, 50 Cent was definitely on hand, however, as he posted a picture of himself, known Mayweather associate Tommy Smalls, and Manny Pacquiao together behind-the-scenes. According to an eyewitnesses on the scene, Dena duBoef, Vice President of Marketing and the daughter of Bob Arum, escorted Pacquiao to a private room where he had a closed-door meeting with Arum, Koncz, and 50 Cent. It's unclear as to exactly what was discussed, however, our source strongly believes that Pacquiao was given a verbal guarantee that, with the help of 50 Cent and Tommy Smalls, an April fight with Floyd Mayweather would indeed take place, convincing Pacquiao to sign the contract extension. "He thinks he has that fight coming, but that fight isn't ever going to happen," our source added.
[ Follow Ben Thompson on Twitter @fighthype ]