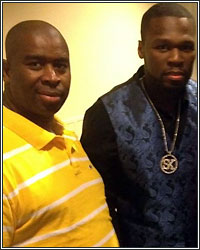 Until now, the circumstances surrounding the discord between long-time friends Floyd Mayweather and 50 Cent have been unclear. When news about the formation of The Money Team [TMT] Promotions first broke back in July, we were led to believe that the company was created as a joint business venture between both men. As Mayweather was serving the remainder of his jail sentence, 50 Cent was moving quickly to sign fighters, like Yuriorkis Gamboa, Andre Dirrell, and Billy Dib. Presumably, he was acting on Mayweather's behalf, representing TMT Promotions as a partnership that would change the sport of boxing. However, FightHype.com has discovered that was not the case at all. What was once described as a "breath of fresh air" actually turned out to be an attempted coup by those once considered to be close to Mayweather.

Sources have informed us that 50 Cent and former Mayweather associate Tommy Summers, A.K.A. Tommy Smalls, tried to take advantage of Mayweather's incarceration in an attempt to oust long-time advisor Al Haymon in hopes of gaining control of Mayweather's career, both in and out of the ring. With the help of the influential Haymon, Mayweather has built a brand that has made him the highest-paid athlete in all sports. Their working relationship has allowed him to shatter pay-per-view records and generate revenue like no other fighter has ever seen before. One would think that Mayweather's achievements speak volumes about his working relationship with Haymon and their ability to succeed. Apparently, 50 Cent and Tommy Summers didn't see it that way. Ultimately, greed may have been the single solitary factor that caused long-time friends to go their separate ways.

FightHype.com was able to attain images of a letter (see below) that was sent by Tommy Summers to Floyd Mayweather during his incarceration. Shockingly, Summers embarks on a plan to try and convince Mayweather that he would be better off cutting ties with Al Haymon to instead partner with he and 50 Cent. According to Summers, if Mayweather did so, he could potentially make between $500 million and $1 billion dollars before he retires, raking in a whopping $100 million to $200 million per fight. Summers alleges that Haymon, Golden Boy Promotions, and HBO were all in cahoots, hiding money from Mayweather in a deal that was "cut under the table" with MGM Grand. It's unclear whether or not 50 Cent actually encouraged Summers to contact Mayweather with the alleged information, however, there's no denying that both men were working together to some degree, as evidenced by the mention of his name in the letter and the photo that was taken of Summers, 50 Cent and Manny Pacquiao at the September 17 press conference to announce Pacquiao vs. Marquez IV.

Although 50 Cent now claims his original vision of TMT Promotions was a joint partnership between himself, Floyd Mayweather and Manny Pacquiao, our source informs us that Mayweather never had any intention whatsoever of starting a new promotional company, which makes sense considering that he already owns Mayweather Promotions. Furthermore, Pacquiao continues to be under contract to Top Rank promotions, a company that Mayweather himself broke free of years ago with the intent of never doing business with its founder, Bob Arum, ever again. In fact, until Todd DuBoef takes over the reigns at Top Rank, the likelihood of Mayweather and Pacquiao doing any type of business, let alone starting a joint promotional venture, has proven to be unlikely.

Judging from the letter that was sent to Mayweather while he was incarcerated, postmarked July 24, 2012, which was exactly 4 days after it was revealed that TMT Promotions was formed, it would seem that the newly created promotional company was more of a joint venture between 50 Cent and Tommy Summers. Furthermore, given his instructions in the letter to "tear this up when you finish reading", it should be clear that, at the very least, Summers was definitely up to something. Apparently, as they spoke to fighters, they painted a picture that Mayweather was indeed on board, when in reality, he really wasn't. The notion that Mayweather was involved is one of the reasons why IBF featherweight champion Billy Dib was quick to sign with TMT Promotions, only to later find out that the facts were misrepresented to him. There was also an attempt to move former WBA featherweight champion Celestino Caballero to TMT Promotions, despite the fact that he was already signed with Mayweather Promotions.

Several sources have noted that Tommy Summers is notorious for making questionable back-alley deals on behalf of other fighters, like Mike Tyson and Zab Judah. It now appears that his latest decision to partner with 50 Cent may have cost him a close friend in the process. If the goal was to separate Floyd Mayweather from Al Haymon in hopes of reshaping the landscape of boxing, they should have known well in advance that whatever plan they concocted was not going to work based solely on how loyal Mayweather himself is to his team. Considering that 50 Cent has absolutely no experience whatsoever in boxing, one can only imagine why Tommy Summers decided to partner with a business man who's battling to keep his own sales up in the ultra-competitive rap industry. In fact, one can't help but wonder if 50 Cent's plan to align himself with Mayweather and venture into the business of boxing was simply an attempt to remain relevant, especially considering that he has a new album due to hit stores some time in mid-November, which just so happens to coincide with his original plan to promote the first event of TMT Promotions on November 17. After all, exactly what was 50 Cent going to bring to the table for Mayweather, who is already considered to be the biggest name in his own industry?


FOLLOW THE IMAGES FROM LEFT TO RIGHT TO READ THE LETTER BELOW




| | |
| --- | --- |
| [ click image to enlarge ] | [ click image to enlarge ] |
| [ click image to enlarge ] | [ click image to enlarge ] |
| [ click image to enlarge ] | [ click image to enlarge ] |
| [ click image to enlarge ] | [ click image to enlarge ] |
[ Follow Ben Thompson on Twitter @fighthype ]