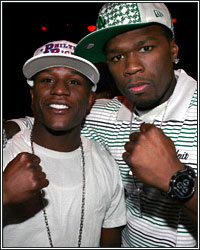 It's Monday. Welcome back for another edition of Observe and Fight, The Boxing Observer's compilation of observations and random thoughts from the week that was in boxing. I was gone last week, so there's a lot to talk about. Get caught up on some of the most recent events you may have missed out on, including more "Money" issues, a homosexual boxer openly coming out, Nonito Donaire's most recent performance, the newest candidate for Fight of the Year, Amir Khan's run-in with some thugs, and much more. Without further ado, check out the latest observations from The Boxing Observer, David Kassel.



Once again, "Money" proves to be the root of all evil. News was broken last week by Fighthype's Ben Thompson that former Floyd Mayweather associate Tommy Summers, along with Curtis "50 Cent" Jackson, tried to break up the relationship between Mayweather and Al Haymon. When news came out months ago that 50 Cent formed his own promotional company, I wrote that Mayweather and 50 Cent needed to be careful not to let money get in the way of their friendship. Well, it didn't take very long for the entire relationship to implode. They say not to mix business with pleasure. If this isn't an eye-opener for certain people, nothing will be. As Biggie Smalls once said, "Mo Money, Mo Problems." When you're rich, everyone wants to get their hand in the cookie jar.


In case you missed it, featherweight contender Orlando Cruz publicly came out and announced his homosexuality. Cruz, who fights Friday night for the WBO Latino featherweight title, is now in the precarious position of an unknown fighter being under a scrupulous microscope for the wrong reasons. Instead of people paying attention to his boxing skills, people will focus on his life outside of the ring. I commend Cruz for being brave enough to come out publicly, but I raised the question on Twitter last week, "If Cruz was in a team sport, would he have been brave enough to come out?" Luckily for Cruz, boxing is an individual sport, and if 10% of the world population is homosexual, professional athletes are certainly included in those numbers. Should Cruz keep winning, this could be a great thing. If he loses though, I hope this doesn't kill his chances at ever getting a big fight.


Nonito Donaire is a legitimate top-5 pound-for-pound fighter. I've been hard on Donaire for the past couple of years because I didn't truly believe he was an "elite" talent. After Saturday night's dominant performance, I am loudly proclaiming that I was dead wrong! I thought Donaire was being protected from Guillermo Rigondeaux, but I am now convinced that Donaire would DOMINATE the former Cuban amateur star. It's nothing against Rigondeaux, as he is a fantastic, gifted talent, but Donaire would box circles against the defensive mastermind. I'm now convinced that the only fighter in the 122-lb weight division who can challenge Donaire is the winner of the Abner Mares vs. Anselmo Moreno fight.


Brandon Rios and Mike Alvarado need to get back in the ring with another, ASAP! I'm pretty convinced that a pay-per-view bout between those two fighters would easily generate 200,000 buys. I was convinced before Saturday night that Rios and Alvarado would be the Fight of the Year, and the fight exceeded my expectations. Bob Arum needs to get those two warriors to sign a rematch as soon as possible. Please BobFather, do some good with your power.


Oscar De La Hoya proclaimed on Twitter that he is willing to make a fight between Rios and Lucas Matthysse. I'm glad Oscar thinks it can happen, but it's just a shame he doesn't actually run his own company. That job belongs to Richard Schaefer, and Schaefer and Arum have shown they cannot work together. How about Oscar start talking about making fights that actually can happen, such as Matthysee against fellow Argentine countryman Marcos Maidana? Talk about a Fight of the Year!


Better yet, how about Maidana against Josesito Lopez?


Is Amir Khan mixed up with some bad people outside of boxing? News broke days ago that Khan, along with his younger brother, were attacked by a group of six men who tried to steal Khan's SUV. Luckily, Khan and his brother were able to fend off the men and hold on to Khan's vehicle. A professional athlete being a target is nothing new, but what I find perplexing is why Khan did not report the incident to the police, or why he would not try to pursue action in capturing the suspects. I don't know about anyone else, but if someone tries to attack me, you damn well better believe that I'm going to try and make sure that person cannot come after me again. Khan decided to take the opposite route, which begs the questions, "Is Khan associated with the men who tried to attack him in any way, shape, or form? If not, why not report the incident to police?" It turns out, one of the alleged thugs made a video, explaining why Khan may not have wanted to report the incident. According to the masked man in the video, Khan and his brother did not fend off the carjackers, but instead ran scared, allowing their attackers to get away with his wallet and bag that was allegedly full of illegal drugs. It should be interesting to see if there's more to story. Check out the video to see what else the masked man had to say.




I'm very glad that Timothy Bradley is standing his ground when he says he doesn't want a rematch with Lamont Peterson. I just hope it doesn't cost him in the long run. The fight did not make any economic sense, but more importantly, it shows that Bradley is the one who makes the final decision on his career. However, we all know that Bob Arum is the one who ultimately makes the final decision on who Bradley fights, and crossing Arum has rarely proven to be a smart business decision. Also, Bradley has recently obtained the services of advisor Gaby Penagaricano. Bradley must now pay his trainer, Joel Diaz, manager, Cameron Dunkin, Penagaricano, and Arum every time he fights. This begs the question, how much will Timothy Bradley actually come away with when he does fight, especially after Uncle Sam takes his cut? Be very careful, Mr. Bradley, and if you haven't already done so, hire a financial advisor.


By the way, how in the hell is Lamont Peterson considered a top "welterweight"? Arum claimed Bradley would be fighting a top welterweight before announcing Bradley would be fighting Peterson. Forget the fact that Peterson used PEDs. He is one hell of a fighter. However, Peterson has NEVER fought above 144 lbs. How in the world can he be considered a welterweight, let alone a "top" welterweight? When will the boxing public learn that boxing is a business, and the fans don't really matter in the end?


Gennady Golovkin's next fight should be against Jermain Taylor. After seeing who Taylor returned to the ring against Friday night, it's clear that he will NEVER be a champion again. Taylor says he is ready for a title fight in 2013. Golovkin has a title, and Taylor has a name. This will be a fight to give Golovkin the worldwide exposure he needs. Hopefully this will also be Taylor's last fight. I have a bad feeling that Taylor is going to get seriously hurt in the ring against a top middleweight. If he is insistent on fighting a top guy, hopefully it will be his last fight.


Speaking of retirement, I'm glad Evander Holyfield finally admitted his retirement is near.


Why in the world would anyone in the United States pay any pay-per-view money to watch Carl Froch destroy Yusaf Mack? This will be a nice payday for Froch, but this fight only generates interest in Europe. I will be completely honest with you all, and this is nothing against Carl Froch because I am a big fan, but I will either stream this fight online or not watch it at all.


This Saturday night's fights will be a huge event, and one nobody wants to miss, but the biggest story this weekend is the return of Danny Jacobs. For those who don't know the story, Jacobs was diagnosed with a life-threatening form of spinal cancer in May of 2011, and nearly died twice while battling the disease. Jacobs is now in remission, and should be voted the best comeback story in sports in 2012. Win or lose, Jacobs deserves this accolade for persevering through the ultimate struggle.


I'm very happy with Wealth TV's coverage of non-American and American boxing. I know the production quality was below average for both Friday night's Adonis Stevenson vs. Donovan George main event, and Saturday afternoon's David Price vs. Audley Harrison showdown, but the more fighters from around the world that American fight fans are exposed to, the better the chance to bring boxing back to the worldwide forefront. David Price has less than 15 fights and is already being mentioned as a candidate for a heavyweight title shot. How many American fighters with less than 20 fights are even on the American boxing fan's radar? I'm just saying that the more we see of guys from other countries, the more willing American fighters may be to go into someone else's backyard because the money will be right. The more exposure worldwide, the better for the sport of boxing.


Nathan Cleverly is being groomed for a Bernard Hopkins fight. The announcement that Golden Boy added Cleverly, a Frank Warren fighter with no ties to Golden Boy Promotions, to face undefeated Ryan Coyne, another fighter not affiliated with Golden Boy, on the undercard of the Mares vs. Moreno fight card is nothing more than an attempt for the American television viewing audience to get a chance to see Cleverly up close and personal. Warren and Golden Boy better hope that Coyne doesn't spoil the party.


Each week, I feature an email from a fan on Observe and Fight. This week's email comes to us from Louis T. regarding the lack of attention being paid to Hassan N'Dam N'Jikam in anticipation of his upcoming fight with Peter "Kid Chocolate" Quillin for WBO middleweight title Saturday night...


"As you know, the 20th of october is gonna be a great night for boxing. I wanted to tell you something about that. Why is there not a single article about Hassan N'Dam whom will fight Kid Chocolate that same night? We're days before the fight and i saw nothong about Hassan...why? He is a great unbeaten champion WBO/WBA and deserves, I think, to be known as much as Quillin is, don't you think? Besides, Hassan has been in the States for his training now I think..."


To be honest, Hassan is a very solid fighter, but this fight is supposed to be a showcase bout for Quillin. Golden Boy is putting on the event and Quillin is their guy. Hassan is considered by many to be a paper champion. This fight is being setup to get Quillin a middleweight title and put him in line for a major fight. You gotta remember, the fight card has 4 world title bouts on it, and Quillin vs. Hassan is probably the least attention-grabbing (in the U.S. for the fans). Hassan is an excellent fighter, or he wouldn't be world champ. If you look at most of the stuff being sent out on Quillin, they are from Press Releases from Golden Boy Promotions. Hassan's promoters haven't done much, if at all, to promote him for this fight (at least that I've seen). If Hassan wins, you better believe he'll be right up there as being mentioned as a possibility for Martinez, Golovkin, Geale, etc.

That's all I've got for this week. Email any questions or comments to
dkassel@fighthype.com
and I will answer them throughout the week. Your email may be featured in the next "Observe and Fight." Follow me on Twitter @BoxingObserver, and be sure to "Like" The Boxing Observer on Facebook.
[ Follow David Kassel on Twitter @BoxingObserver ]