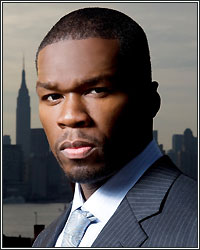 It appears that the verbal assault led by Curtis "50 Cent" Jackson may have resulted in one of his own fighters taking friendly fire. Last Wednesday, it was rumored that IBF featherweight champion Billy Dib, who is signed to Jackson's SMS Promotions, was in discussions to defend his title against unranked contender Jayson Velez on the undercard of the December 1 showdown between Miguel Cotto and Austin Trout. On Friday, Jackson himself confirmed the rumor, announcing the bout on his Twitter page amid a series of malicious posts directed primarily at undefeated pound-for-pound champion Floyd Mayweather. Now, it looks like there's a strong possibility that the bout won't be taking place after all.

"Catch IBF CHAMPION BILL DIBB VS. JASON VELEZ DEC.1 Cotto's card lets go New York!!! Don't miss it," Jackson would write late Friday evening before also announcing the return of undefeated former super featherweight champion Yuriorkis Gamboa on the December 15 undercard of Pacquiao vs. Marquez IV. Shortly after that, Jackson posted the following series of tweets that made it crystal clear that he was ready to engage in a war of words with is former friend:

"I'm no longer apart or down with TMT promotions. SMSaudio"

"If anyone wants a money team jacket I'm selling mine for a dollar. The nap back hat comes with it. That's a fare price. SMSaudio"

"I move the fighters to SMSpromotion cause the other half of the money team .Didnt put up there $MONEY$.SMSaudio"

"Get your TMT sweat suit NOW!! For just $7.99 on line No shipping and handling.SMSaudio"

The next day, Mayweather Promotions CEO Leonard Ellerbe would address those comments to clear up any confusion as to whether or not Jackson was involved in any of Mayweather's business ventures. "Let's be clear on this, Floyd Mayweather is The Money Team, and he's always been The Money Team. He's the beginning, the middle and the end of The Money Team," Ellerbe explained. "Floyd Mayweather has been getting money long before anybody ever came around him and he will continue to get money for the rest of his life because he is the best, not one of the best, but the best at what he does, and continues to be the best after a decade and a half. That's why he's the highest paid athlete in all of sports."

The next day, Jackson would again take to his Twitter account, but this time, his attention wasn't solely focused on Mayweather. In the following series of tweets, not only does he retaliate against Ellerbe, but his also takes the time assault undefeated super middleweight champion Andre Ward:

"GAMBOA WANTS TO FIGHT FLOYD. I will put up a extra 20 million for the winner. He don't like it that Floyd pulled out. #SMSAUDIO"

"Ellerbee you a broke bum GAMBOA want to fight tell him to Floyd lace up. Lol"

"GAMBOA is the truth, FLOYD no that, stop tricking and Fight #SMSAUDIO"

"If you say Floyd a kill GAMBOA tell him fight."

"GAMBOA MOVING UP IN WEIGHT FLOYD. You should have know not to go against me PUNK #SMSAUDIO"

"I can't hang out with Floyd no more,I'm tired of running from manny pacquiao #smsAudio"

"Andre ward f✓ ck you boy.@ANDREDIRRELL looking for you to fight boy #SMSAUDIO"

The assault would continue until Mayweather, who presumably had seen enough, decided to respond on his own Twitter page. The two would trade insults throughout the early hours of Saturday morning until Mayweather seemingly grew bored with the antics. Since then, however, Jackson has continued to make comments directed at both Mayweather and Ward.

Although there's genuine disdain between Jackson and Mayweather, one can't help but wonder if the rants made by Jackson are simply an attempt to gain attention for his fledgling promotional company. While his comments have certainly helped to generate headlines about his ongoing feud with his former friend, they may have also hurt his own fighters. According to Rick Reeno of Boxingscene.com, there is now a strong possibility that Dib will not be defending his title on the Cotto vs. Trout undercards. Although the undefeated Jayson Velez will still be on the card, Reeno has been advised that the search is on to find someone to replace Dib as his opponent.

Apparently, according to a source, Showtime is not keen on the idea of televising Dib, who had a less-than-stellar showing in a previously televised unanimous decision loss to then-champion Steve Luevano. In that bout, Dib's performance was described as "unsightly style, moving constantly, jumping in and out and fighting on the edge of the rules". That showing, however, took place in October of 2008. Since then, Dib has racked up a 14-fight win streak that has included 9 knockouts, albeit against largely unknown opponents. That being said, you can't help but wonder if Jackson's comments over the past few days haven't contributed to Showtime's alleged reluctance to televise Dib...and will his tendency to feud with others impact future bouts for his fighters?
[ Follow Ben Thompson on Twitter @fighthype ]