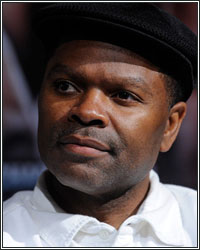 Over the weekend, upstart boxing promoter Curtis "50 Cent" Jackson took to his Twitter account to challenge undefeated super middleweight king Andre Ward on behalf of his own fighter, once-beaten super middleweight contender Andre Dirrell. Despite the fact that Dirrell has only fought once in the past 2 1/2 years since his withdrawal from the Super Six tournament, Jackson is of the opinion that his fighter is eager to step into the ring with Ward.

Ironically, prior to his withdrawl, Dirrell's next fight in the tournament was supposed to be against Ward. At the time, there was speculation that the neurological issues that forced Dirrell's withdrawal were really a reluctance on his part to face Ward, who was a close friend and former Olympic teammate. The following tweets from Jackson, however, sent a clear message that he believed Dirrell was eager to put their former friendship aside:

"Andre ward f✓ ck you boy.@ANDREDIRRELL looking for you to fight boy #SMSAUDIO"

"Andre ward VS. Andre Dirrell . He gone get the belt then we gone get it on. #SMSaudio"

"@andredirrell is a tuff fighter Andre ward no what's up SMSAUDIO"

"@andredirrell already beat Andre ward before do your home work#SMSAUDIO"

"@andredirrell VS. Andre ward will happen cause WARD is not scared #SMSaudio"

"@andreward I'm a fan but we gotta make the fight @andredirrell #SMSaudio"

During those tweets, Jackson also took aim at former friend Floyd Mayweather, challenging him to fight one of his other fighters, undefeated former super featherweight champion Yuriorkis Gamboa. Jackson even went so far as to offer an extra $20 million to the winner.

Upon hearing of Jackson's comments, long-time boxing manager and CEO of Rap-A-Lot Records James Prince, who works with Andre Ward, wasted no time to respond. "I hear there is $20 million being thrown around with betting on Gamboa. But since Andre Dirrell is with him [50 Cent], and he proved on there how strongly he feels about Dirrell - I just want him to know if he brings $20 million to the table - I'll fade his bet for that fight, with Andre Ward and Andre Dirrell," Prince would tell Rick Reeno of BoxingScene.com, giving Jackson a golden opportunity to put his money where his tweets are make the fight he seems so eager to make.

"As a matter of fact, if he's feeling that good, he can bring that bet to the table and we can execute that real soon," Prince continued. "If he believes in the other one [Dirrell], as he quoted [he does] and he should - I'll fade that bet for him. It don't have to take no long time. It can be the next fight if he's feeling real good. It can be done tomorrow if he wants. They don't need no warmups and all that kind of stuff. It can be made ASAP -if he believes in his fighter."

Jackson is being given a great opportunity by Prince. It's a fight that one of the networks would no doubt want to pick up, and according to Prince, it should be extremely easy to make assuming both sides truly want to make it. The question is, does Jackson really want to make the fight or is he simply looking to gain attention for something else? Time will tell.
[ Follow Ben Thompson on Twitter @fighthype ]