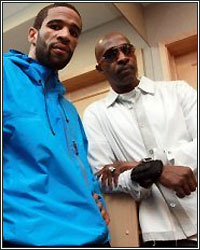 "If you dig deeper I bet you are gonna find out all kinds of stuff about this thing, man," stated world-class trainer Barry Hunter, who talked about last month's decision of the New York State Athletic Commission to allow Erik Morales to move forward with a fight against Danny Garcia despite reportedly testing positive on two occasions for the performance enhancing steroid Clenbuterol. Hunter, whose own fighter, Lamont Peterson, had a rematch with Amir Khan cancelled earlier this year after also testing positive, believes something is fishy about the fact that Morales was allowed to fight while Peterson was thrown under the bus, even after providing a significant amount of evidence to explain the reason behind his one positive test.

"Something just aint right bruh, and I told Dre [Andre Johnson, their publicist] that when it comes to Erik Morales, they just took this man's word for it. He said that it was contaminated beef, but where is your physical evidence? You don't have a partially eaten sandwich or partially eaten steak or a stool sample or the caucus of the beef? How do you make this determination," Hunter asked during a recent conversation with FightHype. And it wasn't just the Morales case that bothered Hunter. He also pointed out Julio Cesar Chavez Jr.'s positive test for marijuana following his title fight against Sergio Martinez, as well several other cases where he thinks the fighters received far less than backlash than Peterson.

"You have another one who tests positive for marijuana with no medical reason behind it. I haven't heard anything as far as Antonio Tarver or Andre Berto. I don't know all of their cases, but I know that out of all of these cases, there is only one that gave medical reasons and had medical facts to back it up, and volunteered the information, and that's Lamont," Hunter continued. The fact that Morales was allowed to fight and make a payday after testing positive just days out from the fight is the biggest head scratcher in his opinion. "Both Chavez and Morales still got paid, bruh. And in fact, if you dig deeper, you will find a lot of other fighters that have tested positive for a substance and it was never told or talked about. Again, if you investigate and dig deeper, you will find out all kinds of garbage is going on," Hunter added.
[ Follow Percy Crawford on Twitter @MrFighthype ]