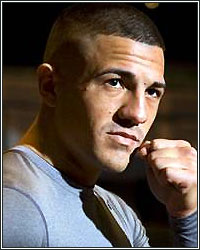 Last night on ShoBox, fight fans were treated to a very intriguing night of boxing that showcased talent that clearly lies under the radar, but above the rim. On the undercard Miami based fighter Joey "Twinkle Fingers" Hernandez (23-1-1, 13KO's) defeated James "Shotgun" Winchester (15-6, 5KO's) in a true slugfest. Despite the many ebbs and flows throughout the bout, Hernandez would earn the victory with a hard fought effort that saw him both on the giving and receiving end of what resulted in a blazing firefight.

"Shotgun" Winchester had his moments, even scoring a 10-8 round in the 3rd after frustrating Hernandez enough to make him commit a foul. Despite the heart he displayed, at the end of the night, it was the heart of Hernandez that would make all the difference, earning him a wide points victory on all scorecards. After the fight, Hernandez spoke about his need to continue "developing" as a fighter and "challenging" himself in the gym. Winchester decided to take aim at Hernandez instead. When asked about his thoughts in the aftermath of the loss, he said "Hernandez kept hitting me in the back of the head and he stepped on me when he knocked me down". Later accepting defeat, he would go on to say "it's OK, because it was his crowd, and now his crowd respects me". The final scores 96-92, 97-91, and 97-91.

In the main event, Cuban Angelo "La Cobra" Santana (14-0, 11KO's) entered his name into the recent crop of Cuban fighters trying to take over the sport. Typically when we speak Cuba in the sport of Boxing it's about Gamboa, Lara, Solis, or Rigondeaux. Tonight a new star was born, as Santana proved that he's one of the best in the sport today with a vicious knockout over the previously undefeated Johnny Garcia (13-1, 8KO's) in a 5th round KO. Garcia was very determined and came out with a strong energy, taking the fight straight to Santana.

That would work great for a bit, but when Santana honed in and decided to step his game up and pull the curtains, it was lights out as the Cuban fighter displayed a pure will to conquer. At the end of the night Santana would tell fans "I was in front of my people and they supported me and that was beautiful". He would go on to say "I needed a round to gain my composure. I was able to knock him out (late) and that was my intention".

Overall it was a great night of action and with such a great victory, the already loaded lightweight division has just seen the emergence of another star to be added to an already deep stable. The future of Angelo Santana looks bright, but tomorrow night the focus of the world on this division shifts to Adrien Broner and Antonio DeMarco. A showdown that looms a huge spectacle, despite the relatively small men that will go to war. Stay tuned.