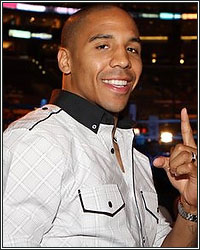 "I've been around maybe 2 or 3 sessions and from what I see, Amir is working hard and he's putting in the time. When you got a new coach and a new fighter, it takes time. You're not going to see everything transpire in this training camp, you know, in this next fight coming up for Amir in December. I think it takes time," stated undefeated super middleweight king Andre Ward, who shared his thoughts on Amir Khan's progress as he continues to work with 2012 Trainer of the Year Virgil Hunter. Although Ward has not witnessed every aspect of Khan's training, thus far, he likes what he's seeing out of the pairing of the former champion and his own trainer.

"As long as they stay together and keep putting in the work, I think, you know, I think Amir, in my opinion, is one of the best offensive fighters in the game. He has his own style, but it's effective. I think if he keeps getting a concept of defense, I think it's going to enhance his offense and I think he's just going to be really hard to beat," he continued. Currently, Ward is in the middle of negotiating his own next fight, a potential January 26 clash with former middleweight champion Kelly Pavlik. Should the deal be finalized, he'll soon be starting his own training camp, which could overlap with the training camp of Khan, who fights on December 15. Ward, however, has no concerns whatsoever about Hunter's time being divided.

"I mean, the bottom line is this, and I say this with the utmost humility, it's like, I'm the number one fighter in our stable, period, and the guys that come along and that train with Virg, they understand that. With that being said, my time is separate with him, Amir's time, whoever else that Virg trains is separate, unless we want it to be otherwise," Ward explained. "But, you know, Virg runs a tight ship. He knows how I like things done and vice versa. So, you know, that kind of thing is not a problem and we kind of do things in training camp, we try to be prompt, we try to be about our business, so, you know, again, time overlapping and certain guys not getting enough time and stuff, I think you have that problem when maybe guys are training at the same time, but that's not going to be the case here."
[ Follow Ben Thompson on Twitter @fighthype ]