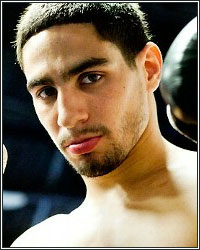 "I'm just gonna keep winning whether they give me the recognition or not. It really don't matter. I'm here to do my job. One day they gonna recognize me and until then, I'm gonna just keep knocking them out... Zab is a good fighter. I just feel like he's had his time. He wanted this fight, he demanded this fight, and now he's got the fight. Zab gotta back his words up," stated unified jr. welterweight champion Danny Garcia, who talked about his February 9th showdown with former champion Zab Judah. Check it out!

PC: Congrats on the win over Erik Morales. With all going on, how did you remain focused enough to not only take the fight, but put on a spectacular performance?

DG: Thanks man. Yeah, I just thought about it. I went to sleep the night before the fight and slept on it and when I woke up, I was like, I don't care what's going on, I'm just gonna go out there and handle business.

PC: With everything going on, was there a thought at some point that you definitely wouldn't fight him? Because you dealt with the missed weight and now this, you could have easily said, "Screw Erik Morales."

DG: Um…man, to tell you the truth, I knew whatever he brought to the table, he couldn't beat me. I was too experienced. I have gotten way better now, so I knew that he wasn't gonna beat me and that's why I took it.

PC: I see what you mean now when you say you throw your entire body into that left hook. You really turn into that thing.

DG: (Laughing). Yeah! I just set it up. I set all of my punches up. I was backing him up with the jab and then I saw him throw a right hand and I just threw a left hook as soon as he threw his right hand. I just countered his right hand with a hook, and it was perfect because as the rounds kept going, I felt like his punches was coming way slower, and I was able to counter him with quick shots and I knew he was gonna run right into that shot.

PC: When you dropped him in the previous round, his legs never looked good again. I didn't think you were gonna catch him with that type of shot, but I did begin to think the end was near. Did you sense that too?

DG: Yeah man, definitely. I hit him with a good right hand and he was real hurt. I knew he wasn't going to be able to recover because he had weight issues and he's a little older now, so I knew once I hurt him, I would be able to finish him.

PC: You had to know when you landed that left hook that the fight was over.

DG: Yeah, I definitely knew man because it was too clean of a punch. I don't care who I hit with that, man, they going to sleep (laughing).

PC: Even when dealing with a legend like Morales, for him to miss weight and fail drug tests, you had to have some animosity towards him. Did you ever speak to him afterwards and what did you say if so?

DG: After the fight, the matchmaker was like, "You gonna come check on Morales," and I was like, "I'll come check on him as long as he gonna accept me," because the last time I tried to say something to him after the first fight, he didn't say nothing to me. He just shrugged me off. So I was like, "Thanks man," and whatever whatever. And he said, "I'm a great champion." And I was like, "Thanks for sharing the ring with me. It's an honor."

PC: It seems like you are finally getting that recognition that I felt you've been deserving of. How do you feel about that? Do you wish you were still the underdog that was always disrespected or are you glad you're finally getting much deserved credit?

DG: I mean, I really don't care about that stuff, man. I'm just gonna keep winning whether they give me the recognition or not. It really don't matter. I'm here to do my job. One day they gonna recognize me and until then, I'm gonna just keep knocking them out.

PC: What was it like to headline the first event at the Barclays Center?

DG: It was good, man. It was a good experience. It's a beautiful place, man. I like the atmosphere and everything about it. It was a good atmosphere and the people were good, and this time around, it's going to be the same way.

PC: Looking at your career, you haven't fought many southpaws, but with your amateur experience, I'm sure you have faced your share.

DG: Yeah man, southpaws were easier to me than right-handed fighters in the amateurs. I love fighting southpaws, man, because it's easier to me. It's going to be another dramatic ending (laughing).

PC: The left hook can work against southpaws, but the right hand is usually the weapon of choice. You have become so known for the left hook, but I'm sure we can expect variety for the Zab Judah fight.

DG: We gonna mix it up and give some different looks. I know he's definitely going to be looking out for the hook and trying to get out of harm's way, but we gonna mix everything up perfectly.

PC: Zab is coming off of a big win. He's obviously rejuvenated. What do you think of Zab Judah as an opponent?

DG: Zab is a good fighter. I just feel like he's had his time. He wanted this fight, he demanded this fight, and now he's got the fight. Zab gotta back his words up.

PC: I'm sure with Zab's entourage, your pops Angel will make it a very interesting press conference.

DG: Yeah, the press conference is on Saturday in New York, so we will see. We're trying to kill two birds in one stone with the fight going down there this weekend, so it should be a good turnout.

PC: For a fighter that is at the highest level like you are right now, this is a pretty active schedule for you. You have been staying busy. You gotta be pleased with that, I'm sure?

DG: It's crazy, man, but it's good. You know, once you become champion, you gotta stay active. I'm staying active and I stay in the gym just improving and getting better and better.

PC: It also helps to keep the weight right as well.

DG: I mean, it does, but the highest I might ever get is 155. My shoulders are real big, so a lot of people think I'm bigger than what I really am. But doing nothing, I'm like 155, and when I start training, I'm like 151, so I only gotta lose like 11 pounds. I just got a big frame and a lot of people think that.

PC: Golden Boy has been showcasing a lot of good, young talent. You, Adrien Broner, and recently we watched Keith Thurman and Robert Guerrero and Andre Berto. It's gotta feel good to be a part of such a good, young stable of fighters.

DG: It feels good just to see this young generation. We have always been ready to do it, but we weren't getting the opportunity. And now that we are getting the opportunity, we are just taking advantage of it to shine.

PC: When you watch younger guys like…well, I say younger guys like you're old, but you are a little more established.

DG: (Laughing).

PC: But when you watch Adrien Broner and Keith Thurman, what do you think?

DG: Ah man, Broner looked good, man. That was his best performance. He really showed that he belongs where he belongs. He is entertaining and he's fun to watch, man. I like Broner, man. I'm a fan of Broner. Keith Thurman was shining as an amateur, so he's been doing his thing for a while. They are gonna turn him into a star. There are a lot of young fighters doing their thing right now.

PC: Were you shocked at all with the outcome of Guerrero/Berto?

DG: Yeah man, to be honest, I thought Berto was going to be physically too strong. Even though he is shorter, he has been fighting at that weight his whole career, so I didn't think Guerrero was going to be able to hurt him, but Guerrero seemed hungry and he's been waiting for this moment and he proved himself.

PC: I'm not rushing you out of the 140-pound division, but that had to give you confidence that when you go up, you will be strong enough to compete there.

DG: Yeah, definitely. It was crazy, man. Berto kind of fought the wrong fight, man. From round 1, Guerrero showed he was going to try and make it a rough fight and back him up, and Berto stood right there with him for him to do it. He banged with him and laid on the ropes. He just fought the wrong fight.

PC: Are you already in the gym?

DG: Man, I'm in the gym already and I'm running, so camp already started for me. I will be turning it up a little later, slowly by slowly; that way, we don't have to kill ourselves. But I'm already in there chipping away.

PC: Is it tough for you to train through the holidays?

DG: I always make time for the gym because it's just what I do. But my fight is actually great timing. I can do the holiday thing and then have time for the fight because I fight February 9th. So after Christmas, I can get ready for my fight, and New Year's doesn't matter because I don't drink, so I will probably be with the family chilling. So I'm disciplined. I know what I gotta do and everything is perfect timing.

PC: I appreciate the time. I know you have been very busy, so always good to catch up with you. HBO gotta get you and Angel on 24/7. Get some fresh blood on there. Anything else you want to add?

DG: (Laughing) I know, man. I just want to say February 9th is going to be another epic night and we are gonna be on top. I will come to do what I do best and that's to keep proving people wrong and showing the world that I'm the best.
[ Follow Percy Crawford on Twitter @MrFighthype ]