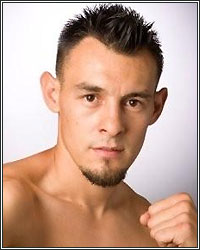 Boxing Scribe Vivek Wallace brings his Left-Hook Lounge mailbag to FightHype.com, answering questions for fans and giving his own unique perspective on all the latest current events in boxing. This week, check out his response to fans as they discuss this past Saturday's performances of Robert Guerrero, Keith Thurman, Andre Berto, Ricky Hatton, what their futures hold, and much more.


---

Zach L. (Irving, TX): In back to back weeks we've seen Adrien Broner and Robert Guerrero dominate in fights that were supposed to be competitive. I remember you gave your thoughts on a potential fight between them on Facebook a while ago. What do you make of a fight between them now after seeing Guerrero's performance?

Vito W.: While I like the various subplots involved, including both men in a relatively new weight class, I think we have to keep things in due perspective. For starters, I don't think anyone who considers themselves pure fight fans would agree that the Broner/DeMarco fight was anywhere near as competitive as the Guerrero/Berto fight. Broner dominated his showdown from first bell to pure hell! It was never close. We also have to take into consideration that Broner went up in weight to face the best available contender on that level.

Guerrero defeated a guy coming off a pretty lengthy lay off, and while he did an admirable job competing, it was far from a blow out, as even with no visual field to work with, Berto remained competitive and in spurts, nearly found a way to shock Guerrero. I don't think we can use the whole "fighter A beat fighter B, therefore, fighter B could beat fighter C" philosophy. For starters, when we look at the dynamics and sheer talent involved, it mixes apples and oranges. Berto is athletic and has far more heart than most give him credit for. There's a reason this guy has been in so many Fight-of-the-Year candidates and he continues to push himself, doing several things to elevate his game, albeit not the things necessary to find a desired level of success.

All that said, Berto is no Broner. Skin color and the first letter of their last name is about the only parallels between the two men. Berto is horribly flat-footed. Broner has a lot of bounce and the intelligence on how to use it. Berto is supremely explosive, so on the inside he has the unpronounced uppercut that comes from nowhere. Broner has defensive intelligence to avoid taking punishment in close while dishing out tons! These two, categorically are very different in delivery and it actually comes as a total disservice to even try to connect them, speaking in terms of physical gifts and ring intelligence.

I won't go out on a limb and say that Guerrero loses that fight, but he'd be facing a man with the intelligence to nullify his best weapons and actually use them against him. Broner is a superb in-fighter. Broner is a tremendously fast fighter, even on the defensive end. So he would avoid the onslaught of Guerrero. And more importantly, he won't back up from a fight. He'll retaliate. So again, I won't say either man wins. I will say it'll be a helluva fight. Maybe one day we'll get to see it.

Ericka G. (Aventura, FL): I think Keith Thurman has good power but I'm still not sold on him. Do you think maybe a different trainer or a different strategy would make him more effective?

Vito W.: I actually like what I've seen in Thurman, but I would totally agree that there's room for improvement. The cool thing about that slight criticism? So can every other fighter in the sport. I think Thurman, like any other fighter who talks as much as he does will be criticized far more for the simple fact that you expect perfection from someone who boast perfection. Anything less starts comparisons that doesn't quite add up. When a prime Mike Tyson or Roy Jones Jr. spoke, they backed it up in a way that was so convincing you had to support it.

In contrast, when Floyd Mayweather would talk hard, (as great as he was in his early days), it totally backfired for him to get in the ring and do anything less than dismantle his opponent like he vowed so hard to do. Thurman isn't running in the ring, and as a matter of fact, his opponents typically do; but that being said, he still doesn't totally demonstrate the greatness associated with someone who talks that much. Me personally, I love his confidence. I think it speaks loud and clear about his ability.

But when the smoke clears, there's still a few questions that loom over his head that will never be answered until he proves he has elevated his game to that level. When Kelly Pavlik was knocking Jermain Taylor and everyone else he faced out like it was easy, I asked one question: What happens when he faces someone he can't hit that can hit him, and make him pay when he misses them. A much older Bernard Hopkins answered that question for us in a fight I was openly ridiculed for predicting he would win easy. It was all based on this same assessment. A fighter who presses for the KO like Thurman will always force me to ponder that question.

Does Thurman have an adequate plan B to earn him a victory when those bombs don't land? To take it a step further, does he have the stamina to execute that plan B? The only criticism I heard for him coming into this fight was how visibly hard he was breathing in the fight prior to this one. The kid has gone 8 rounds once in his life, and that was 3 years ago. Beyond that, 6 rounds is the max he's ever fought at. What happens when lands in the 10th round in a close fight?

These aren't questions meant to criticize him. They're questions meant to be answered, and he's being asked because when the bell rings there will only be two men with gloves on, and he'll be the one who has to respond. I won't say he needs a better trainer. I will say there are many areas of growth and I hope I'm not the only one who sees them. I'm not on payroll. Dan Birmingham is.

Alex Z. (London, UK): Ricky Hatton made a huge mistake taking on such a bigger fighter in a different weight class after such a long lay off. Do you think he should take a better match and continue his comeback?

Vito W.: Ricky Hatton is my favorite Euro fighter of this generation. I've always loved his tenacity, his passion, and his ability to literally carry an entire nation on his shoulders with pride. That being said, I think his expectations and many of ours were probably far too high. They always said "you live by the sword you die by the sword". That which has always made Hatton such a marveled figure is the same element that caused him to come back to a fight he probably had no business in. Many seem to forget that only seconds before getting knocked out by Mayweather, in his corner, then cornerman Billy Graham told him he needed a knockout and he needed to go out and take the fight to Mayweather, win or lose....but to basically go out on his shield.

You know what he did? Rather than punk out and dancing around, knowing that he was already staggered and battered, he did just that. He went out and fought harder, breathing life into "Iron" Mike Tyson's patented quote which boldly identifies that "the only purpose of a battle is to destroy and conquer the opponent or surrender"! When all else had failed, he knew he could end up humbled and out for the count, but it never stopped him from doing it. When asked why he didn't choose an easier opponent to face in a return to the ring after such a lengthy layoff, he said he "wants to be champion" and "anything less would be a waste of time".

May not be the best approach, but you know what, that mentality is what made many fall in love with the "British Bulldog" to begin with! I wish Hatton the best, but I don't want to see the little big guy get hurt! I hope he hangs them up for good. And after seeing him cry in the ring, I think he wants that too. Love it or hate it, what you saw last weekend will be the final chapter in the well chronicled career of Ricky Hatton.

Jerry G. (Denver, CO): A week ago you stated that Adrien Broner could make for a good showdown with Pacquiao. Alex Ariza stated that Guerrero potentially earned a shot at Pacquiao after his Berto victory. Would you co-sign that he would also make for a good fight with him?

Vito W.: As always, I think think styles make fights, and skills pay the bills. Short answer to your question is that yes, Guerrero vs Pacquiao would be a very intriguing fight. In the sense that, (as I always point to), a fight is when two men can actually hit one another. Clearly neither of these men use much defense, so that's practically all that would happen. With Guerrero's toughness, durability, and heart, I definitely think he'd make for a great fight against Pacquiao. However, his odds of winning reduce greatly when we take into account Pacquiao's foot work and speed, however. Those are three things that Guerrero doesn't have that Pac has had in abundance.

Granted, he isn't nearly as fast or spirited as he once was, but even at this stage he has these elements in great abundance compared to Guerrero. Margarito was durable, had a great heart, and was tough. We remember how that worked out for him. I'd even venture to say Margarito was quite a bit more durable than Guerrero. There are some things Guerrero has on him as well, but overall, I'd expect a very similar fight in the end. I'm not even sure if the youth would make a difference. Speed kills.

When we look at things stylistically, I won't say that Broner would defeat Pacquiao either, but his defense, fast counter-punching speed, power, durability, and sheer ability to bang on the inside and outside against a Pacquiao with much shorter reach would be enough (in my humble opinion) to nullify practically everything Pac could throw his way. I truly believe that. If Marquez can do what he does, I think Broner would be trouble. At the end of the day I would love to see Pac face another young gun. The Bradley fight didn't go well for him at all, but it was contested.

How would he fare against some of the other young guns of today? Guerrero and Broner could answer that question. I think cumulative damage from a very determined, never-say-die styled Robert Guerrero would be his end-all-be-all. In the case of Broner, I think he could manage to outbox Pacquiao over 12rds with his defense and other intangibles. Barring a sudden KO or something bizarre, I think he would match up quite well, even at this stage in their careers. Call me crazy, but hey, if a group of judges felt Bradley got the nod, I think this fight is far closer on every level. At this stage it's all speculation, but either of these young men would make for a helluva fight with Manny. Due to obvious reasons we'll probably never see either.

Vivek "Vito" Wallace can be reached on Wednesday nights at FightHypeRadio, also at Twitter (VivekWallace747), and Facebook.