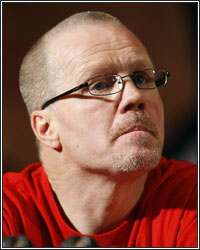 "If (his body) is natural, I will kiss his ass,'' stated Hall of Fame trainer Freddie Roach during a recent interview with Jon Saraceno of USA Today. According to Roach, the fact that Marquez has gained weight and sculpted his physique prior to his December 8 showdown with Manny Pacquiao is a clear indication that something fishy is going on.

"(Marquez) has gotten bigger and gained weight - it throws up a red flag,'' Roach explained. "I've been accused so many times of my fighters being on steroids (that) I hate to accuse other people. But it is part of our life, part of the world we live in.''

Indeed, it's odd that Roach would make such an accusation considering that his star pupil, Pacquiao, recently settled a defamation lawsuit against Floyd Mayweather regarding similar accusations. Nonetheless, the accusation has now been made, and it puts the spotlight on a fight that had relatively no new storyline to promote the bout.

It remains to be seen if Marquez will pursue legal action over the comment. "I think it's disrespectful when people start rumors like this," he commented. "I have never done this type of work before. That's why my body has changed. I have been working very hard, specifically to get more strength. Angel is a professional and knows how much weight I am putting on. I am getting more speed and getting stronger at the same time."
[ Follow Ben Thompson on Twitter @fighthype ]