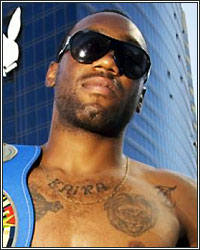 "We've definitely been watching tapes for those two losses. We've also gone back and watched tapes of Miguel Cotto when he was fighting around 140, 147. We plan on executing a game plan similar; we're not going to necessarily run, but movement's going to be a big deal as far as our game plan goes. Without going into too much detail, I do want to say that I am willing to sit down and fight. I know I'm going to have to put a lot of leather on him in order to get a decisive win in the Madison Square Garden, so a totally defensive fight is not going to necessarily be the key to victory for me," stated WBA jr. middleweight champion Austin Trout, who recently held a conference call to talk about his clash this Saturday with three-division world champion Miguel Cotto. Check it out!

Swanson: Okay. So I am going to go ahead and turn this over to Mr. Cohen, Greg Cohen, CEO of Greg Cohen Promotions and also Mr. Trout's promoter. And, Greg, if you'd like to make the introductions. I do know we also have Louie Burke on the line, who is Austin's trainer, but if you'd like to make the introduction for Austin that would be great, and then we'll open it up to media questions.

Cohen: Sure. Thank you. We're very happy to be here today and I'm very lucky to be Austin Trout's promoter. Austin, as you know, is the WBA 154-pound World Champion, he's undefeated, he is a world champion inside and outside of the ring. And this is the opportunity he's been waiting for his entire life, and we just couldn't be more excited to defend the title. I know maybe outside of the boxing world a lot of people might not know Austin Trout that well, but we plan and know that after December 1st come December 2nd Austin Trout is going to be a household name.

So, without further ado, I'd like to introduce my World Champion, Austin "No Doubt" Trout.

Trout: Yes. I'm more than happy to be here. I'm grateful for this opportunity. I want to thank Miguel for allowing me to showcase what I've been working on all these years on a stage as big as this. We know if it wasn't for his name to be carried out that we probably wouldn't have been on this type of platform, so I'm very grateful to him for the opportunity. And I'm just ready to answer any questions and let you all get to know me.

Q: Good. As you look back at Miguel Cotto's let's say last five fights, maybe it's six fights, I think he's four and two, his two losses have come against guys who had very fast hands, a lot of good movement, defensive skills and everything, of course two outstanding fighters, Mayweather and of course Pacquiao. You fight more like those guys than the guys who stand in front of him, guys like Joshua Clottey and Mayorga, Yuri Foreman, Antonio Margarito. Have you been watching tapes of those two losses, and if you have what do you plan on doing to beat him?

Trout: We've definitely been watching tapes for those two losses. We've also gone back and watched tapes of Miguel Cotto when he was fighting around 140, 147. We plan on executing a game plan similar; we're not going to necessarily run, but movement's going to be a big deal as far as our game plan goes. Without going into too much detail, I do want to say that I am willing to sit down and fight. I know I'm going to have to put a lot of leather on him in order to get a decisive win in the Madison Square Garden, so a totally defensive fight is not going to necessarily be the key to victory for me.

Q: Judges often come into play so often. Let's go back to Pacquiao and Bradley; we all saw one thing, the judges saw another thing. As I sit here I don't know who the judges are going to be, I don't know if you do, but if you do are you concerned with any of the judges and/or the referee?

Trout: Well I really can't spend too much energy to be worried about the judging or the officiating. All I have to worry about is what I have to execute inside that ring. If we execute what I do in the ring and let it be up to God's hands, as long as I've done my best that's what I'm happy about it. If they "steal" it from me well that's between them and God. All is can focus on is what I can do and what I can take care of, and then that's my actions in the ring.

Q: Hey, I watched All Access, and the thing that's really impressive is your candor and your honesty, but you're also very confident. But at one point you asked for Miguel's autograph, and I was like, "Wow that's genuine." But how do you go, I mean I've talked to boxers over the years who had to face their--Oscar De La Hoya being one, who had to face their idols when he beat Julio Cesar Chavez, and he really gave him a beat down, especially in the second fight-how do you go from being a fan to beating on a guy that you respect? How do you do that?

Trout: Well, it's funny, because there's two sides of Austin Trout; there's Austin Trout the fan of boxing and Austin Trout the fighter, and you might get two different. As an answer I would say it's a great fight, I'd love to watch this match up, but the Austin Trout the fighter is always thinking in the back of his mind I could beat both of those guys or I could beat that guy. So in the back of my mind I've always sized up anybody I've been a fan of. And really when I'm daydreaming as a kid, or even now, because I'm a daydreamer, when I'm fighting in that big arena and the person I'm beating up it's one of my favorite fighters, because in my opinion to be the best you have to beat the best. So, yes, I don't think it should be a hard transition coming from a fan to a fighter at all. I've been doing it my whole career.

Q: Who are those guys that you faced? Who are the guys that you've idolized in your dreams and beaten them up in your dreams? Name some of them.

Trout: Money Mayweather. When I was a kid, well not a kid, like more in high school, it way Roy Jones Jr.; that was the visualization I had. I even go back and visualize me beating Sugar Ray Leonard or Pernell Whitacker just to name a few. I have a big list of fighters that I really admire, and Miguel Cotto is on that list.

Q: So when you visualize this fight with Cotto what are the different scenarios that have come out with you winning?

Trout: Oh in the daydream, which I feel I can make a reality, it's a win by knockout. It's a hard, tough fight for a while, but I come out in the later rounds and pull ahead to get that KO victory. Either way my hands are raised; whether it's a decision or it's a knockout, my visualization is with my hands raised.

Q: Great. Two more questions for you. I've talked to Matthew Macklin, who has predicted that you would win. Obviously you sparred with him to prepare him for Sergio Martinez. And I talked to Martinez just about your jab, I didn't ask him about this specific fight. Do you feel that the jab, your jab, is going to be a key in this fight and sustaining that over the course of the fight?

Trout: I definitely do. I'm going to have to keep him away from me and there's no better measuring stick than the jab, and I have a pretty good jab so using the jab is definitely going to be a key. Just as he has a good jab and he's going to try and use it I'm going to have to use my jab as well.

Q: And my last question is he says that, and I've been there during his fights, the crowd is deafening and they cheer everything he does from the time he walks into the ring to the time he leaves, every punch he throws, every acknowledgement he makes to the crowd, and he doesn't think you're going to be ready for that. What is your answer to that?

Trout: I just have to make sure I don't give the crowd anything to cheer about.

Q: There was a lot of discussion when Miguel was on the call prior to you joining us about his relationship with the fans in the Garden and basically it becoming his home away from Puerto Rico where he's fought I think eight or nine times so many big fights. You're a guy that's gone to the lion's den, so to speak, fought in Mexico a couple of times against Mexican opponents, won your world title in Mexico, which I actually saw on TV just the other night. My question for you is what are your expectations for being in that kind of crowd and how do you feel like you will handle that mentally, emotionally?

Trout: Well actually my past experiences, which have not been on this type of level by far, but if practice makes perfect this is not my first time doing it, so I feel like I'll be pretty comfortable being in the hostile territory. Really the crowd can only do one thing, and that's to make noise; they can't help him get up, they can't help him punch harder, they can't help him punch faster. I'm expecting and I'm preparing for Miguel to be at his absolute best anyway, so it's not like they can make him better than his best. And I've done all the preparation now, and really the only thing I'm focused on is Miguel Cotto in that ring.

Q: So do you think, though, it's one thing to visualize that. Like go back to when you were going to Mexico when you fighting Alvarez or when you were fighting I believe it was David Lopez, when you walk into the crowd and they basically want you to get knocked out walking to the ring how do you deal with that? Some guys would just find it to be me against the world kind of attitude, like I'll show them. Others might shrink from that and be intimidated. What was it like for you making those ring walks in that hostile environment?

Trout: Yes, when I was walking to the ring my whole goal was to shut the crowd out. Going to the ring you get people likely throwing things at you, cursing at you, and things like that. It's just exactly as you said; it's me against the world, and I'm going to show them. I respect the Puerto Rican fan base and for their passion. I said at the press conference that if it wasn't for them or the Mexican fans that boxing might be dead, especially in American. So as a fan I'm glad they're keeping it alive, but I'm not going to give them anything to cheer about. My whole goal is to get the Garden absolutely quiet.

Q: Well that's hard to do, obviously, when you're dealing with a Miguel Cotto fight. Are you intimidated at all or do you embrace the notion of doing what you just said you'd like to do, shutting them up?

Trout: No, I embrace the notion. I'm not intimidated at all. This is what I feel like I have to go through to get to where I want to be, so I'm not going to le the crowd or Miguel Cotto be in my way.

Q: Austin, with all the different guys you're fighting a very hot weight class. I know you have one of the titles, which I'm sure is one of the key reasons why you were able to get this fight, but I wonder with all the different possibilities that Miguel might have had, he had the opportunity to maybe fight Pacquiao in a rematch, there were other fighters in the weight class. When you got this fight I know back when it was first made you said you were very shocked and didn't really believe Greg when he called you to tell you that you got the fight. Do you still sort of pinch yourself to say I can't believe like after 25 fights basically in relative anonymity, even though you have a world title, that now you're getting the opportunity to fight one of the biggest stars in the whole sport?

Trout: Now suddenly it's reality. I feel like this has to be all part of God's plan, because of my anonymousness and since I'm not so known and not the big name and he's had so many names. The only thing I can think of is God made this happen, and I feel like it's part of my destiny to be on this stage. I don't doubt my skills or ability in this fight. I don't doubt God's positioning of me in this fight. So I feel real good about the fight. I believe that I will be victorious as well.

Q: Do you think you've even been with a guy that's as good of a puncher as Miguel Cotto? You fought guys that can punch a little bit, maybe Rodriguez who has knocked some guys out. I don't think he got touched much; he pretty much won every round. But I looked at your record and you fought some good opponents, but I'm not sure there's been a puncher with the type of power that Miguel has displayed in his career. What are your thoughts about that?

Trout: No, I wouldn't say I have. I've definitely faced bigger guys; I've fought guys that came down from super middleweight, so maybe with that body strength that they may be bigger, stronger than Miguel as far as that's concerned, and I still pushed them back. Miguel Cotto is a very powerful and explosive fighter, and I've not necessarily faced anybody as explosive as him, but I think I've faced people that have been as strong as him.

Q: How shocked were you when you got this fight? Were you surprised by it? Because you kind of, let's be honest, your performance against Rodriguez, even though you won, had a lot of people not really wanting to see you again for a while, and here you are getting this monster main event.

Trout: Well I do look at it as a redemption song. But yes, I was shocked; I was shocked that he chose a fighter like me, because a lot of times I've been known as high risk, low reward, even with the belt. So I figured if I can't get these guys to fight me with the belt then what do I have to do, who do I have to beat to get these names going. And lo and behold, Greg Cohen and Al Haymon made the Miguel Cotto fight happen, and I can't be more appreciative for it.

Q: Hey, Cotto said that the Mayweather fight maybe rejuvenated him a little bit, even though he went through the loss. And just as you look as his previous fights, and especially that fight, did you see a guy who maybe is on the downside of his career like some people say or is he still in his prime?

Trout: I would definitely say he's still in his prime; he's still a hungry fighter, he's still eating and have hung with some of the best fighters in our time, I should say. His losses have only been to the top guys, and one of the losses is very controversial. So I don't see why anybody would count Cotto as being on the downside of his career.

Q: And I watched the All Access and I thought the team in Las Cruces in a good light, and I was just wondering what you thought about it and talk about why you have decided to say here. Louie has talked about that before, like he was able to train in different places, but you stayed here throughout your career.

Trout: Well, my kids are here. I love being around my kids. I can't really leave them, and if I was to go pursue my career in another city that would be the case, I would have to leave my kids behind, and there's no way I'm going to do that. That's one of the reasons why I've stayed in Cruces. Not to mention beautiful weather, no natural disasters, we have good elevation out here. It's a good place to focus if you need to focus.

Q: What's your sense about the way the community feels about you? They're kind of been able to watch your career and watch you grow up.

Trout: Well I'm glad they're getting excited.

Q: First, do you see any weakness in Miguel Cotto that you can exploit during your fight? And the second question, just wanted to ask you if you had any Hector Camacho stories or if you ever met him and what you think about his untimely death?

Trout: My heart goes out to his friends and family, even his fans. I have never had the pleasure of meeting Camacho. My coach, Louie Burke, he has had the pleasure of actually fighting Hector Camacho, so that's probably as close as I've gotten to Hector personally. It's sad that the way champions can come out or go out, and I hate to see a great fighter like him go out like that.

Q: Do you see any weaknesses in Miguel Cotto that you could exploit? I mean they mentioned before about he fighting fast opponents. Do you see anything on his game that you can take advantage of?

Trout: I do, but I don't want him and Pedro working on it so I'm going to keep that to myself. We're going to work on his eye; he has a lot of scarring up there, he can't help that. That's one thing that we want to not focus on, but we're looking to take advantage of.

Q: A lot of times we see this happen in boxing where you have an older, more established fighter, like Miguel Cotto in this case, go up against a younger, hungrier fighter like you, and a lot of time this ends up being where it comes to a coming out party for the younger fighter. How important is it to you on Saturday night to go in there, win or lose, to give the type of performance that builds the name of Austin Trout in the boxing community and gets you more established for bigger fights going forward?

Trout: Well it's just like you said, it's very important because I'm trying to be established; I don't want to be anonymous anymore. So I pray for a blessing of a satisfied performance that I can perform for my best of my ability, and I feel like if I do that then I will win with no question. Now anything happens in this game, in fact you lose and still put up a good performance. I'm not happy with that; I don't want to lose my undefeated record or my belt.

I feel like the powers that be don't necessarily want me in the boxing game, because I feel like I'm a thorn to everybody's side that have to fight me. So a loss would be the best way for them to get me out of there, so losing is really not an option. Even if I still perform to the best of my ability I think that they won't let me in, and they didn't let me in anyway, I had to kind of climb through the window.

Q: Right. Austin, I think it's one more thing I want to ask you is about you, your personality; you're very personable, you're a very well spoken student of boxing. You said before that as much as you are a fighter you're a fan of the game, and I think a lot of the younger up and coming fighters, obviously an Adrien Broner is a good example kind of carrying on that torch of the Floyd Mayweathe type fighter, how important is it to you, Austin, to stay true to yourself as both the fighter and the fan and being the type of guy who doesn't have to go out there and disrespect or talk smack about his opponent and just does things the right way to establish his name in the game?

Trout: It's the most important, because, like I said, I have kids, and my daughter, who's 10 now, she'll call me out, like, "That's not you, dad," and I want them to see the real me. I feel like to know me is to love me, so why even put on any kind of a façade. If I feel one way I will express it in my truest form. I feel like it's very important. I don't want to be fake with anybody. I'm not saying that Adrien Broner is, I feel like he's himself when he's doing what he does, but that's just not me. I just want to be me and let the fans embrace me as me.

Q: My question is recently you have exactly your last fight with Delvin Rodriguez was a unanimous decision then you have a TKO, it stopped in eleven. Your preparation for this fight I think it's a little bit different than the ones that you had before. Miguel and you they have prepared exactly the most kind of the same, he was in Big Bear, California, and they were basically at the same kind of training. But Miguel is a hard puncher, and basically your previous contenders have not been as hard. Do you have to prepare to the kind of fight that you are expecting this Saturday that maybe is going to be a long 12 rounds or what your main goal on this fight?

Trout: Well as the training, we've picked up the intensity, we've gotten some good thin air to be intent in for the fact that Miguel Cotto is an intense fighter, and we don't want to have to keep up with his intensity, we want to push the intensity. So we prepared definitely a longer and harder training camp to be at our best for the whole 12 rounds, and we're expecting and preparing for a hard fought 12 round fight. Miguel Cotto is the best fighter I've ever faced and that's no secret, but I've put in the hard work now so that way December 1st can be easier. And with God willing we'll do what we've been working on and come out victorious.

Q: Do you think with this training that you did for this fight, because you were doing more cardio and just keeping up in there, do you have healthy in your strength and you feel right now different when you are basically on the city, obviously breathing up a couple of thousand feet is different than just being in the city, do that help you a lot in the way that you are performing, and how do you feel for this fight and the previous one that you had with Delvin Rodriguez?

Trout: Yes. No, I feel very healthy. I have no injuries, there's nothing that's coming into the ring with me but a healthy we'll say Austin Trout, and I can't be more happy with the outcome of the camp. All that's left is just to maintain my shape until we weigh in Friday and then Saturday we get to show how.

Swanson: All right, everybody. So that ends our call. And again, you have received your fight week schedule. Please pay attention to it. Wednesday is the final press conference at the theater lobby at Madison Square Garden and Friday is the official weigh in, which is open to the public, and that's at the Affinia Manhattan Hotel in the ballroom at 1:00 p.m.

#######

"Showdown: Cotto vs. Trout" is a 12-round battle between Four-Time and Three-Division World Champion Miguel Cotto and undefeated WBA Super Welterweight World Champion Austin Trout taking place on Saturday, December 1 at Madison Square Garden in New York City. The co-featured fights will see Jayson Velez take on Salvador Sanchez in a 10-round fight for the vacant WBC Silver Featherweight title and Danny "Miracle Man" Jacobs battle Chris "The Irish Ghost" Fitzpatrick in an eight-round middleweight fight. The event is promoted by Miguel Cotto Promotions and Golden Boy Promotions in association with Greg Cohen Promotions, sponsored by The Puerto Rican Tourism Board and Corona and will be televised live on SHOWTIME at 9:00 p.m. ET/PT (delayed on the west coast).

Tickets priced at $500, $300, $200, $100 and $50, not including applicable service charges and taxes, are available for purchase at the Madison Square Garden Box Office, all Ticketmaster outlets, Ticketmaster charge by phone (866-858-0008) and online at www.ticketmaster.com or www.thegarden.com.