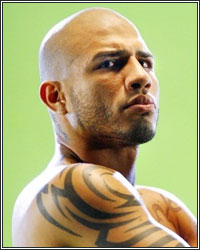 "I'm not thinking about it, I have trained very hard, and I am prepared for whatever Austin Trout brings. Strategy-wise, I'm not giving up any details, but I can tell you that it has been carefully planned over weeks of training. The Miguel Cotto that you are going to see on Saturday is probably the best Cotto you've ever seen....I've just put myself into a hard training camp just to be the winner, as I was my whole career. I'm here just to face Austin next Saturday, I'm here to win, and I'm not going to rest until I get it on December 1st," stated there-division world champion Miguel Cotto, who recently held a conference call to talk about his clash this Saturday with WBA jr. middleweight champion Austin Trout. Check it out!

Kelly Swanson: Welcome, everybody. We are here today to talk about "Showdown: Cotto vs. Trout" for the WBA Super Welterweight Championship, set for this Saturday, December 1st, at Madison Square Garden. Everybody has received their fight week schedule, there's a lot happening this week, so we look forward to seeing you in New York.

Oscar De La Hoya: Welcome, everybody, all the media all over the world. We appreciate you being on the call.

Miguel Cotto and Cotto Promotions put together a tremendous card with an exciting co-feature with up and coming featherweight Jayson Velez against Salvador Sanchez for the WBC Silver Featherweight Title. We are also happy to have Danny Jacobs from Brooklyn, New York, fighting again and so soon after his ring return in October.

He made an incredible come back not only inside the ring, but outside of it too. I'm sure all of you know his tremendous inspirational story that really touched everyone's heart across the globe.

This fight it taking place Saturday, December 1st at Madison Square Gardens, Miguel Cotto's home, or shall I say second home. This event is being promoted by Miguel Cotto Promotions, the up and coming premier promotional company already doing tremendous shows in Puerto Rico and looking to expand across the globe. The fight is also in association with Golden Boy Promotions and Greg Cohen Promotions. We're happy to announce that Corona is a sponsor of this event, as well as the Puerto Rican Tourism Board.

Tickets are still available; they're definitely going fast, we do expect a sell out. Tickets are priced from $50 all the way up to $500. And we are always extremely proud to announce that this event is being televised live on Showtime Championship Boxing. To explain to you and give you details on the timing and is the Executive Vice President and the General Manger of Showtime Sports, Stephen Espinoza. Stephen.

Stephen Espinoza: We are extremely excited here at Showtime to have Miguel back on the network, especially in such a competitive fight when he goes up against a real up and coming young star in Austin Trout.

In the bigger picture for the network we're in the stretch run of the end of our year, finishing up with a terrific bang; we had what ultimately turned out to be Ricky Hatton's re-retirement fight this past Saturday; we are featuring this week Miguel Cotto versus Austin Trout, as well as a stellar undercard; and then you will be seeing Amir Khan against Carlos Molina in two weeks on December 15th. So we have those three names, Hatton, Cotto, and Khan, three of the biggest names in the sport, three of the most popular fighters, ending off the year.

For this particular fight we want to remind you that we have premiered the first episode of All Access: Cotto vs. Trout. It's available On Demand, online on our Web site, also and playing on CBS Sports Network, on Showtime, and Showtime Extreme. Also the second episode, the epilogue episode, which covers fight week, fight night, and the aftermath, will be premiering before the championship show on December 15th. That is All Access: Cotto vs. Trout Epilogue immediately before the Amir Khan versus Carlos Molina broadcast on Saturday, December 15th.

De La Hoya: Thank you. Thank you very much, Stephen. Also I would like to acknowledge Cotto's agent, who does a tremendous, tremendous job with Team Cotto, with Cotto Promotions, that's Gaby Penagaricano. Also I want to acknowledge a man who is Director of Miguel Cotto Promotions, that's Bryan Perez. Thank you very much for all your hard work and everything you do.

And at this moment let's introduce, hailing from Caguas, Puerto Rico, Four-Time, Three-Division World Champion. He is one of the best fighters the island has produced, and we're talking about champions like Hector, the late Hector Macho Camacho, we're talking about Felix Trinidad. Miguel Cotto is definitely if not the best fighter that has come out of the island, who is fighting once again in his backyard, Madison Square Garden, his second home where thousands of fans have supported his illustrious career. He is one of the most successful fighters that have fought at the Garden in recent years. He does hold the record of 37-3 with 30 knockouts fighting once again, another world title against a very, very tough opponent in Trout.

Miguel Cotto: Hi, everybody. I'm just happy to be here again, and getting ready for this Saturday. I'm just in the final week of my preparation and I'm ready for all the questions you have for me.

Q: I think if this is a really tough fight, and God forbid you lose, I think people are going to look back and say, "Austin Trout, it was the wrong kind of guy to fight, twenty-seven years old, 25 and 0, very quick offensively." I'm wondering if you thought twice about picking Trout as an opponent and who else that you did consider for this December 1st fight?

Cotto: Everybody who knows Miguel Cotto knows Miguel Cotto doesn't pick easy fights, or easy opponents. Austin was the next in line. I'm ready for him and we're just going to see what happen next Saturday.

Q: And as far as type of fighters that you have fought how does Trout line up as far as technique goes, as far as skills goes? Is he one of the best guys you've faced, is he in the middle of the pack, do we have to see Saturday? How do you set Trout right now?

Cotto: I don't think about Trout. I'm thinking about myself; I just put myself in the training camp, in the training sessions, and I'm ready. I'm ready for whatever he tries on Saturday night.

Q: Hey, you know when we are in Madison Square Garden for your fights the noise is deafening for you once you enter the ring, when you throw a punch, when you acknowledge the crowd after a fight. How special for you does it feel and will it feel walking into Madison Square Garden and so many great victories in your career?

Cotto: I'm just happy to be here again. People here have supported my whole career, and I know next Saturday is going to be the same: a lot of people there shouting for me, being there just for watch entertaining fight. That's what's Miguel he's used to over the ring. I'm ready. I've had one kind of good preparation for this Saturday, and I'm going to be the whole night on the fight until I beat Austin Trout next Saturday.

Q: I imagine, I was there the last fight against Antonio Margarito, that was obviously a huge, huge fight for you symbolically, and when you walked into the ring that night it was, again, deafening. How did you feel absorbing the praise and the cheers from the crowd as you walked into the ring? Does that lift you up, does that kind of fill you with energy when you walk in there and hear that?

Cotto: People just show me that they're all good things they had for me that night. They are there for me, I'm there for them, and I'm going to make them proud and they're going to help me whatever happen during the fight.

Q: Obviously you feel the punches, you feel and you really go to war in there, but when you-in football they call the crowd the twelfth man, and during your fight with Margarito you just seemed to really absorb what was going on. How big was the crowd in that fight for you and how energized were you in that special moment?

Cotto: This fight with Margarito was special; it was my redemption fight, and I just knew that it meant a great deal for the people that supported me during what happened the night 2008 and I just wanted be there for them, it was special for me as special for them.

Q: I know Austin Trout has said that he has been in other arenas and fought against the odds, but how must that be for your opponents to have to deal with the support that you have? Does that put you at an advantage and maybe put them at a disadvantage do you imagine?

Cotto: I know what he said, he said he'd been in Panama fighting with a Panamanian guy, he was in Mexico fighting with a Mexican guy, but next Saturday he going to be in New York in Madison Square Garden fighting with Miguel Cotto there. That's my home, and I know nothing is going to be equal or the same as he has done before. That's a special venue, that's a special night for me, and I know he going to figure it out as soon as he get in there.

Q: What do you remember about Hector Camacho, about his life, his career, and they way his life ended last week.

Cotto: Camacho had a rough life, he made the decisions he made. I prefer to remember Macho Camacho for his brilliant career, his abilities in the ring, and the glory that he brought to his country, Puerto Rico.

Q: Now that you are going for another world title, another victory, and how do you feel you're your future is going to look like,

Cotto: I am not thinking whatsoever about 2013, I am focusing exclusively on what's going to happen on December 1st at the Garden.

Q: The fight in May with Mayweather, and I know you didn't win that fight but you fought very well, a lot of people thought you gave Mayweather, whom many consider the number one fighter in the world, probably one of his toughest fights, if not his toughest fight, of his career. So even though you didn't win how did you feel, even though without winning the fight, feel about the performance that you put on even in defeat?

Cotto: Mayweather was an excellent fight; it was a good fight. I didn't win, but sometimes when you lose you win. That was my case in this fight. I'm felt rejuvenated after this fight. Everybody going to see on next Saturday.

Q: When you say that sometimes when you lose you win what do you mean by that? What is your analysis of that comment?

Cotto: We didn't win the fight against Mayweather, but I won a lot of more things, especially with myself. I feel better with myself than I would have won.

Q: How do you feel good with yourself?

Cotto: No matter if I lost.

Q: Okay. Because a lot of people, and you know this because you've discussed this with many of us in the past, a lot of people thought they may be counting you out after maybe the loss to Pacquiao or even the loss to Margarito. Do you feel like you regained a lot of the thought from a lot of people that you know what even though you didn't win that Miguel Cotto is still one of the very best fighters out there?

Cotto: I'm just trying to be here and do what I know to do the best I can. I work in every moment to try to bring the best I can in every session of my training and just to be the winner when I have to fight. That's happened in this camp, and I'm pretty sure I'm going to be the new champion of the world.

Q: Also, Miguel, there was a lot of discussion about Madison Square Garden being basically your home court, you fought so many big fights there and sold so many tickets and had huge crowds. What is your take on the fact that Austin Trout is willing to come to fight in basically your backyard and seems quite fearless about it, has talked about Miguel's a star, he deserves to have this home base, but I have no fear of coming there. What does it say do you think about the character of Austin Trout that he is more than happy and willing to come to Madison Square Garden to face Miguel Cotto, which cannot be easy for anybody?

Cotto: He doesn't have to feel any kind of fear to being here in New York; people here are nice, people here are pretty good. At the end of the road only just the referee, Trout and myself are going to be inside the ring. What people outside the ring give to me, the people here that are rooting for me, people there going to be for me this night, and I'm going to win for them.

Q: Do you give him credit for being willing to come there to face you?

Cotto: You have to do whatever you have to do to be the boxer you want. He accepts the challenge to face me and I accept the challenge to face him. Everybody is going to see what happens next Saturday.

Q: What type of fighter do you think that you will find Saturday night in Austin Trout and what strategy are you going to use to defeat him?

Cotto: I'm not thinking about it, I have trained very hard, and I am prepared for whatever Austin Trout brings. Strategy-wise, I'm not giving up any details, but I can tell you that it has been carefully planned over weeks of training. The Miguel Cotto that you are going to see on Saturday is probably the best Cotto you've ever seen.

Q: Hi Miguel, I have a couple, a two-part question for you. One is at the end of your fight in May with Floyd Mayweather there was that very famous scene where he hugged you in the middle of the ring and said that you were the toughest guy he had ever fought in his career, and I think that really sums up the career of Miguel Cotto in one word-tough. You've had a lot of wars in your career; you're a warrior who leaves everything in the ring every time. Do you have any concerns coming into the fight on Saturday against Austin Trout that these wars you've been in could catch up to you against a young, hungry champion?

Cotto: I've just put myself into a hard training camp just to be the winner, as I was my whole career. I'm here just to face Austin next Saturday, I'm here to win, and I'm not going to rest until I get it on December 1st.

Q: A lot of people have mentioned that there will be a lot of pressure on Austin Trout coming into the fight given that it will be an unfamiliar environment for him that will be very pro Miguel Cotto coming into the ring, while you're in the ring. Do you feel any additional pressure fighting in front of your hometown fans, people who have put out a lot of money and time to come and see you and support you in the ring? So do you feel that the flipside of that coin is while Austin Trout's never been on this stage before that is there an increased amount of pressure on you to give a good performance in front of your fans?

Cotto: I'm just thankful for being here again and I'm going to do my best just for all the fans, all the people who are going to be there for me. And I don't know what passed through Austin's mind, but I'm going to enjoy the whole night.

Q: Hey, guys. Miguel, it's been over seven years since your first fight in the Garden. What do you remember about that first fight there with Abdulleav, and did you think this was going to turn into such a long relationship with the fans in New York?

Cotto: My first opportunity here, as you mentioned with Abdulleav, I didn't think that this arena going to be so special for me in my entire career, but I'm happy, I'm thankful, and I'm just grateful for having such a wonderful career, such a wonderful performances here in Madison Square Garden.

Q: And this question is to you, Miguel, and also if Bryan is still on the line. A lot of great fighters have fought in the Garden over the years, not many have the relationship Miguel does here in the city. What is it about Miguel Cotto that the fans have attached themselves to?

Cotto: Can you repeat the question? I didn't hear it very well.

Q: Over the years a lot of great fighters have fought in Madison Square Garden, but not many have the relationship you have with the fans here in New York. What is it about you that the fans have attached themselves to you like this?

Cotto: I can't tell you exactly. I just train to be a good boxer, and then something special came when Madison Square Garden appeared in my career. People were there for Miguel Cotto. Miguel Cotto tried to was there the best he could for them just to bring them entertaining fight for them.
I think them appreciate that a lot, and I appreciate a lot more what the people who be there for me do to me.

Q: Gaby [Penagaricano], What is it about Miguel that the people in New York have just embraced him like this over the years?

Penagaricano: Well I think he has delivered here; he has fought eight or nine times, all wins, all of them exciting fights. So he has delivered what the fans want, and that's why they're so thirsty to see him again this Saturday. He's just an exciting fighter, no boring fights when he steps into the ring, and it's a big, big, big attraction between the two. So I know it's very special for him.

Q: How do you evaluate Pedro Diaz and what he has done in the course of the two fights in which he has worked with you?

Cotto: I'm not here to evaluate, the people can see my performances when I have fought under the training and guidance of Pedro Diaz, so the public is the best judge to answer that question.

#######

"Showdown: Cotto vs. Trout" is a 12-round battle between Four-Time and Three-Division World Champion Miguel Cotto and undefeated WBA Super Welterweight World Champion Austin Trout taking place on Saturday, December 1 at Madison Square Garden in New York City. The co-featured fights will see Jayson Velez take on Salvador Sanchez in a 10-round fight for the vacant WBC Silver Featherweight title and Danny "Miracle Man" Jacobs battle Chris "The Irish Ghost" Fitzpatrick in an eight-round middleweight fight. The event is promoted by Miguel Cotto Promotions and Golden Boy Promotions in association with Greg Cohen Promotions, sponsored by The Puerto Rican Tourism Board and Corona and will be televised live on SHOWTIME at 9:00 p.m. ET/PT (delayed on the west coast).

Tickets priced at $500, $300, $200, $100 and $50, not including applicable service charges and taxes, are available for purchase at the Madison Square Garden Box Office, all Ticketmaster outlets, Ticketmaster charge by phone (866-858-0008) and online at www.ticketmaster.com or www.thegarden.com.