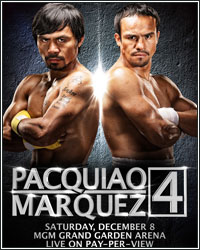 It's Monday. Welcome back for another edition of Observe and Fight, The Boxing Observer's compilation of observations and random thoughts from the week that was in boxing. Get caught up on some of the most recent events you may have missed out on, including Austin Trout's upset win over Miguel Cotto, a preview of Pacquiao vs. Marquez IV, Canelo Alvarez's future, a potential heavyweight mega-fight not featuring a Klitschko brother, and much more. Without further ado, check out the latest observations from The Boxing Observer, David Kassel.



Austin Trout can no longer be considered a "boring, defensive boxer." Trout came to fight on Saturday night in his upset victory over the heavily favored Miguel Cotto in Madison Square Garden, where Cotto was previously undefeated. Casual boxing fans around the world immediately said Cotto would roll over the WBA champion simply for the fact that Trout was not a big-name commodity. Most hardcore fans knew better. Going into the fight, Trout had all the advantages: height, reach, strength, age, etc. The one area where Cotto most definitely held an advantage was experience on the big stage. Everyone thought Trout could be competitive if he handled the bright lights at MSG. He did more than that. He bullied Cotto around the squared circle. While the scores were a bit wide in my opinion (especially the 119-109 in favor of Trout), I had Trout winning 8 rounds. I gave Trout the first 2 rounds, Cotto, rounds 3-6, and Trout, rounds 7-12. Either way, Trout won the fight pretty convincingly. Trout's ability to make in-ring adjustments was one of the biggest questions heading into the Cotto fight, and there is "No Doubt" that he proved he is at the top of the junior middleweight division.


Where does Trout go from here? I do find it interesting that Saul Alvarez stated, before Saturday night, that he would not fight Trout even if Trout had been victorious over Cotto. If you would remember, it was Canelo who sat ringside for Trout's fight with Delvin Rodriguez in hopes of watching Trout put on a great show, and eventually meeting him on pay-per-view back in September. Instead, Trout's performance was sub-par and dull, and he took himself out of the race. One thing led to another, and Canelo ended up facing Josesito Lopez. If anything, Trout deserves a shot at Canelo now more than he would have after beating Rodriguez. Canelo is more than likely headed back to the ring on Cinco de Mayo weekend in 2013. It is all but a guarantee that Trout will NOT be Canelo's opponent; however, it isn't for the reasons you might think. Trout is getting married on April 20th, and there is absolutely zero chance he will be ready for a fight anytime around the wedding. Unless Trout returns in February or March, don't expect to see him back in the ring until at least late June, possibly in a title unification bout against Cornelius Bundrage.


The winner of the Canelo Alvarez sweepstakes is going to be....Miguel Cotto! That's right folks. Unless hell freezes over, you better believe that Alvarez vs. Cotto will be in the main event of a televised Showtime pay-per-view in April or May. Richard Schaefer didn't dismiss the possibility in the post-fight press conference, and the fact remains Cotto is still the biggest draw for Canelo outside of Floyd Mayweather or Manny Pacquiao. The only two possibilities that could prevent this fight from taking place are if Gabriel Rosado somehow defeats Gennady Golovkin on January 19th, or if the IBF champion, Bundrage, faces and beats the WBO champion, Zaurbek Baysangurov (whom he has beaten before). Other than that, we'll see Canelo vs. Cotto, Mexico vs. Puerto Rico, in the main event.


Saturday night was Miguel Cotto's 21st consecutive appearance in a world title fight. All I can say is, WOW! My guess is that Cotto's next fight, whomever it shall be against, will be #22. That is just flat-out impressive.


Juan Manuel Marquez is the best possible opponent for Manny Pacquiao other than Floyd Mayweather. I've said this numerous times, and I stand behind my statement, but nothing about Saturday night's main event has me excited. Maybe the buildup for the fight hasn't been great, or maybe fans truly are tired of seeing these two guys fight, but once the bell rings, we will see one hell of a fight. I really don't expect this fight to do more than 700,000 pay-per-view buys, but it will be a spectacular main event. I just wish the undercard had something more to get me excited about.


Miguel Cotto Promotions proved Saturday night how important it is to have a deep and talented roster of fighters. Do you hear that Mayweather Promotions and SMS Promotions? It's not possible to put on a good show unless you actually have some talent signed. Cotto smartly teamed up with Golden Boy Promotions for the fight, and Golden Boy placed Danny Jacobs on the card in what continues to be a remarkable storyline. Otherwise, Jayson Velez's win over Salvador Sanchez II was nothing more than Cotto trying to showcase one of his best fighters. Velez looked good, but I am going to predict right now that Velez will not beat WBC featherweight titlist Daniel Ponce De Leon. Velez is not on that level yet. 50 Cent is doing the smart thing by allowing Yuriorkis Gamboa to fight on the Manny Pacquiao vs. Juan Manuel Marquez IV undercard this Saturday night. However, 50 needs to slow his roll in saying he is going to be a major player in the boxing business. It takes a strong business plan, and years of work, to build a strong boxing stable.


Danny Garcia already has the mental edge over Zab Judah, and we're still over 2 months away from the fight. A brawl broke out at the press conference Saturday to announce the championship fight at Barclays Center, February 9th. Angel Garcia, Danny's father and trainer, began to talk about Judah's history in big-time fights, and how Judah was unsuccessful on the big stage. Judah became furious with Angel Garcia, which led to the melee. Not that Danny needed an extra edge over Zab, because he already has the tools that should carry him to victory, but if Angel Garcia can get inside Zab's head, then it shouldn't be too difficult for Danny to dominate the fight. Is it just me or does anyone else remember that Zab Judah is supposed to be a reborn Christian? His words and actions at the press conference were anything but faith-based.


Jermain Taylor is the perfect opponent for Peter Quillin to enhance his skills and build his resume. Quillin is rumored, though nothing has been confirmed, to be facing the former undisputed middleweight champion Taylor on the undercard of Garcia vs. Judah. Quillin has not been boxing all that long, but clearly has the talent to be a great fighter. Taylor is in the midst of a struggling comeback attempt, and he is not ready for the likes of a fighter with Quillin's skills. I completely expect Taylor to keep the fight competitive for about 4 rounds before Quillin imposes his will and power en route to a 7th or 8th round stoppage of the former pound for pounder, effectively ending Taylor's hopes of a comeback.


Shame on everyone involved in the fighting that went on at the funeral for Hector "Macho" Camacho. Total sign of disrespect. Absolutely appalling.


Are we gearing up for an all-action, heavyweight showdown between David Price and Tyson Fury? All the hype is there for the fight, and the two men have amped it up quite nicely for the European fans, but conventional wisdom says the fight won't happen. Both fighters and their promoters are well aware that they are in line for a shot with the Klitschko brothers, and both men are literally giants in the sport, with Price standing at 6'8" and Fury standing at 6'9". Both men are taller than the Klitschkos, and could be legitimate threats for major paydays. Hence, these fighters will not face off against one another before getting a shot at either Wladimir or Vitali because the loser of a Price vs. Fury showdown goes back to the drawing board. Typical business of boxing. DAMN YOU BOXING GODS!!!


Each week, I feature an email from a fan on Observe and Fight. This week's email comes to us from Brandon regarding Andre Berto's defensive style against Robert Guerrero...


"What was going thru your mind when you seen Berto come out and try to use the same high shoulder-sideways stance as Broner and Mayweather? Me personally, I was laughing and embarrassed that Andre Berto, a 29 year old man is still having an identity crisis with his style. I think its one of the reasons why he got toe tagged by Guerrero. Thoughts?"


I've said it for a long time that Berto is a fighter who hasn't improved his craft since he turned pro. He has been relying on his athleticism, but once a fighter gets in there with the tops in the sport, things are different. I personally think Berto needs an entirely new team because the one he has been using for years cannot take him any further.

That's all I've got for this week. Email any questions or comments to
dkassel@fighthype.com
and I will answer them throughout the week. Your email may be featured in the next "Observe and Fight." Follow me on Twitter @BoxingObserver, and be sure to "Like" The Boxing Observer on Facebook.
[ Follow David Kassel on Twitter @BoxingObserver ]