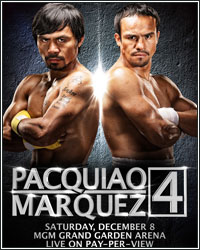 Boxing Scribe Vivek Wallace brings his Left-Hook Lounge mailbag to FightHype.com, answering questions for fans and giving his own unique perspective on all the latest current events in boxing. This week, check out his response to fans as they discuss this Saturday's 4th showdown between Manny Pacquiao and Juan Manuel Marquez, Zab Judah's chances against Danny Garcia, and much more.


---

Erik A. (Delray Beach, FL): I saw your FB post a while back about Pacquiao/Marquez IV. But I noticed your conversation on FightHypeRadio recently has changed a little regarding the fight. Now that we're a few days away, how do you think the fight will go down?

Vito: From the day the fight was signed I held the position that it was a 50/50 fight like all others. Initially I leaned Marquez, because gradually in every fight they've had he's gotten better and better, and found a way to answer whatever Pacquiao threw his way. Once he found a way to avoid the knockdowns and use better defensive strategy to combine with his very potent and precise offense I knew it would be a matter of time before he defeated Pacquiao, for the simple fact that Pacquiao and Roach never seem to make adjustments. Thus far, Marquez hasn't gotten the nod, but I'd be hard pressed to find anyone who feels he shouldn't have in at least two of the three fights.

That being said, I have an odd feeling about this particular fight between the two. What I notice more and more is the fact that the two men seem to be heading in opposite directions. Fight fans can point to potential steroid usage and so forth if they want, but the reality is that Pacquiao has seemed to fade more and more since the Clottey fight in my opinion. Marquez on the other hand has pushed himself harder and harder. Very easy to point to potential steroid usage, but anyone who feels that, I ask them to show me a point in the past when Marquez trained with this much intensity and assistance? He has totally pushed himself. He's motivated more than he ever has been, and it comes at a point when he needs it the most (later in his career).

I think Pacquiao is coming into this fight with a mindset that he needs to punctuate this performance with some sort of career defining victory. That mentality in the mind of a man facing the proverbial 'westside' of his sun-setting career can be dangerous. Particularly against a man who has the blueprint to defeat him who just happens to be on top of his game like never before. My fellow radio co-host Ben Thompson has said for quite some time that he sees Marquez scoring a knockout in this fight. Despite the toe to toe battle he and I had on the radio show last week spitting venom about other topics, I think this is one that I'm suddenly sold on. I really think Marquez could shock the world if Pacquiao fails to adjust again. Can't wait to find out. Get your popcorn ready!

Barry H. (Newark, NJ): I think Angel and Danny Garcia have gone too far talking and getting wild in front of the media regarding Judah. But I also think Judah showed weakness by responding the way he did. Do you think Judah has a real shot in this fight?

Vito: The Judah that we've seen lately has appeared to use life maturity in tandem with what has always been known as a very solid talent. That maturity has allowed him to take his time and assess things better in the ring, rather than get heated with emotions and subsequently burn himself out too fast! That was my observation leading into this scenario, but suddenly I feel Judah is right back where he started. I think the Garcia's know exactly what they were doing by pushing his buttons. If Judah has the maturity I would like to think he does, he'll calm himself and execute properly come fight night.

Unfortunately, I don't know if that's the case, and judging by his reaction at the press conference I think it's safe to say it isn't. It's a very thin line. At the end of the day he's a grown man with pride. And true or false, you aren't gonna just sit back and let someone say things to belittle you like you're not there. I do think he could have handled the situation better. I don't necessarily think he'll handle it better come fight night. The press conference was one thing. What happens to his mindset the night before the fight when they have to stand face to face at the weigh-in and he gets heckled up close?

I just don't know if Judah can undergo that process and enter the ring with sound execution for 12 rounds. That's a long time to avoid power shots. And that's all Danny Garcia throws. I love Garcia's heart and determination, but technically, he's a more powerful version of Timothy Bradley, in the sense that there's nothing special about either of them, they simply know how to win. They aren't the fastest, the most skilled, or the TV favorites. They just know how to get the job done. Judah will have to figure out a way to overcome that. He has the skill. But for 12rds of power punches will he maintain the will? There lies his true battle in this affair. Can he stand the rain?

Vivek "Vito" Wallace can be reached on Wednesday nights at FightHypeRadio, also at vivekwallace@ymail.com, Twitter (@vivekwallace747), and Facebook.