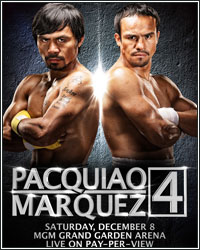 Will the fourth time be the final time we see Pacquiao vs Marquez? Short answer, I hope so. This has been described as a bout for both men to prove who truly is the better fighter. After three encounters, many are of the opinion that Marquez has won at least two, some say all three, yet he has never gotten the decision. So if he wins, what then? Will it be proven that he is indeed the better fighter? Possibly, but the record books won't reflect that notion, with Pacquiao having 2 victories, deserved or not, on his resume. That being said, should Marquez win, does that mean there's a possibility that we may see a fifth fight?

If Bob Arum has his way, I wouldn't rule it out. Realistically though, no matter what the outcome on Saturday, this has to be the end. If Marquez wins, he can say, "I told you so," which is a pretty good boast for a man to have (second only to being able to say, "I beat you three times," I suppose). If Pacquiao wins, however, he can hold his head high and feel better about the other two controversial decisions, no matter how close the fights were. Plus, let's not forget that there are other big names that Pacquiao must move on to so he can take care of unfinished business, like with Timothy Bradley

Who? Yes, that "undefeated" guy who now holds Pacquiao's title, but has somehow become the forgotten man in the boxing world. Good job, Top Rank. Could we see a potential rematch between Pacquiao and Bradley next year? Well, it's probably more of a possibility than seeing Pacquiao in there with Mayweather. Many are skeptical about Bradley's victory this past June, however, so he may have to take another fight just to boost his image before getting back in with Pacquiao. Otherwise, like the first fight, the rematch won't sell well. Instead, the possibility of Pacquiao vs. Rios could very well come true first. Rios has got a decent following and is highly regarded, so we may see him in with Pacquiao next year in what could be one of, if not the last, Manny Pacquiao performances in the squared circle.

Time waits for no man, and Pacquiao is winding down his career. Regardless of Saturday's outcome, this should be the last time we see two pound-for-pound icons and legends in their countries face off. As for the fight itself, I expect Pacquiao to win comfortably this time, but no matter what happens, I look forward to seeing both men sharing the same ring to entertain us one last time.